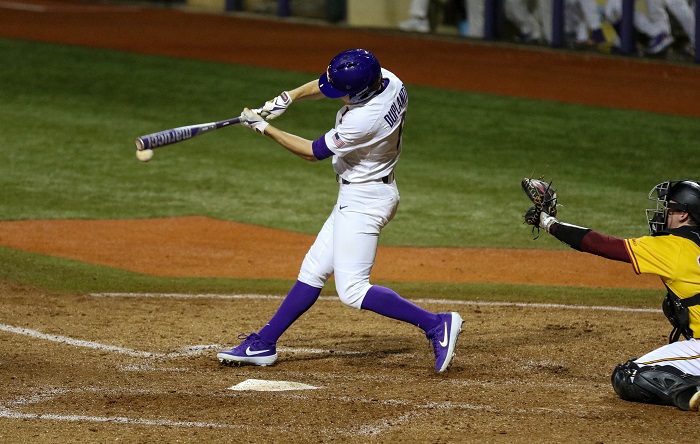 LSU appeared to figure some things during an unbeaten five-game home stand, but the degree of difficulty is about to be ratcheted up a couple of notches.
The Tigers departed Thursday to play a three-game series at George, the first of back-to-back weekends on the road in the Southeastern Conference. LSU will play six road games against top-10 foes in a span of nine days.
"They don't get any easier, that's for sure," LSU coach Paul Mainieri said. "Before the year began. I looked at this next seven-game stretch and felt in my heart that it would be the most challenging seven games that we'll have on the schedule."
While the sample size is small, LSU has certainly had its problems away from the friendly confines of Alex Box Stadium so far this season.
LSU is 0-4 on the road compared to 16-1 at home to this point in the campaign. LSU got swept at Texas three weeks ago — including once in walk-off fashion — and dropped a midweek contest at Northwestern State last week.
Four road setbacks probably isn't enough to panic, especially for a team counting on several freshmen, but LSU knows it is going to have to play a better brand of baseball on the road to win against the class of competition it is about to encounter.
"We have to learn to win on the road," Mainieri said. "You have to be better. You have to be tougher. You have to take advantage of opportunities. It takes a lot to win on the road … That's my job today. To get them in a mindset to believe they can win on the road."
"We don't want to look too much into the past, but you've got to learn your lesson at some point," right fielder Antoine Duplantis said. "It's tough to win games on the road, but at some point you have to if you want to be a quality team."
Georgia has been clicking on all cylinders so far this season. The three starting pitchers LSU will see this weekend are a combined 10-0 and all sport ERAs of 2.81 or better. The staff is led by ace Emerson Hancock, who is a perfect 5-0 with a 0.58 ERA and 37 strikeouts in 31 innings.
PERSONNEL NOTES
– Third baseman Chris Reid is "good to go" after taking some time off this week to rest his sore right arm. Reid was held out of the lineup Wednesday against Nicholls State, but the senior came off the bench with a game-tying hit in the ninth inning.
– Mainieri wasn't sure what kind of role Saul Garza would have behind the plate this weekend. Garza looked a bit "rusty" in three innings of work against Nicholls, the coach said. He called Brock Mathis LSU's "starting catcher," for what that is worth.
– Freshman right-hander Jaden Hill has thrown twice this weekend, but he did not make the trip to Athens. LSU will know more about his potential return to action once Hill takes the next step in his rehab process next week.
PITCHING MATCHUPS
Game 1
LSU – Jr. RH Zack Hess (1-1, 3.91 ERA, 25.1 IP, 17 BB, 27 SO)
UGA – So. RHP Emerson Hancock (5-0, 0.58 ERA, 31.0 IP, 8 BB, 37 SO)
Game 2
LSU – Fr. RH Cole Henry (1-0, 3.57 ERA, 17.2 IP, 8 BB, 17 SO)
UGA – So. LH C.J. Smith (2-0, 2.81 ERA, 16.0 IP, 4 BB, 17 SO)
Game 3
LSU – So. RH Eric Walker (1-0, 5.71 ERA, 17.1 IP, 6 BB, 12 SO)
UGA – Jr. RH Tony Locey (3-0, 2.17 ERA, 29.0 IP, 13 BB, 43 SO)
DATES/TIMES
Friday, March 22 – 6 p.m. CT (SECN +)
Saturday, March 23 – 12 p.m. CT (SEC Network)
Sunday, March 24 – 11 a.m. CT (SEC Network)
STADIUM
Foley Field in Athens, Ga.
RANKINGS
LSU – No. 7 Collegiate Baseball, No. 10 D1 Baseball, No. 11 USA Today
UGA – No. 5 D1 Baseball, No. 8 USA Today, No. 9 Collegiate Baseball
RADIO
LSU Sports Radio Network affiliates, including WDGL 98.1 FM in Baton Rouge
(Saturday's game may be moved to 100.7 FM in Baton Rouge, depending upon the status of LSU men's basketball in the NCAA Tournament)
Live audio at www.LSUsports.net/live
Live stats at www.LSUstats.com
TV
The games on Saturday and Sunday will be telecast by the SEC Network
ONLINE
All three games may be viewed on SEC Network +
SERIES RECORD VS. GEORGIA
LSU leads the all-time series with Georgia, 67-22-3, and this weekend's series marks the first meeting between the schools since March 17-19, 2017, when the Tigers sweep a three-game series from the Bulldogs in Baton Rouge. LSU has won 10 of its last 12 SEC regular-season series versus UGA, and the Tigers have an 16-7-2 advantage over the Bulldogs in games played over the past 10 seasons. LSU has won the last four series meetings in 2012, 2014, 2015 and 2017 – Georgia's last series win over LSU came in Athens in 2011, when the Bulldogs won two of three games.