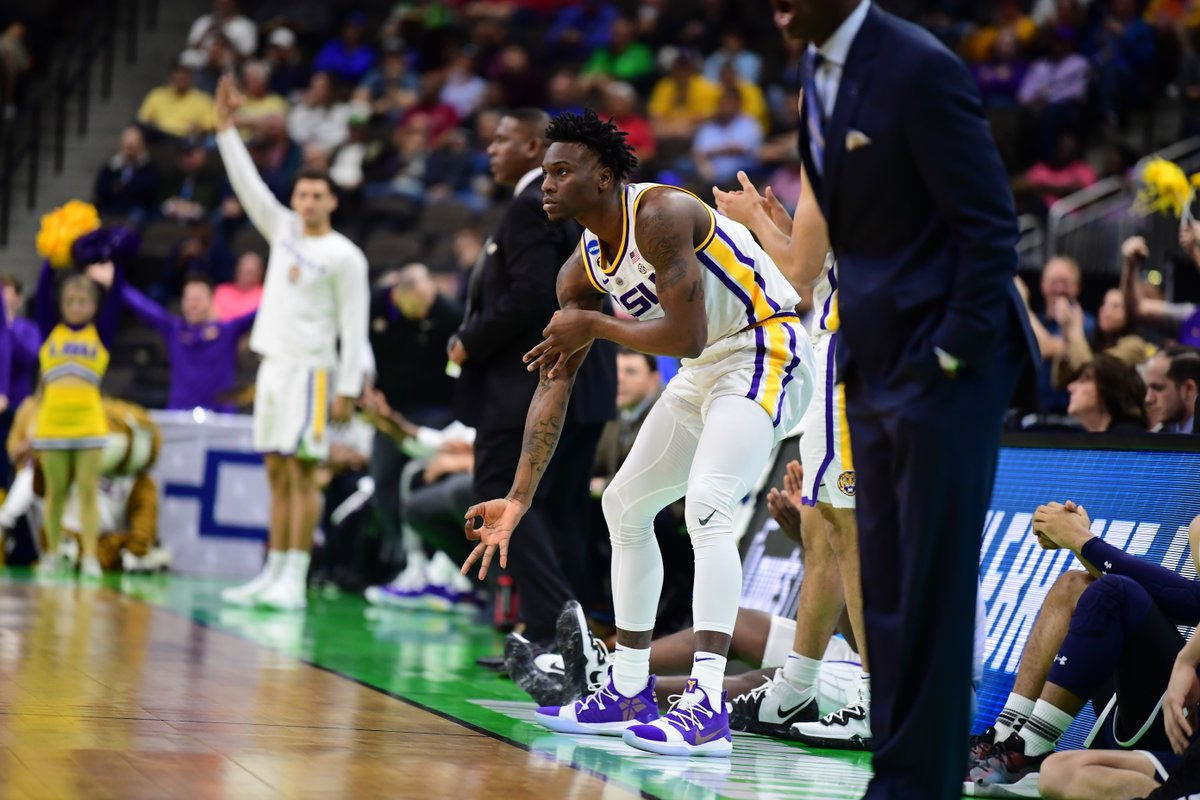 JACKSONVILLE, Fla. — Third-seeded LSU will take on No. 6 seed Maryland in a Power 5 conference battle for a coveted spot in the Sweet 16 on Saturday, and the Terrapins present some interesting challenges for the Tigers.
First of all, the Tigers likely won't be able to bully Maryland in the post the way they do most teams, and especially not the way they beat Yale down low.
The Terrapins have an NBA-caliber forward down low in Bruno Fernando — a projected lottery pick in the 2019 NBA Draft — who entered the tournament averaging 13.7 points, 10.4 rebounds and nearly two blocks per game. He shoots at a 61.8 percent clip from the field.
He's helped down low by fellow forward Jalen Smith, who shot 8-for-9 from the field for 19 points and 12 points in Maryland's 79-77 first-round victory against Belmont.
That duo will test LSU's starting forwards Naz Reid and Kavell Bigby-Williams, both of whom had a solid outing against the Bulldogs on Thursday.
Both Fernando and Jalen Smith measure at 6-foot-10, with Fernando weighing 240 pounds and the freshman Smith coming in at 215 pounds.
The Terrapins may rely on their post play, but their backcourt has some solid pieces as well.
Point guard Anthony Cowan serves as Maryland's leading scorer, putting up 16 points per game to go along with 4.3 assists and nearly a steal per contest entering the tournament.
He provides an interesting matchup Both teams for LSU point guard Tremont Waters.
Like Yale, Maryland presents an extremely balanced attack, with six players averaging at least 8 points per game. Similar to LSU, the Terrapins primarily run an 8-man rotation, meaning their depth shouldn't give the Tigers much issue.
While Maryland seemed content to run with Belmont, don't expect it to do the same with LSU, which has notoriously struggled in slow-tempo games.
The Terrapins average 71.3 points per game (213th in the country) and allow just 65.1 points per game (33rd), and they like to play an inside-out, half-court game in which they try to feed Fernando and Smith for a majority of their points.
The game will likely come down to who controls the tempo, with LSU trying to run the floor and Maryland trying to keep the Tigers in front of them.