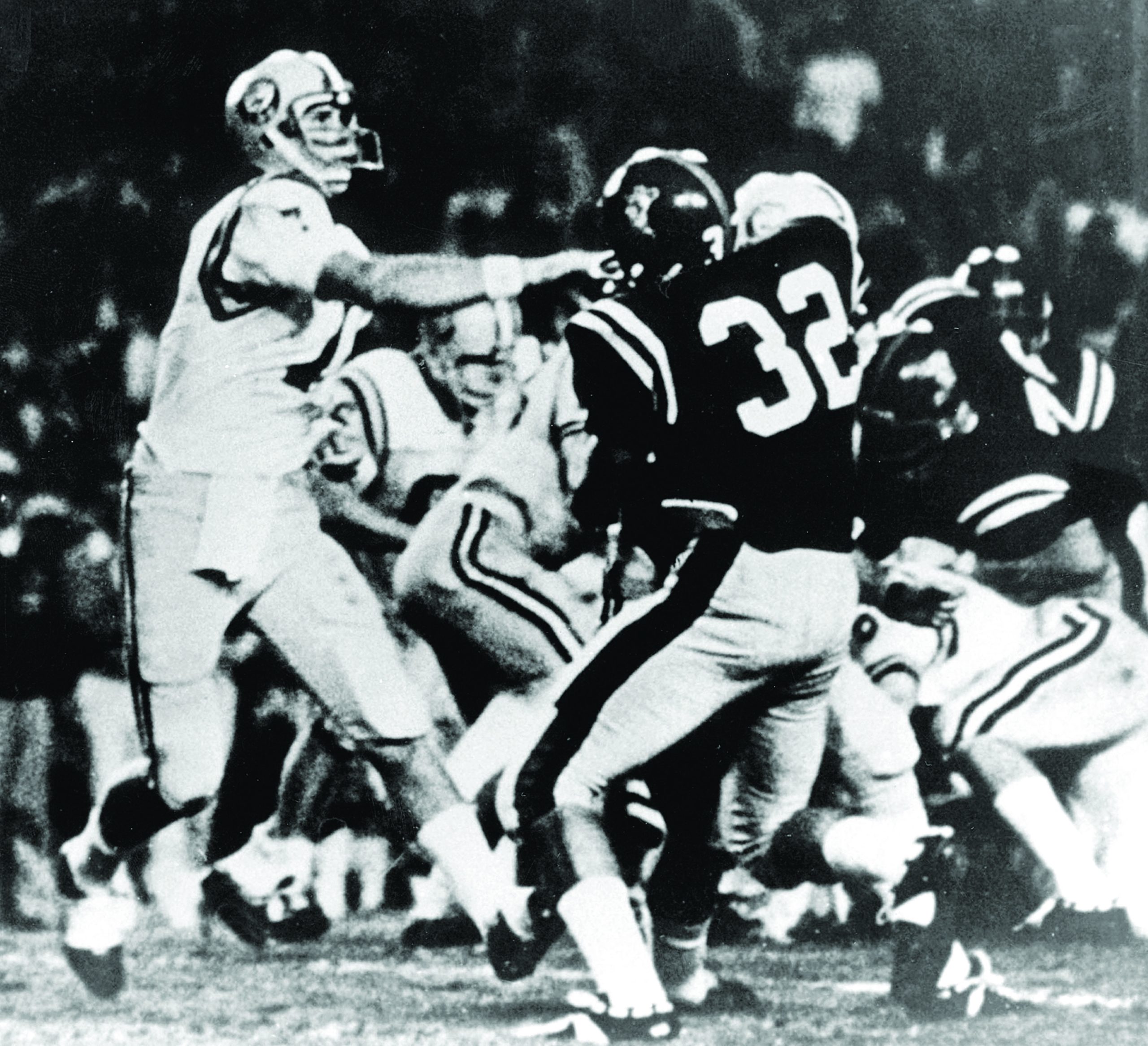 The year 1972 was a watershed year for America and for Louisiana with the departure from public life of Richard Nixon and the arrivals of Edwin Edwards and Dale Brown.
The country was mired in a decade-long war in Vietnam, the civil rights movement was a bloody transition and America was far removed from the patriotic fervor of WWII and the "Eisenhower Leave it to Beaver" days of the 1950's.
As a 14-year-old, living at 1605 Main St. in North Little Rock, Arkansas, I took solace in listening to the baritone presentation of the Voice of the Tigers, John Ferguson His dulcet tones resonated through 40 states on WWL-Radio on Saturday nights, when LSU was the lone college team playing its games under the lights.
The Tigers were picked to win the national title by Sports Illustrated in its pre-season edition and were directed by the nation's best quarterback in Bert Jones, the Ruston Rifle. Jones led LSU to six wins and a No. 6 ranking to start the season, but LSU was clearly looking past Ole Miss to a showdown on Nov. 11 at Birmingham against national champion favorite Alabama and its head coach Bear Bryant.

Up 16-10, Ole Miss lined up for what would have been a game-winning field goal with 3:02 remaining. Rebel kicker Steve Lavinghouse was primed to boot his fourth three-pointer of the night when he inexplicably missed from 27 yards away.
Jones took over, but the Ole Miss defense remained stingy, forcing LSU into converting two fourth down do or die opportunities. The drive continued on accurate missiles from Jones.
With four seconds remaining, Jones moved LSU to the Ole Miss 10- yard line, but his pass intended for Jimmy LeDoux, was knocked away at the goal line. Remarkably, one second remained on the clock. In the confusion, LSU coach Charles McClendon did not send in a play as wide receiver Al Coffee entered the huddle to replace LeDoux.
Coffee recalled that Jones asked for the play and there was none. The quarterback improvised by telling
Coffee to go deep in the end zone and have tailback Brad Davis come out of the backfield and run to the front corner of the end zone.
Jones hit Davis, who bobbled the ball briefly before holding on to tie the game 16-16.
Here is how Ferguson, in his prime at 52, called the final second on the night of Nov. 4, 1972:

One second to play … Here is the game over. Jones back to throw. Looking for a receiver. He has Davis. It is caught for a touchdown on the last play of the game. Brad Davis takes a Bert Jones pass in the corner of the end zone. The game is tied 16 to 16. Almost the entire Tiger bench spilled onto the field in the excitement. And so we have the try for point after by Rusty Jackson. This year he has hit 20 of 21.
Rusty Jackson is in the game to try to make it 17-16 game for the LSU Tigers. And the game is over. Paul Lyons is in the game to put the ball down at the ten-yard line. The game rides on this kick now. Here is the point coming up.
One second to play…. Here is the game over. Jones back to throw. Looking for a receiver. He has Davis.
It is caught for a touchdown on the last play of the game. Brad Davis takes a Bert Jones pass in the corner
of the end zone. The game is tied 16 to 16. Almost the entire Tiger bench spilled onto the field in the excitement. And so we will have the try for point after by Rusty Jackson. This year he has hit 20 of 21.
Jackson boots it. The Tigers win 17 to 16 and pandemonium breaks loose in Tiger Stadium.
Ferguson masterfully let the crowd tell the story as his voice was interspersed with earthquake level reverberations from the capacity crowd of 67,000 fans.

Jones departed LSU as the leading passer in school history, surpassing Y.A. Tittle's records of 25 years. He finished fourth in Heisman Trophy balloting after Alabama defeated LSU 35-21 in Birmingham. Jones has owned and operated a lumber company in north Louisiana since retiring from the NFL in 1982 after breaking his neck in a game with the Los Angeles Rams.

Jones was the 1976 NFL Most Valuable Player with the Baltimore Colts. Davis departed LSU as the school's leading rusher, overtaking Billy Cannon's 15-year record. Davis played briefly in the NFL with the Atlanta Falcons and has been a dentist in Opelousas for more than 40 years.
Ferguson reigned as the Voice of the Tigers until 1983, then became a prolific fundraiser for the university until his death in 2005.
Billy Cannon's first game back at LSU, after his professional career ended, was the Ole Miss game of 1972. The game program is a collector's item, where Cannon is on the cover. He died in 2018 at age 80.

OTHER NOTABLE EVENTS IN LOUISIANA IN 1972
Jan. 3: The LSU Assembly Center opens its doors as Press Maravich's Tigers lose to Roy Skinner's Vanderbilt team 80-73 to drop to 0-6 to start the season. Maravich was fired after a 10-16 campaign. The arena was named in honor of his son 16 years later when Peter Press Maravich, the leading scorer in major college history, died at 40 in Pasadena, California on Jan. 5, 1988. The PMAC remains home to LSU basketball and was the opening venue for the Rolling Stones 'Tour of the Americas' 75. Tickets were $12 on June 1, 1975 as Mick Jagger started a 22 song set with "Honky Tonk Woman" and finished with "Midnight Rambler."
Jan. 10: Downtown Baton Rouge is the location of the infamous North Boulevard riot. Four men identified
as Black Muslims stood atop a car and blocked the street prior to a shootout with police that left two
officers and one militant dead. Thirty-one people were injured as shooting broke out in police lines
after a fistfight. WBRZ newsman Bob Johnson was brutally beaten and lived with brain damage for another 39 years. The city was the focus of national media coverage as Baton Rouge was under curfew after the mayhem subsided.
March 6: Shaquille Rashaun O'Neal is born in Newark, New Jersey. In a 19-year professional career, O'Neal wins four NBA championships, is a two-time league scoring champion and NBA Most Valuable
Player. He led the nation in rebounding in 1991 at LSU, was twice SEC Player of the Year and once National Player of the Year. O'Neal obtained a doctorate degree from Barry University in Miami and is arguably the most famous LSU graduate.
March 23: LSU hires 36-year-old Dale Brown to succeed Press Maravich as head basketball coach for
the Tigers. Brown was an assistant at Washington State and coached the Tigers for 25 seasons, leading
his teams to 448 victories, four SEC championships and a pair of Final Four appearances. His teams enjoyed 15 seasons of consistent sellouts at the Assembly Center, making men's basketball a revenue sport on campus. An accomplishment made possible by the charisma of Brown and a worldwide recruiting harvest.
March 24: Harry Rabenhorst, former LSU athletic director who was head basketball coach for 29 seasons
and head baseball coach for 16 years, dies in Baton Rouge at age 73 as he prepares to meet Dale Brown.
Rabenhorst directed LSU to the 1935 national title on the court and to the 1953 Final Four with Bob Pettit. The Baton Rouge native played college football at Wake Forest and retains a
record for the longest punt in football history.
May 1: The Tonight Show Starring Johnny Carson moves to Los Angeles after Carson dominated the
late night ratings for a decade in New York.
May 9: Forty-four-year-old Edwin Edwards is inaugurated as Louisiana Governor, succeeding 53-year-old John McKeithen as one LSU graduate passed the torch to another.
Edwards and McKeithen inherited the populist mantle from Huey Long, who was assassinated at the State Capitol in 1935. McKeithen became the first governor to win consecutive terms in office, and Edwards was the first and only four-term governor of Louisiana. Big John died in 2004 at age 81 in Columbia.
Edwards, the Silver Fox and Cajun Prince died in 2021 in Gonzales at age 93
May 15: Alabama Gov. George Wallace, 52, was shot during an outdoor rally in Laurel, Maryland. He was in a fierce battle for the Democratic Party nomination for president with George McGovern and former Vice President Hubert Humphrey, LSU Class of 1940. Twenty-one-year-old Arthur Bremer of Wisconsin fired shots at close range into Wallace, who was left paralyzed from the waist down.
The next day, while fighting for his life, he won Democratic primaries in Maryland and Michigan.
In 1968, Wallace won Louisiana's 10 electoral votes as a third-party segregationist candidate. He carried 59 parishes and outpointed Humphrey 48 to 28 percent with Richard Nixon, the overall winner, receiving 23 percent of the votes in the state.
June 17: Five perpetrators were arrested in a break-in of Democratic Party headquarters at the Watergate complex in Washington D.C. Forty-eight people associated with President Nixon were convicted of crimes relating to a cover-up which led to Nixon's resignation as president on Aug. 9, 1974.
July 27: Louisiana U.S. Senator Allen Joseph Ellender dies at 81 after 35 years in office. Ellender was campaigning for re-election at the time of his death. He was succeeded by 40-year-old Bennett Johnston who held the seat for 24 years. Ten percent of the voters cast ballots for a dead Ellender.
For a few months before the election of Johnston, the office was occupied by Elaine Edwards, first lady of Louisiana.
Sept. 16: Defensive Back Mike Williams of Covington becomes the first Black player to take the field at Tiger Stadium as LSU integrated its program and went on to win 31-13 over Pacific. Lora Hinton was the first African-American to sign a football scholarship, but was injured and unavailable for action against Pacific, which featured an all-conference defensive back, Pete Carroll, who would later guide USC to a national title and the Seattle Seahawks to a Super Bowl championship.
Williams was a three-time All-SEC selection, a 1974 All American and a first-round pick of the San Diego Chargers in 1975.
Oct. 16: A plane transporting Louisiana Congressman Hale Boggs, and fellow U.S. House Representative Nick Begich of Alaska, vanishes in bad weather en route to the Alaska Capitol in Juneau on a flight from Anchorage. The disappearance triggered the longest search and rescue operation in American history. Forty military aircraft, and 50 civilian planes, logged 3,600 hours of search time and a grid of 325,000 square miles. After 39 days, the search ended with no sign of wreckage or survivors.
Boggs, a New Orleans lawmaker, was a member of the Warren Commission assigned to investigate the death of President John Kennedy. He was escorted on his flight from Texas to Alaska by a 26-year-old Democratic campaign operative, future U.S. President Bill Clinton.
Nov. 7: Richard Nixon carries 49 states to win re-election for president against U.S. Senator
George McGovern of South Dakota. Nixon also wins 63 or 64 Louisiana parishes. Twenty-one
months later, the 37th U.S. president resigned in disgrace for his actions in the Watergate scandal.
Nov. 16: Over 300 police and National Guard officers flank the Southern University campus on
reports of a campus riot. As students emerged from the administration building, officers launched tear
gas canisters. A student launched the canisters back at the officers, who fired from a tank that had been
dispatched to the campus. Two students, Leonard Brown and Denver Smith, were killed. No officer was charged.
Dec. 5: LSU opens the Dale Brown Era by stunning No. 2 Memphis State 94-81 at the Assembly
Center.
Dec. 8: United Air Lines Flight 553 from Washington National Airport to Chicago Midway Airport crashes on landing, killing 43 people, including CBS investigative journalist Michele Clark and Dorothy Hunt, wife of Watergate conspirator Howard Hunt. Dorothy Hunt was carrying $10,000 in $100 bills when the plane crashed, sparking a plethora of conspiracy theories.
Dec. 30: LSU closes a 9-2-1 season in the final game as a collegian for 21-year-old Bert Jones.
The Tigers lose 24-17 to Tennessee in the Bluebonnet Bowl in Houston.
Jones, who could throw the ball 105 yards in his college days, is the second player selected in the first round of the NFL Draft on Jan. 30, 1973. His father, Dub, was the second overall pick in the 1946 NFL Draft. Bert is 71 and his dad turns 98 on Dec. 27.