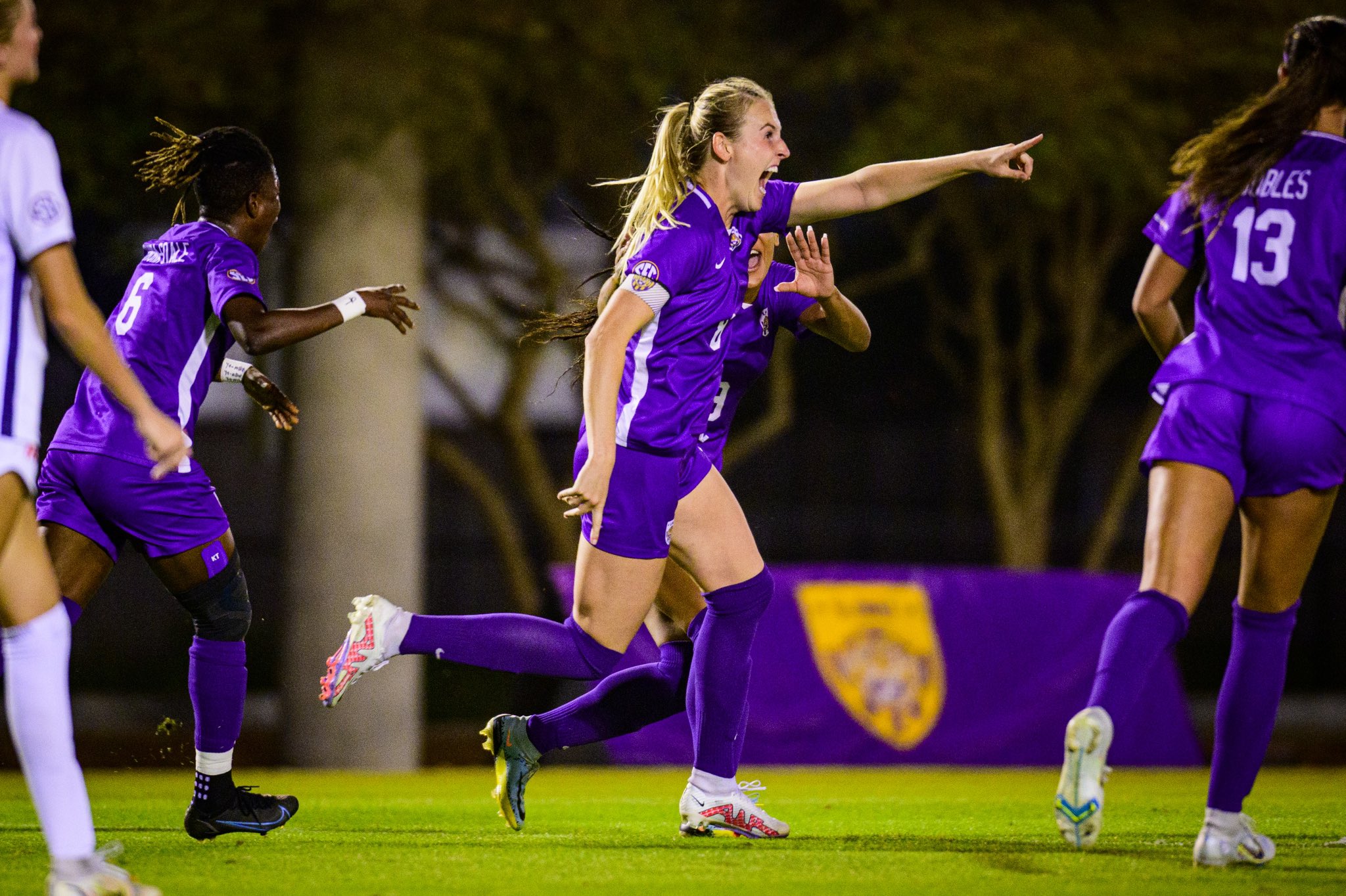 It took LSU senior Wasila Diwura-Soale 20 minutes Thursday to unlock an offense that had been plagued by its inability to score goals.
The Tigers, which had gone nearly 400 minutes over four matches without a goal, had so much fun they scored three times in the first half en route to a 4-1 victory to cap the regular season against Ole Miss.
"That lifted a huge amount of pressure," LSU soccer coach Sian Hudson said. "Just a weight. I was thrilled for her. She had a great goal that was called back against Alabama for offsides. Taylor Dobles had one Sunday called back because of offsides. For Taylor to lay it on a plate for Wasila for the first goal was almost symbolic. Wasila inspires so many of her teammates. It was great to see her get a couple of goals and get back on the scoresheet and that led to renewed confidence in a couple of more goals right before half."
The new-found dose of confidence couldn't have arrived at a better time.
LSU, which hadn't won a match since Oct. 2, carries a 9-3-6 overall record and a greater sense of direction offensively going into the start of the Southeastern Conference Tournament.
The seventh-seeded Tigers, which last won the event in 2018, open play at 1 p.m. Sunday against the No. 10 Rebels (9-6-3) at Ashton Brosnahan Soccer Complex in Pensacola, Florida.
"We've played an incredibly difficult schedule this year," Hudson said. "The West Division is just a lot stronger than the East in the SEC. Two of our three cross-over games were against Tennessee and Vandy that finished really high on that side of the bracket. Of the 10 teams going, the West has six and the East four.
"Overall, just really pleased with the response since the Alabama (5-0 loss) game on the defensive side of the ball," Hudson said. "With that came a greater focus on defending and not as much freedom on the attacking side of the ball. We just lost a little bit of a rhythm for a couple of weeks in front of goal. It was definitely great to get that back, score some goals and get some confidence. I think heading to the tournament there's a lot of confidence and excitement in the group."
Diwura-Soale finished with her first brace of the season, making it 3-0 in the 44th minute against Ole Miss, and fellow seniors Shannon Cooke and Anna Rockett also contributed to the scoring party. The four goals matched the most the Rebels had allowed this season.

Senior goalkeeper Mollee Swift had seven saves in 80 minutes and increased her season total to 67. She also has four shutouts to her credit.
"We had this situation last year with Arkansas," Hudson said of the quick turnaround with Ole Miss. " We played them late and turned around and played them in the SEC Tournament. Anytime you play a team twice in a short amount of time can be really difficult. I think they'll be in a situation where they'll feel they've got nothing to lose and will throw everything at us."
Hudson said that she rested starters Diwura-Soale, Rammie Noel and Maya Gordon in the second half and the team's leading scorer, freshman Ida Hermannsdottir, didn't play at all and remains doubtful for Sunday's match because of a high ankle sprain.
North Carolina transfer Mollie Baker has four goals and 13 total points, while Alesia Garcia has five goals and 11 points. Angelina Thoreson leads the Tigers with seven assists and nine points.
"We cleared out the bench, rested some legs as much as we could," she said.
With a No. 29 RPI, LSU has secured itself of at least an at-large berth in the NCAA Tournament. The Tigers' resume, though, needs more work and could benefit from a deep run in the SEC Tournament to be a host site in the first round of postseason play.
"I think we're in a good position to get a bid to the tournament," Hudson said. "If we win a couple of games in the tournament, we would put ourselves in a position where we would eventually get to host. We have a lot of ties against very good opponents, but we need to get a win over a Top 25-50 team."