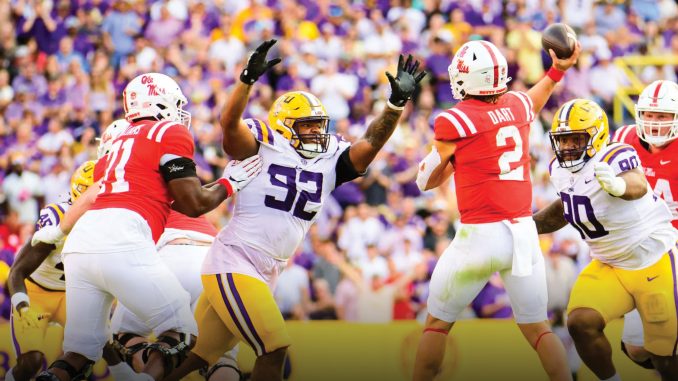 The possibilities of the mismatches his defensive line could enjoy this season had LSU second-year coach Brian Kelly beaming.
Kelly looks at the return of redshirt sophomore tackle Maason Smith from knee surgery and wonders if opposing lines will choose to block him with one lineman or two? There's the prospect of third team All-American tackle Mekhi Wingo, who took over for Smith and flourished in his absence, receiving such treatment.
Then you have Freshman All-American Harold Perkins Jr. who is expected to play closer to the line of scrimmage from his weakside linebacker position in third-down situations and cause plenty of disruption with his pass-rush ability.
"Getting a guy like that changes a lot of things," Kelly said of Smith at SEC Media Day in July. "You could slide the center, guard and tackle to one side. You could add a back to the other side because we really didn't have an inside guy that could win every single one-on-one matchup. Maason will win those one-on-one matchups. If you're going to do that and protect the edges on every play against what we feel are going to be some guys that can come off the edge, Harold Perkins in particular, you're going to leave him singular inside, and we think he could have an incredible year if that's the case."
Kelly was also active in the NCAA transfer portal with the additions of defensive tackles Paris Shand of Arizona, Jalen Lee of Florida and Justin Jefferson of West Virginia to go with edge rushers in Ovie Oghoufo of Texas and Bradyn Swinson of Oregon.
Moreover, Kelly was able to land two of the nation's top interior players during the NCAA's early signing period in Jaxon Howard and Da'Shawn Womack.
The combination of LSU's returning players, including junior defensive end Sai'vion Jones, plus the infusion of seven players from the transfer portal and high school signees, has elevated the Tigers line, to among the best in the nation with Athlon Sports ranking them No. 4 overall and Lindy's at No. 6.
A lot of the buzz about the promise of this year's LSU line centers around Smith, the nation's former No. 1 defensive lineman out of Terrebonne High School. Despite starting in four of nine games with six tackles and three sacks his first season, Smith was named Freshman All-American by the Football Writers Association of America and earned a spot on the All-SEC Freshman team.
Just how good is Smith?
After playing in just the opening series of last year's season opener versus Florida State and tearing his ACL and missing the rest of the season, Smith is a consensus first-round pick in most mock 2024 NFL Drafts.
Wingo, a first team preseason All-SEC choice, was the beneficiary of Smith's injury, moving into a starting role the remainder of the season and earning All-SEC second team laurels by the league's coaches and The Associated Press. He registered 47 tackles, six TFLs for minus-34 yards and three sacks for minus-29 yards.
With LSU losing All-SEC 'JACK' BJ Ojulari, a second-round draft choice by Arizona, the Tigers will turn to Jones to step into that starting spot. Jones made three starts in 14 games with 23 tackles and had six TFLs and four sacks in his last six games of the year.
Kelly could pair an experienced player opposite Jones with either Oghoufo or Swinson or turn to redshirt freshman Quency Wiggins. The former Madison Prep standout had four tackles in the Citrus Bowl against Purdue among his five games played but was able to redshirt.
Oghoufo played for three years under Kelly at Notre Dame before transferring and playing for two years for Texas. He started in 12 of 13 games with 54 tackles, 8 ½ TFLs and 2 ½ sacks last season for the Longhorns and Swinson added 8 tackles and 1 ½ sacks in 12 games in '22 with Ducks.
Jefferson, with 17 starts in 42 career games, was the most productive of the three defensive linemen signed from the portal, leading West Virginia with 9 ½ TFLs for minus-28 yards to go with 31 tackles and three sacks in 12 starts from his nose tackle position. Shand had 23 tackles, 2 ½ TFLs in nine games (7 starts) and Lee, a former Live Oak High standout, added 19 tackles, 3 TFLs in 12 games (3 starts).
Redshirt junior Jacobian Guillory could be the team's replacement for Jaquelin Roy, a fifth-round pick of Minnesota, and has 23 tackles to his credit in 26 career games that includes two starts. Hill had one tackle in three games and was redshirted in '22, while Howard was the No. 1 player in his home state of Minnesota, and Howard the No. 1 player in Maryland.