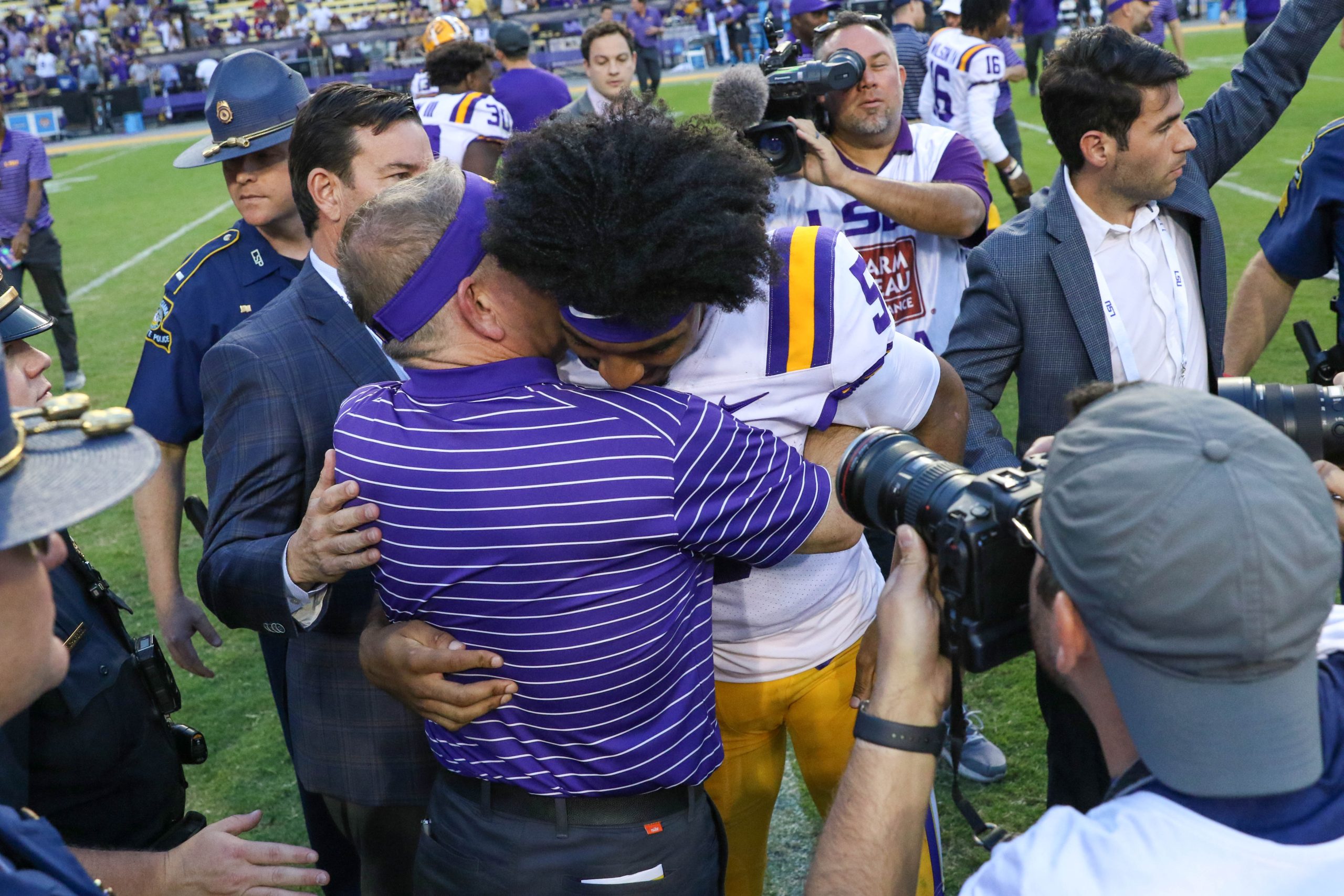 More than three months ago the throng of media covering the Southeastern Conference pegged LSU to finish fifth in the Southeastern Conference's Western Division.
Not fifth overall, but fifth in a six-team division.
LSU was under a first-year coach in Brian Kelly who inherited a less than desirable situation upon his arrival from Notre Dame. He saw the depths of the program when the Tigers played in a bowl game with 38 scholarship players that included a wide receiver-turned-quarterback so the Texas Bowl could even take place.
The Tigers were a major player in the NCAA transfer portal with 15 signees and complimented that with the No. 12 class in the country of 15 freshman signees.
Nearly 11 months since his hiring, and eight weeks into the 2022 season, Kelly has LSU standing at 6-2 overall with a share of the SEC West lead at 4-1. The Tigers are also back in the Top 25, ranked as high as No. 18 in the USA Today Coaches Poll and No. 20 by The Associated Press.
With four games remaining in the regular season, LSU's far from a finished product. They're also a lot more stable than the tattered program Kelly arrived to last December.
With recruiting trending toward a top 5 national finish, this figures to be the worst team Kelly will coach at LSU. The Tigers will have their choice of players in the transfer portal who seek a better future.
The latest example of the upward trajectory under Kelly took place last Saturday when LSU not only overcame a two-touchdown first-half deficit but left Ole Miss in its wake with a 42-3 romp in a convincing 45-20 victory the seventh-ranked and previously unbeaten Rebels.
The Tigers earned a break at the midway point in the season with Alabama headed to Tiger Stadium for a Nov. 5 clash at 6 p.m.
Quarterback Jayden Daniels, one of those players Kelly plucked from the transfer portal, has been magnificent over the past two weeks in guiding LSU to wins over Florida and Ole Miss. The Arizona State transfer combined for 11 touchdowns during that span and re-established the school's single season record for rushing touchdowns by a quarterback with nine.
Daniels accounted for 369 yards and five scores against Ole Miss, calmy leading the Tigers back from a 17-3 deficit with a run that included four straight touchdown drives in the second half for a 28-0 spurt.
He completed 21-of-28 passes for 248 yards with touchdown passes of 34 yards to Jaray Jenkins and 1 yards to true freshman tight end Mason Taylor. He's completed 70% of his passes (165 of 236) for 1,812 yards with 12 touchdowns against one interception.
Daniels has also been nimble on his feet, leading the Tigers with 113 rushes for 524 yards. He's combined for 2,336 yards and 21 touchdowns.
That preseason battle for the team's starting quarterback with Garrett Nussmeier seems so long ago. Was it really that close of a decision?
The results emphatically say no.
LSU is 6-2 overall because of the play of Daniels and an offense that continues to develop into the type of balanced unit Kelly strives for. Walk-on-turned-scholarship signee running back Josh Williams has been an enlightening story, evolving into the team's second-leading rusher (305 yards on 66 attempts, 4 touchdowns), a capable pass catcher and effective blocker in blitz protection.
Once maligned, the offensive line has started to show some cohesion with a unit that features true freshmen tackles in Will Campbell and Emery Jones Jr. The Tigers have endured six different starting lineups at that position, but once sophomore Garrett Dellinger returns for the Alabama game, they'll be whole again and continue their growth.
LSU's defense broke in the highest number of new faces this season, a group that includes five signees from the transfer portal – four of which are in the secondary.
The Tigers rendered the SEC's No. 1 quarterback Will Rogers of Mississippi State ineffective in a 31-16 come-from-behind win Sept. 17 and did the same in the second half against Will Dart of Ole Miss.
LSU allowed two touchdowns on back-to-back series and Dart was 9-of-10 for 156 yards during the first quarter. Once the Rebels extended their lead to 17-3, the Tigers turned freshman Harold Perkins Jr. loose and helped limit the visitors to one field goal, forced three punts, an interception in the end zone and a turnover on downs.
Kelly pinpointed a one-handed interception by Arkansas transfer Joe Foucha as a turning point, thwarting a long drive where the Tigers maintained a 24-20 lead and added to their momentum.
The Tigers reeled off three straight touchdowns over the next 20 minutes, primarily on the ground against a Rebels defense that was rendered helpless to stop it.
After the game, and before they conducted postgame interviews with CBS, Kelly embraced with Daniels, offering him words of encouragement and undoubtedly congratulations on a job well done.
The same could be said for the entire team which has positioned itself for a shot at a SEC Western Division championship and potentially much more.