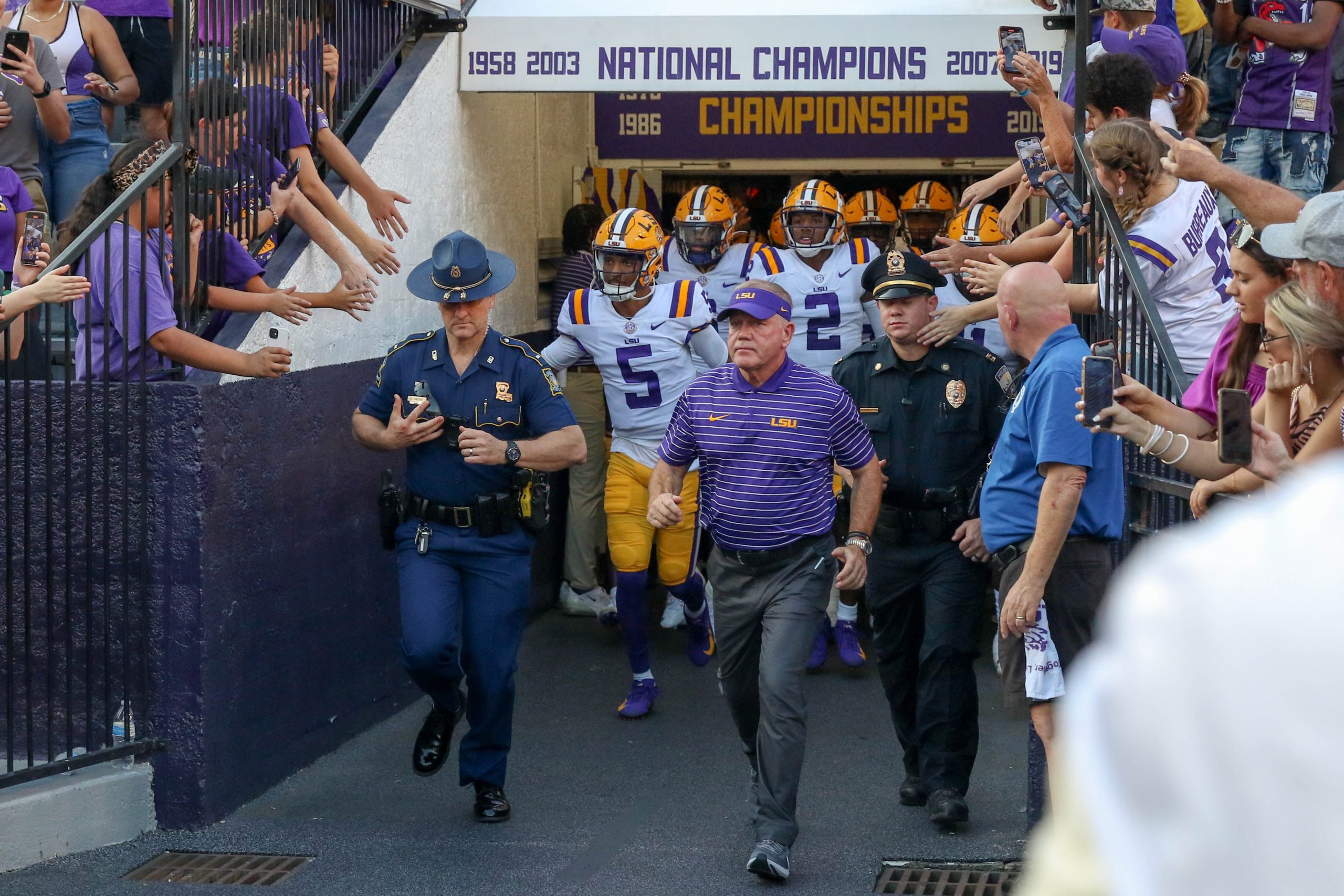 It took six games to find out exactly where LSU stands in the hierarchy of college football.
This isn't to anoint Tennessee the Eastern Division champions of the Southeastern Conference or a College Football Playoff participant just yet. The Volunteers still have plenty of time left to prove themselves worthy of inclusion in such discussions.
But on Oct. 8th in Tiger Stadium, there was a clear chasm between what an elite-level program looked like and one with the ambition to become one.
LSU, which was ranked No. 25, has plenty of work to join the ranks of a consistent Top 25 program, one with goals of contending for SEC Championships and a return to the high-rent district of college football this is the College Football Playoffs.
That much was understood when LSU athletic director Scott Woodward plucked college football's winningest coach – Brian Kelly – away from Notre Dame to reconstruct the Tigers program from the bottom up.
In two years since reaching the pinnacle of college football with a national championship in 2019, that's how far down the rung of college football LSU had fallen and Kelly new it, especially after witnessing the Texas Bowl debacle in which less than 40 scholarship players were available to play.
This wasn't going to be your run-of-the-mill, restore a program back to its original glory job, and despite a few fleeting moments that have whet the appetites of LSU's ardent fan base, that's proven to be the case.
It's too early for any turn-the-corner moments and after then eighth-ranked Tennessee administered a 40-13 demolition of LSU, it was a stark reminder of how far off such instances are.
The Volunteers are a stable program under second-year coach Josh Heupel with a Heisman Trophy-caliber leader in quarterback Hendon Hooker, an embarrassment of riches at the skill positions, solid play in the trenches with a complimentary defense.
They were simply on a different level in October, six games into Kelly's rebuilding project, for LSU to contend with.
"We're not very good," Kelly acknowledged. "That falls on coaching. That's on me. We've got to coach better. That's the group we have and we've got to coach and play better."
The weaknesses that LSU exhibited over the course of its first five games became glaring when Tennessee, the most complete team they faced to date, showed up for an early 11 a.m. kickoff.
It was rise and shine for the Volunteers, not so much for the Tigers.
Special teams, which had been problematic for LSU throughout portions of the season, enabled Tennessee to jump out to an early lead and not allow the Tigers to same opportunity to climb back into contention as had been the case in earlier wins over Mississippi State and Auburn.
Kelly sounded a pre-emptive strike in the week leading up to the Tennessee game about needing faster starts to avoid falling behind. He didn't want his team trying to follow the blueprints of spotting teams like Mississippi State 13 points and Auburn 17, then flipping a switch and finding a way to emerge victorious.
He knew grit and determination would only carry his flawed team so far.
Against Tennessee, those character traits didn't matter. When a repeat of the same mistakes emerged, Kelly's worst fears were realized when the Volunteers bolted to a 20-0 lead early in the second quarter and kept their foot on the gas in the third quarter.
A fumble on the game's opening kickoff by reliable wide receiver Jack Bech was probably a premonition of things to come. The Tigers punt coverage team was unable to cover one of Jay Bramblett's finest moments – a booming 60-yard effort – and trailed 10-0 four minutes into the game.
At that pace Kelly knew his offense, which eventually had to play without two of its starting offensive linemen Will Campbell and Garrett Dellinger, couldn't keep up unless it maximized more of its possessions. He tried going on fourth down three times, twice in the first 15-plus minutes, and didn't convert.
Hooker made it 20-0 with a 45-yard scoring dart on the first play after LSU's second failed fourth-down try.
Josh Williams' 1-yard TD run awoke LSU from an early funk, trying to spark a comeback which appeared to have some validity when the Tigers crossed midfield in the final minute of the first half.
Before anyone could envision the Tigers getting to within 20-14 at halftime, quarterback Jayden Daniels was sacked by a full-out blitz on another failed fourth-down try.
Game over.
Tennessee closed the half with a field goal for a 23-7 lead and stretched its lead to 37-7 with a pair of third-quarter touchdowns, the latter coming with 2:13 showing in the quarter that further emptied Tiger Stadium which had taken on a noticeable orange hue by that point.
"I don't want to keep repeating myself," Kelly said, "but those are the guys that are playing for us, and we've got to get them to play better."