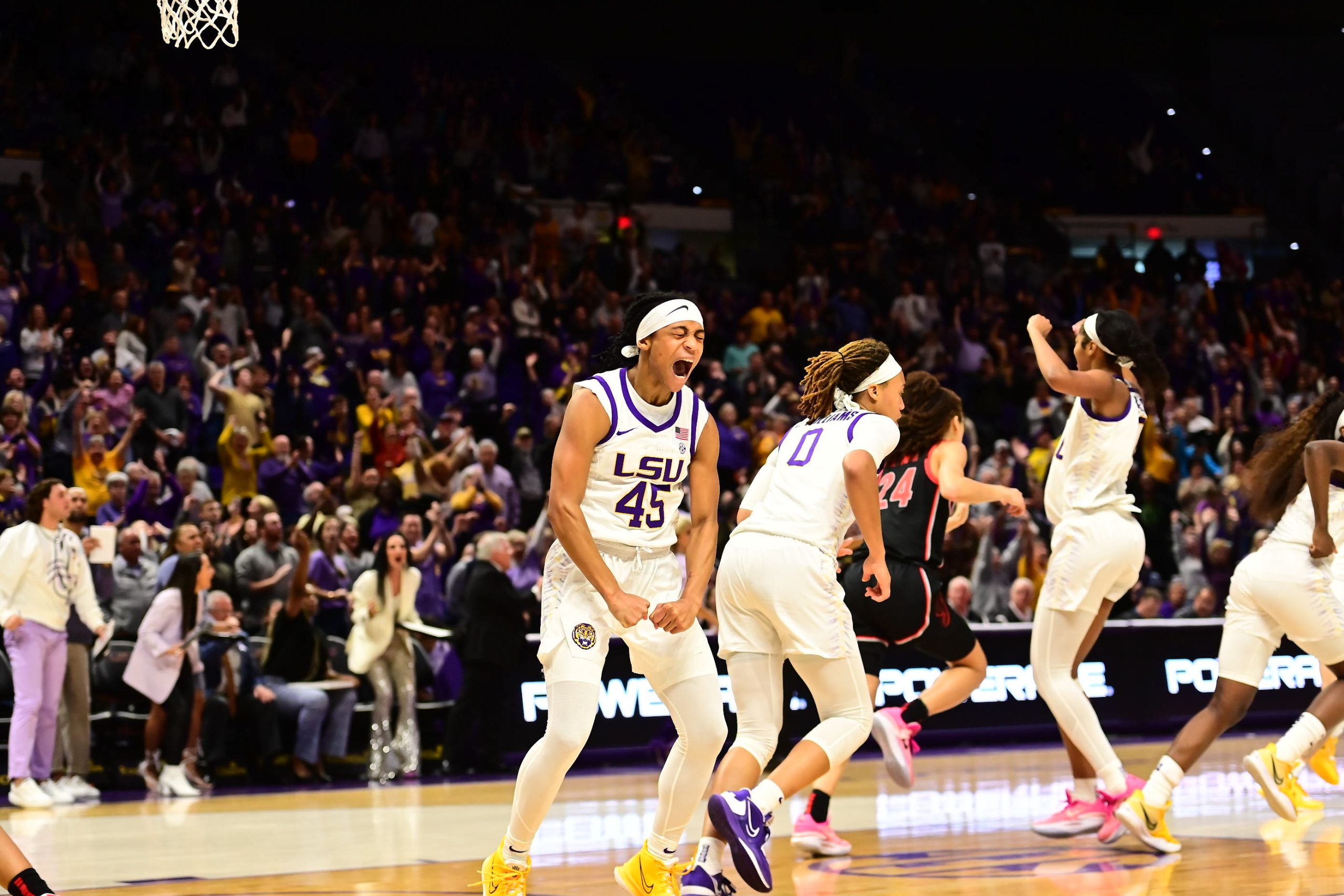 Even LSU coach Kim Mulkey was still somewhat incredulous after her team's 82-77 overtime win Thursday in Southeastern Conference action over Georgia.
"I'd like to be able to tell you just exactly how we won it. I don't know," Mulkey said. "I don't know if we deserved to win. I don't know how we won it, but I'm not going to give them the victory. We did win."
No. 3 LSU made a furious comeback from a nine-point deficit early in the fourth quarter and forced its first overtime game of the year at 66-66 on Kateri Poole's free throw with 57.8 seconds remaining.
The Tigers outscored the Bulldogs 16-11 in overtime with fifth-year senior Alexis Morris overcoming a difficult shooting night to make a clutch 3-pointer with 50 seconds showing for a 77-74 lead. The margin held up on 5-of-8 shooting from the free throw line the rest of the way before a crowd of 8,716 at the Pete Maravich Assembly Center.
"We didn't shoot the ball very good and we still won," Mulkey said. "They shot almost 55% (54.7), we shot 36%. I can't tell you how we won the game. With those kinds of shooting percentages, you're not supposed to win."
LSU (22-0) extended its school-record win streak and maintained a share of the Southeastern Conference lead at 10-0 along with No. 1 South Carolina.
Sophomore Angel Reese scored 16 of her game-high 23 points in the second half and turned in her 22nd consecutive double-double with 14 rebounds.
Morris was 5 of 16 overall and 3 of 9 from 3-point range for 13 points, all of which came after halftime. The Tigers also got key contributions from LaDazhia Williams with 10 points and eight rebounds and Sa'Myah Smith with 10 points and five rebounds.
Georgia's 1-2-2 matchup zone frustrated LSU into shooting well below its .488 shooting norm for the season. The Tigers also turned the ball over 18 times but compensated at the free throw line with 28 of 45 shooting for 62.2%. Reese was 9 of 15 from the line and Flau'jae Johnson went 6 of 8.
Georgia (15-9, 5-5) had four players score in double figures led by Central Florida transfer Diamond Battles with 22. The Bulldogs, who made 15 of 24 free throws (62.5%), lost their fifth game by 10 points of less this season.
"I compliment them. Their 1-2-2 is as good as any zone defense that I've seen in all of my years of coaching," Mulkey said. "That's just a hard matchup. I thought they would press more, (but) they didn't have to. We did some bonehead things tonight. We pick and chose when we were going to play hard.
"We're going to flush this," Mulkey said. "We're going to realize you did win the game. We did get to the foul line 45 times against that zone. That's unheard of but you've got to make free throws. We missed 17 free throws tonight and we're very fortunate to have won."
LSU finally took the lead for good at 77-74 on Morris' 3-pointer from the left corner in the extra session.
The Tigers, holding a 78-76 edge, were attempting to extend that margin when Reese missed a pair of free throws but Johnson rebounded the miss. She was fouled and made a pair of free throws to make it 80-76 which stood up in the end with Morris making two more foul shots to account for the final score with 1.1 seconds left.
"You can't just call plays and quick hitters. Zone are reads," Mulkey said. "Read where the opening is. You've got to make two people take you and you've got to be able to deliver passes. We've got to do a better job of delivering a pass and we will. That team has lost a lot of close games. That just tells you what a good job they're doing with their personnel."
LSU, which trailed for season-high 25 minutes, came back from a 59-50 deficit with 7:52 remaining in regulation to force overtime.
The Tigers outscored the Bulldogs 16-11 in the quarter and tied the game at 63-63 on a 13-4 run with 2:56 left on eight straight points from Reese, including the last four from the free throw line.
Poole's free throw tied the game for the 14th time (66-66) with a free throw with 57.8 seconds left and both teams committed turnovers in the last 37 seconds with Morris missing a 3-point heave at the buzzer.
"Our thing was to stay focused and steady," Georgia coach Katie Abrahamson-Henderson said. "There's an amazing crowd. The fans are amazing. Kim's done a great job with the fan support."
Reese provided LSU with a 30-29 halftime lead with 1:59 to go, rebounding a desperation 3-point heave with the shot clock running down from Morris and turned it into a three-point play.
Reese's seventh rebound of the half and field goal ended a stretch of nine straight misses covering nearly five minutes for the Tigers who shot 25.8% (8 of 31) from the field.
LSU opened the second quarter on a 8-2 run that flipped a 15-10 deficit after the first quarter into a 18-17 edge on Smith's free throw at the 7:39 mark. The freshman reserve was critical to the team's survival in the half with eight points – three over her season's average – while Reese was limited to seven points on 3-of-9 shooting.
Smith helped tie the game for the sixth time of the half with two free throws that made it 27-27 with 2:19 left when Reese beat the shot clock, rebounding Morris' miss and getting fouled.
"We never could make the easy pass," Mulkey said. "Everything we did tonight, we labored to do it and that's a compliment to their team. I'm not going to make excuses. I'm going to give credit where credit is due."