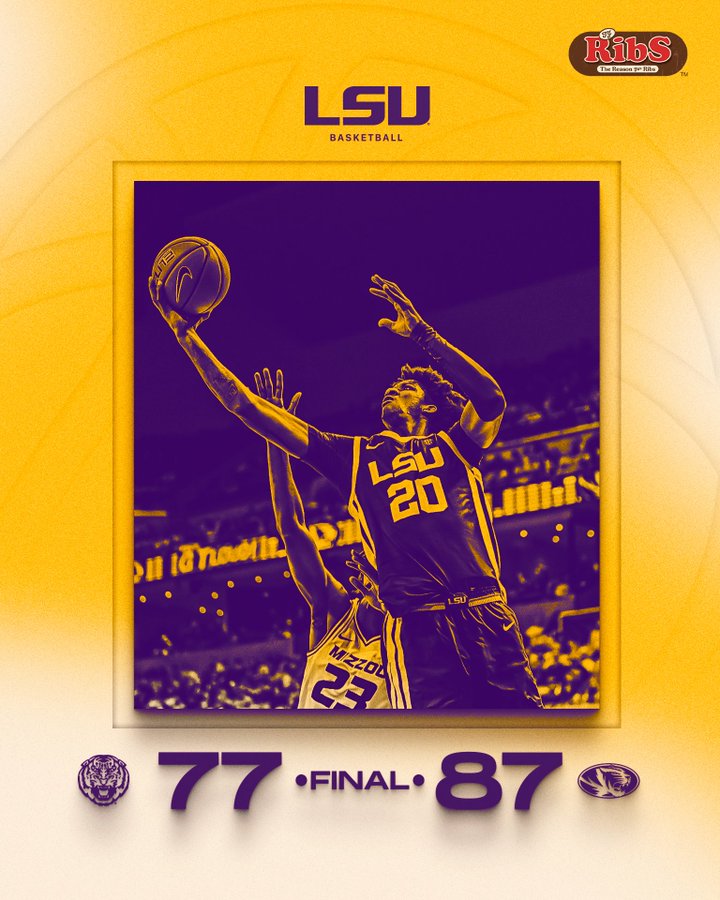 Missouri's Kobe Brown was smoking hot on Wednesday night.
LSU's biggest problem, however, was that Brown wasn't the only Missouri Tiger on fire all game.
Homestanding Missouri shot 55.9%, hitting 11 3-pointers in the first half alone, and led LSU from start to finish en route to an 87-77 victory in Southeastern Conference play.
LSU (12-10, 1-8) lost its ninth straight game, its eighth consecutive in the SEC, despite having six players score in double figures in arguably its most balanced offensive performance of the season.
LSU returns home to host No. 4 Alabama at 3 p.m. in the Pete Maravich Assembly Center.
Brown scored 26 points for Missouri (17-5, 5-4) on 10-of-11 shooting, including five 3-pointers, while Noah Carter and Deandre Gholston each added 14 points, and Isiaih Mosley had 12.
"I thought they put on an offensive clinic tonight," LSU coach Matt McMahon said. "Kobe Brown was terrific."
KJ Williams and Derek Fountain each posted double-doubles for LSU. Williams and Fountain had 11 rebounds apiece, while Williams scored 15 points and Fountain 11. Justice Hill scored 13 points while Trae Hannibal and Adam Miller added 11 and Cam Hayes had 10.
Missouri led 25-11 on the strength of seven 3-point shots with 11:08 to play in the first half.
Brown hit another 3-pointer to polish off a fastbreak less than three minutes later as Missouri's lead grew to 18 points at 34-16 with 8:43 to play in the first.
"They really hit us with an offensive avalanche to start the game. You look at the first 12 minutes, we were unable to defend the 3-point line at all," McMahon said.
"Whether it was man-on-man or switching defenses we were in, we just couldn't get the job done. You look at the two frontcourt guys at the four or five position, with Carter hitting those 3's in the first half, and it really put us in a position where you're trying to fight and claw to get back in the game."
Back-to-back 3-pointers from Miller and Hill ignited a 9-0 LSU run at that point. Still, LSU could never get any closer, and Missouri led 48-35 at halftime.
LSU outscored Missouri, 42-39, in the second half, but could never get closer than 11 points after trailing by as many 18 with 9:48 left in the game.
Twice in the final 7:34 of play, LSU cut the Missouri to 11 and had possession threatening to get within single digits but endured missed two-point shots from Miller and Hill and then a 3-pointer from Miller.
"We had a couple of opportunities; we had a few really good looks. They just did not fall, and we couldn't get it down to single digits," McMahon said.
Missouri had 26 assists on 33 made field goals.
"It's a great credit to them," McMahon said. "They did a good job with their execution, whether it was dribble hand-offs or some screening actions, we got caught on some back screens. You know, they made us pay every single time.
"They shot extremely well from the start," McMahon said. "(They) Hit some tough 3's, got some confidence, then made a few difficult shots in transition. We were unable to do anything to disrupt them at all. They put on an offensive show."