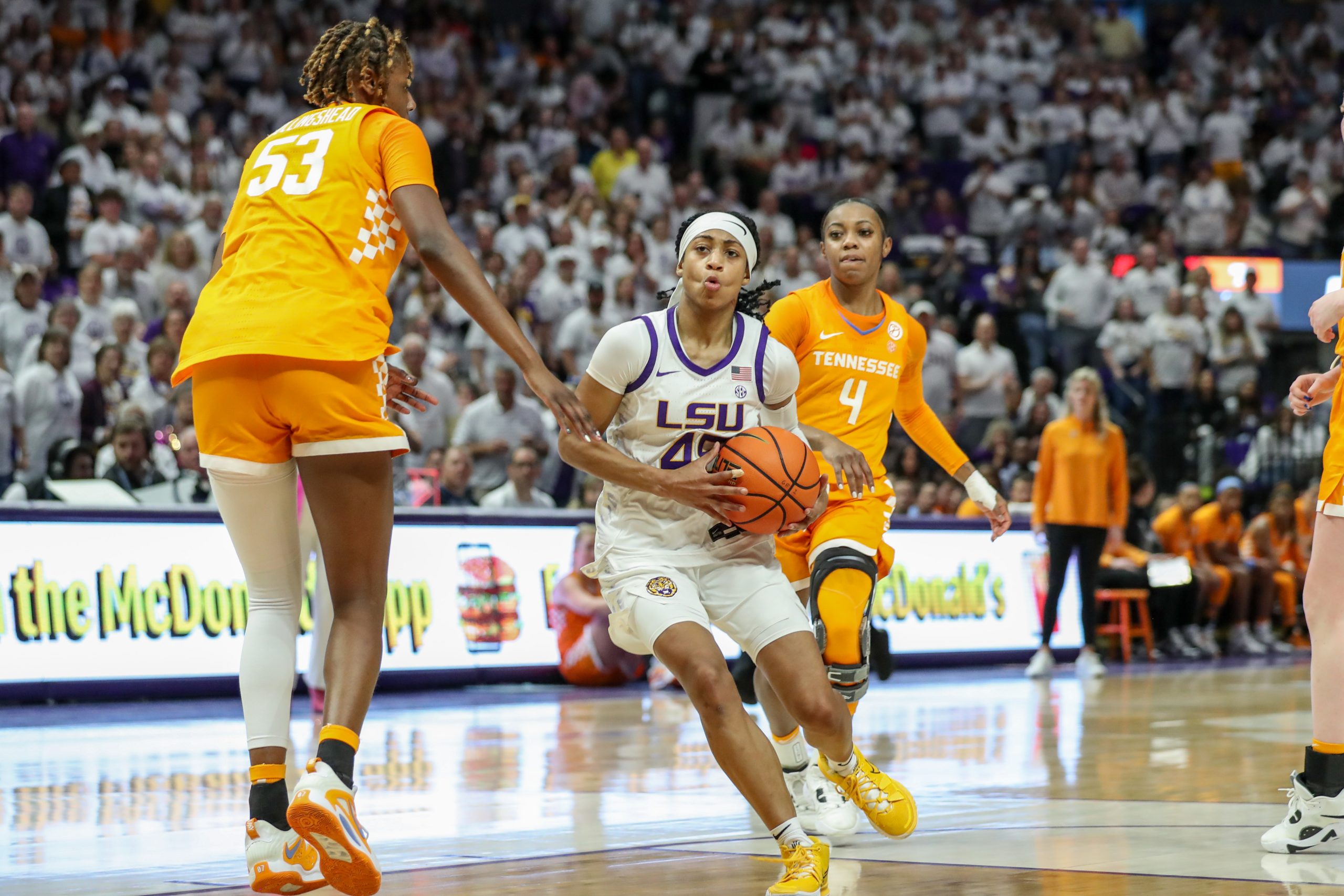 LSU women's coach Kim Mulkey drew on a football metaphor Monday to best define the play of Monday of fifth-year senior Alexis Morris.
"Alexis Morris carried our team as she should," Mulkey said after her third-ranked team's 76-68 victory. "She was our quarterback out there. She was our coach out there. She was just smooth."
Morris scored 18 of her career-high 31 points in the second half to lead LSU and Angel Reese extended her school-record streak of consecutive doubles-doubles to 21 games with 18 points and 17 rebounds before a 'White Out' crowd of 15,157 – the largest in school history since the Pete Maravich Assembly Center was reconfigured before the 2005-06 season.
LSU (21-0, 9-0) stretched its school-record start to the season and maintained a share of the SEC lead with No. 1 South Carolina. Tennessee (16-8) fell out of a three-way tie for the league lead with only its second loss in the last 11 games.
"Compliment the fans," Mulkey said. "I don't think I saw an empty seat. It was everything that young people need to experience in college."
Tennessee coach Kellie Harper, whose team has played the nation's toughest schedule, went a step further.
"It got loud a few times and it was really difficult to communicate with our team," said Harper, whose team was led by Jordan Walker's 19 and Rickea Jackson's 17. "I thought it was so loud one time LSU got a shot clock violation because they couldn't hear as well. It got really loud. I was very limited in my communication with the team, especially the first half with the team being on the other end of the court. But the second half was really hard. Sometimes it was hard to communicate in the huddle because it was so loud."
LSU, owners of a 37-point scoring differential, found itself in a second competitive conference game at home in more than a week after a 79-76 home win over Arkansas. The Tigers shot 40.5% (27 of 66) overall but flipped a seven-rebound disadvantage in the first half to a 25-11 surplus in the second half and outrebounded the Lady Vols 45-38 for the game.
"I thought that was a huge part of this game," Harper said of LSU's second-half rebound reversal. "I thought we did a good job in the first half. We were a little more physical. I thought they anticipated a little better in the second half. They did a better job of getting position earlier and probably a little more aggressive."
Tennessee got to within a point (53-52) at the 7:43 to play when Morris fueled an 11-0 run over a 2 ½ minute stretch that included a three-point play and consecutive driving layups for a 64-52 lead with 5:20 remaining. Reese also contributed a key steal, driving in for what turned into a three-point play.
Tennessee got LSU's lead under double digits (66-57) with 3:24 to play on Walker's 3-pointer and Jordan Horston, who had two points in the first half, adding five straight to draw the Lady Vols to within 68-62 with 1:38 showing.
Morris hit LaDazhia Williams for a 10-footer from the lane with 1:14 to go and the Tigers went 5-of-8 from the free throw line in the last 25 seconds to sew up their second straight win over the Lady Vols.
"Be who you are," Mulkey said she told her team beforehand. "Whoever we are, we've won 20 games. Keep doing what you're doing. We got to the foul line (24 of 31). We've been doing that all year. We never stopped being aggressive. There were spurts where we looked bad, where we couldn't get a defensive rebound. We kept taking it in there and that's what we've done."
LSU reeled off six straight points midway through the third quarter and built a 48-34 lead. Reese finished the run, grabbing the rebound on the defensive end and driving in for a layup and the team's largest margin.
"I tried to play cool and do whatever I could and not get that second foul," Reese said of her first half of four points and four rebounds. "Last year I would have probably gotten that second foul and had to sit. That's growth for me. In the second half, I tried to just come out and do what I could, be aggressive. I knew my teammates needed me. I had to do whatever I could to get the win."
Tennessee, which made 50% of its shots in the quarter, ended on a 6-0 run – all from Saran Puckett – in the final two minutes of play.
Morris proved to be LSU's lone consistent scoring threat in the first half with 13 points, including a key three-point play, that enabled the Tigers to open a 29-23 lead with 3:34 left before halftime.
"I got my first few transition buckets and thought OK, 'This is pretty easy'," Morris said. "I wanted to use that to my advantage and that's what I did tonight. I pushed it in transition and put the pressure on them."
The team's best offensive surge reached 9-2 when Reese passed out of the post to find Last-Tear Poa for a 3-pointer from the wing and 32-23 advantage and the Tigers went on to lead 34-28 at halftime.
Tennessee proved to be a formidable foe on the boards in the first half, holding a 27-20 edge over the Tigers with 12 of those on the offensive end.
LSU, which shot 45.2%, scored 22 of its points in the paint with Williams scoring four points in the opening quarter and the Tigers broke a 12-all tie when Morris drained a pull-up jumper. Sa'Myah Smith converted one free throw after an offensive rebound with 22 seconds left.
Jackson's personal 6-0 run gave Tennessee its first lead at 18-17, triggering a 2 ½ minute stretch where the lead changed hands four times with a 17-footer from Morris giving LSU a 21-20 edge at the 5:38 mark.
LSU's halftime lead was bolstered by the eight bench points from Smith and Poa which came in the last 2:42 of the half.
"I thought it was a game that was good for the SEC," Mulkey said. "It was good for women's basketball. I thought there were things that a lot of people still have question marks about us and we're good with that. That just feeds our hunger."