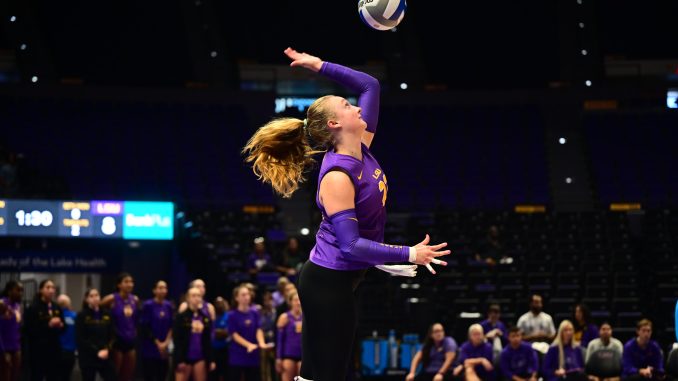 Wisconsin transfer Jade Demps had a career-high 15 kills and LSU broke a 1-1 all tie to turn back UL-Lafayette for a 3-1 victory Wednesday at the Pete Maravich Assembly Center.
The Tigers (3-3) defeated the Ragin' Cajuns (4-4) for the 15th consecutive time, taking a 25-17, 20-25, 25-12, 25-12 victory.
Demps, a right-side hitter, had her second double-double of the season with 15 kills and 10 digs. She had a .400 attacking percentage and three blocks.
Freshman outside hitter Jurnee Robinson had a .350 attacking percentage with 11 kills and outside hitter Sanaa Dotson added 10 kills. Setting Maddie Waak tallied her fifth career double-double with 42 assists and a career-best 20 digs.
Libero Erin Carmichael also reached double figures in digs with 10 and had nine assists and one ace, while middle blocker Angie Lee had a match-best four blocks and five kills.
LSU held a close 15-14 lead in the first and expanded that lead to 20-15 on five kills from Demps and four from Robinson.
The Tigers bounced from a setback in the second set with consecutive 25-12 verdicts in the third and fourth sets to win the match.
After building an early 6-2 lead, LSU increased its lead to 20-12 and capped the set with the final five points. Demps had six kills in the set and two blocks. The Tigers jumped out to a 10-4 lead in the fourth set, including a 9-0 run, and improved that margin to 18-9 with seven of the last 10 points in the set.
Dotson contributed six kills and middle blocker Anita Anwusi four kills.
LSU returns home to host Southeastern Louisiana at 2 p.m. on Sunday.