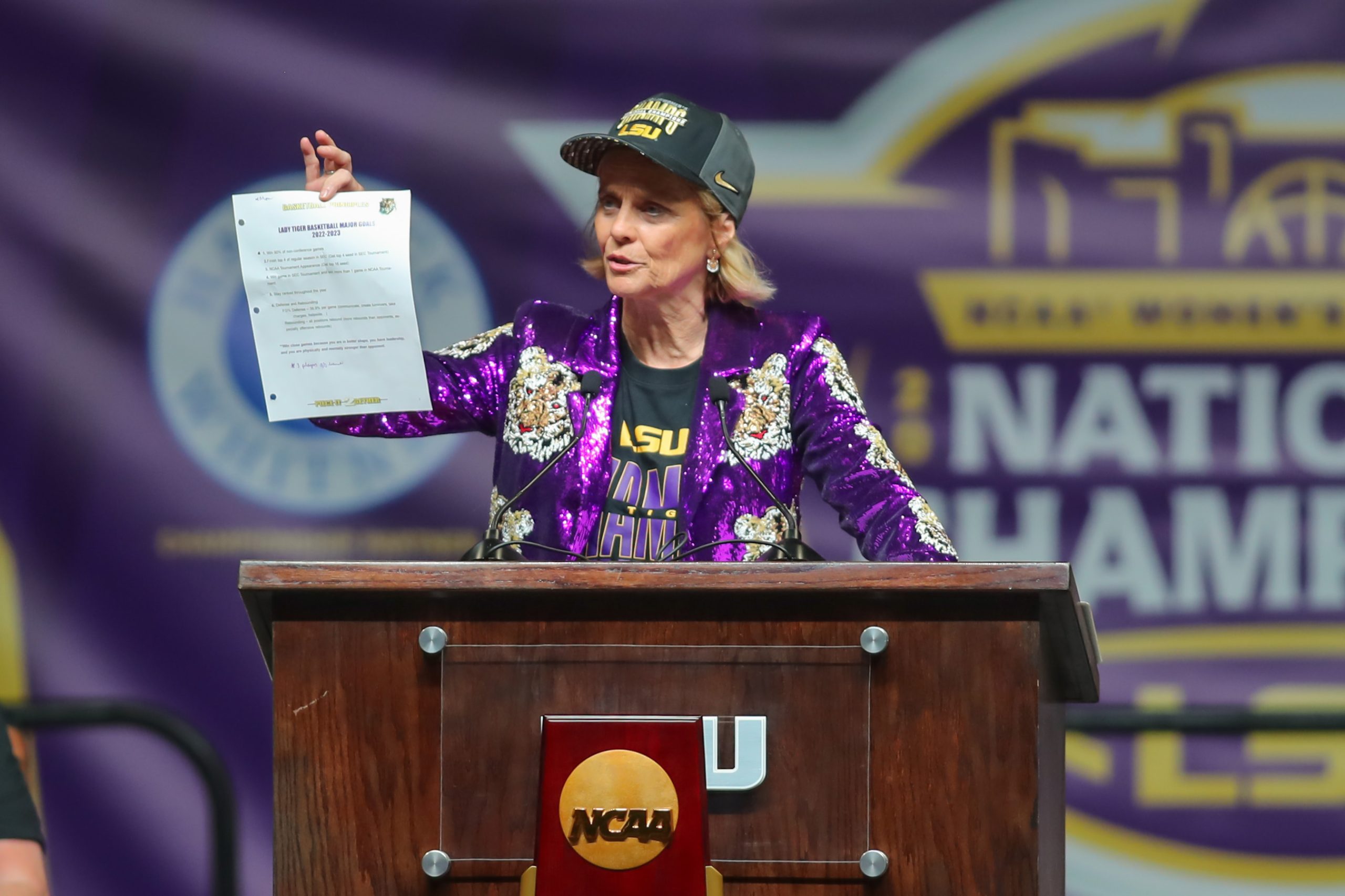 After winning the school's first national championship, third-year LSU coach Kim Mulkey will try and lead the Tigers to their first Southeastern Conference under her direction when league play begins for the 2023-24 season on Jan. 4.
Mulkey has directed the Tigers to consecutive SEC runners-up finishes behind South Carolina in her first two seasons and will take aim at an elusive SEC title, beginning with a home game with Missouri, the league office released Wednesday. The team's SEC television schedule will be announced at a later date.
LSU (34-2, 15-1) embarks on a 16-game conference schedule that includes eight home and eight away games, including three home-and-home series against Texas A&M, Auburn and Alabama. They combined to go 16-31 a year ago with Alabama finishing in a tie for fifth, while Auburn was 11th and A&M was 14th.
Mulkey is scheduled to return three players who started in the Final Four led by All-America forward Angel Reese and SEC Freshman of the Year Flau'jae Johnson. She also signed the nation's top two players from the transfer portal – Hailey Van Lith of Louisville and Aneesah Morrow of DePaul – along with the nation's top incoming freshman class topped by the nation's No. 1 rated player in Mikaylah Williams of Bossier City.
The Tigers host two exhibition games on Oct. 26 against East Texas Baptist and Nov. 1 with Loyola-New Orleans. They officially tip off the regular season Nov. 6 in the Naismith Hall of Fame Series against Colorado at 6:30 pm. At T-Mobile Arena in Las Vegas.
The first month of conference play has LSU hosting Missouri, A&M (Jan. 11), Arkansas (Jan. 21) and South Carolina (Jan. 25) with road trips to Ole Miss (Jan. 7), Auburn (Jan. 14), Alabama (Jan. 18) and Mississippi State (Jan. 29).
LSU will also host Florida (Feb. 4), Alabama (Feb. 11) and Auburn (Feb. 22) before heading to Tennessee (Feb. 25) and Georgia (Feb. 29).
The Tigers conclude the regular season at home against Kentucky (March 3) and head to the SEC Tournament March 6-10 in Greenville, South Carolina.
2024 SEC Women's Basketball Conference Schedule

January 4 (Thursday)
Ole Miss at Alabama
Tennessee at Auburn
South Carolina at Florida
Texas A&M at Georgia
Arkansas at Kentucky
Missouri at LSU
Vanderbilt at Mississippi State
January 7 (Sunday)
Georgia at Arkansas
LSU at Ole Miss
Alabama at Missouri
Mississippi State at South Carolina
Kentucky at Tennessee
Auburn at Texas A&M
Florida at Vanderbilt
January 11 (Thursday)
Mississippi State at Arkansas
Alabama at Georgia
Vanderbilt at Kentucky
Texas A&M at LSU
Auburn at Ole Miss
South Carolina at Missouri
Florida at Tennessee
January 14 (Sunday)
Arkansas at Alabama
LSU at Auburn
Georgia at Florida
Ole Miss at Mississippi State
Tennessee at Texas A&M
Missouri at Vanderbilt
January 15 (Monday)
Kentucky at South Carolina
January 18 (Thursday)
LSU at Alabama
Tennessee at Mississippi State
Georgia at Missouri
Auburn at Vanderbilt
January 21 (Sunday)
Alabama at Auburn
Ole Miss at Georgia
Missouri at Kentucky
Arkansas at LSU
Vanderbilt at Tennessee
South Carolina at Texas A&M
January 22 (Monday)
Mississippi State at Florida
January 25 (Thursday)
Kentucky at Arkansas
South Carolina at LSU
Florida at Ole Miss
Texas A&M at Missouri
January 28 (Sunday)
Kentucky at Alabama
Texas A&M at Florida
Tennessee at Ole Miss
LSU at Mississippi State
Arkansas at Missouri
Vanderbilt at South Carolina
January 29 (Monday)
Georgia at Auburn
February 1 (Thursday)
Alabama at Arkansas
South Carolina at Auburn
Tennessee at Georgia
Mississippi State at Kentucky
Ole Miss at Vanderbilt
February 4 (Sunday)
Auburn at Arkansas
Kentucky at Georgia
Florida at LSU
Ole Miss at South Carolina
Missouri at Tennessee
Mississippi State at Texas A&M
February 5 (Monday)
Alabama at Vanderbilt
February 8 (Thursday)
Tennessee at Alabama
Arkansas at Florida
Texas A&M at Ole Miss
Georgia at Mississippi State
Missouri at South Carolina
LSU at Vanderbilt
February 11 (Sunday)
Vanderbilt at Georgia
Texas A&M at Kentucky
Alabama at LSU
Florida at Mississippi State
Auburn at Missouri
February 12 (Monday)
Arkansas at Tennessee
February 15 (Thursday)
Kentucky at Auburn
Ole Miss at Florida
South Carolina at Tennessee
Vanderbilt at Texas A&M
February 18 (Sunday)
Auburn at Alabama
Missouri at Arkansas
Florida at Kentucky
Mississippi State at Ole Miss
Georgia at South Carolina
Tennessee at Vanderbilt
February 19 (Monday)
LSU at Texas A&M
February 22 (Thursday)
Missouri at Florida
Auburn at LSU
Georgia at Ole Miss
Kentucky at Mississippi State
Alabama at South Carolina
Arkansas at Texas A&M
February 25 (Sunday)
Mississippi State at Alabama
Vanderbilt at Arkansas
Texas A&M at Auburn
Florida at Georgia
South Carolina at Kentucky
LSU at Tennessee
February 26 (Monday)
Ole Miss at Missouri
February 29 (Thursday)
Florida at Alabama
South Carolina at Arkansas
Mississippi State at Auburn
LSU at Georgia
Ole Miss at Kentucky
Vanderbilt at Missouri
Texas A&M at Tennessee
March 3 (Sunday)
Auburn at Florida
Kentucky at LSU
Arkansas at Ole Miss
Missouri at Mississippi State
Tennessee at South Carolina
Alabama at Texas A&M
Georgia at Vanderbilt