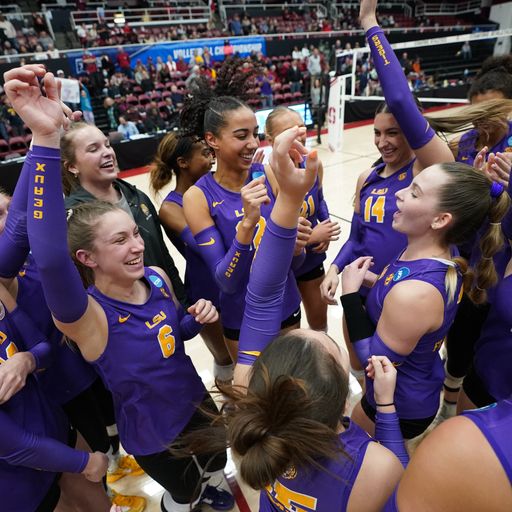 LSU volleyball coach TONYA JOHNSON still finds herself cueing up the video.
It was a special time for the Tigers' first-year coach to watch her team, which hadn't experienced a winning season in three years or NCAA Tournament in five years, to have its named called on Selection Sunday.
The team's locker room exploded with joy, the culmination of a lot of hard work by Johnson and her staff and a team willing to buy into a new method of doing things.
"It was it was really awesome to see them celebrate the way they did," Johnson said. "All they heard was LSU. They didn't know who we were playing. It was really cool to just see them be excited and to just hug it out, to know that hey, 'We are good enough'. This is the reward for coming in and working our butts off every single day, and just for believing in ourselves and each other. And so that was really cool to see. To see the joy fill in that room was incredible."
Johnson, who was part of LSU's first Final Four team in 1990, guided her team to a 16-14 overall record that included a 3-1 win over Hawaii in the first round of the NCAA Tournament – the program's first postseason win since 2014.
The Tigers, though, bowed out in the second round to host and No. 5 Stanford 3-0, a result that didn't diminish the team's overall accomplishments.
"Losing hurts and the way we lost," Johnson said. "I wish we had played better against Stanford, who's another storied program we got to play against. We got to play against two of the most storied programs in the country on back-to-back nights. Coming back into that locker room to see the pain on their face, just the defeated look, was really hard.
"But that one match doesn't define the great season that we had, and that's what I tried to help them to remember," Johnson said. "We had a remarkable season, and we did things that people didn't think we could do, and what mattered the most, is that the people in that locker room believed that each other and we went out and accomplished a goal of making it to the NCAA Tournament."
Johnson had developed quite a reputation as an assistant at Texas where the Longhorns had reached five Final Fours and were national runners-up three times.
The Zachary native brought those same type aspirations to a program that had gone through three straight losing seasons.
"I wanted us to be a fighting team, a team with some resiliency," Johnson said. "We talk all the time about just being tough and being fearless. Those were a lot of our talks this season about going out and just being fearless and going out and competing with the people on the same side of the net as you, and I just liked their mentality in terms of how they approached things. How they approached practice every day. And then how we went to battle night in and night out. It speaks volumes about this team and just everything that they went through together and how far we can."
One of the calling cards of this year's LSU team is when you faced the Tigers, you better pack a lunch.
LSU played in a total of 11 matches that went to five sets, winning seven of them. The Tigers played nine of those type matches in Southeastern Conference play and won six of them.
The American Volleyball Coaches Association recognized three players – outside hitter SANAA DOTSON and libero ELLA LARKIN with first team All-Region honors and middle blocker ANITA ANWUSI was an honorable mention selection.
Dotson emerged as a team leader, leading LSU with 436 kills (3.66 per set), 268 digs, 49 total blocks and 25 service aces. Larkin, the team's setter in 2021, recorded a team-high 516 digs (4.34 per set) to go along with 15 aces, while Anwusi had 221 kills and a team-best 136 total blocks.
Graduate student setter JOSIE VONDRON contributed a team-high 732 assists (6.48 per set) and 106 kills, defensive specialist JILL BOHNET had 346 digs, PAIGE FLICKINGER 252 kills, ALIA WILLIAMS 164 kills and 99 blocks and SAMARAH HILL 119 kills.
LSU, which loses five seniors, moved into NCAA play and rebounded after a first-set loss to Hawaii, sweeping the remaining three sets to set up a second-round match with Stanford which eliminated the Tigers in three straight sets.
"I believe that everyone walked out of that locker room with their chin held high, with a lot of pride in terms of what we've done this season and what we've been able to accomplish," Johnson said. "But most importantly, they walked out of that locker room knowing that we are capable of being here, we are good enough to be here."