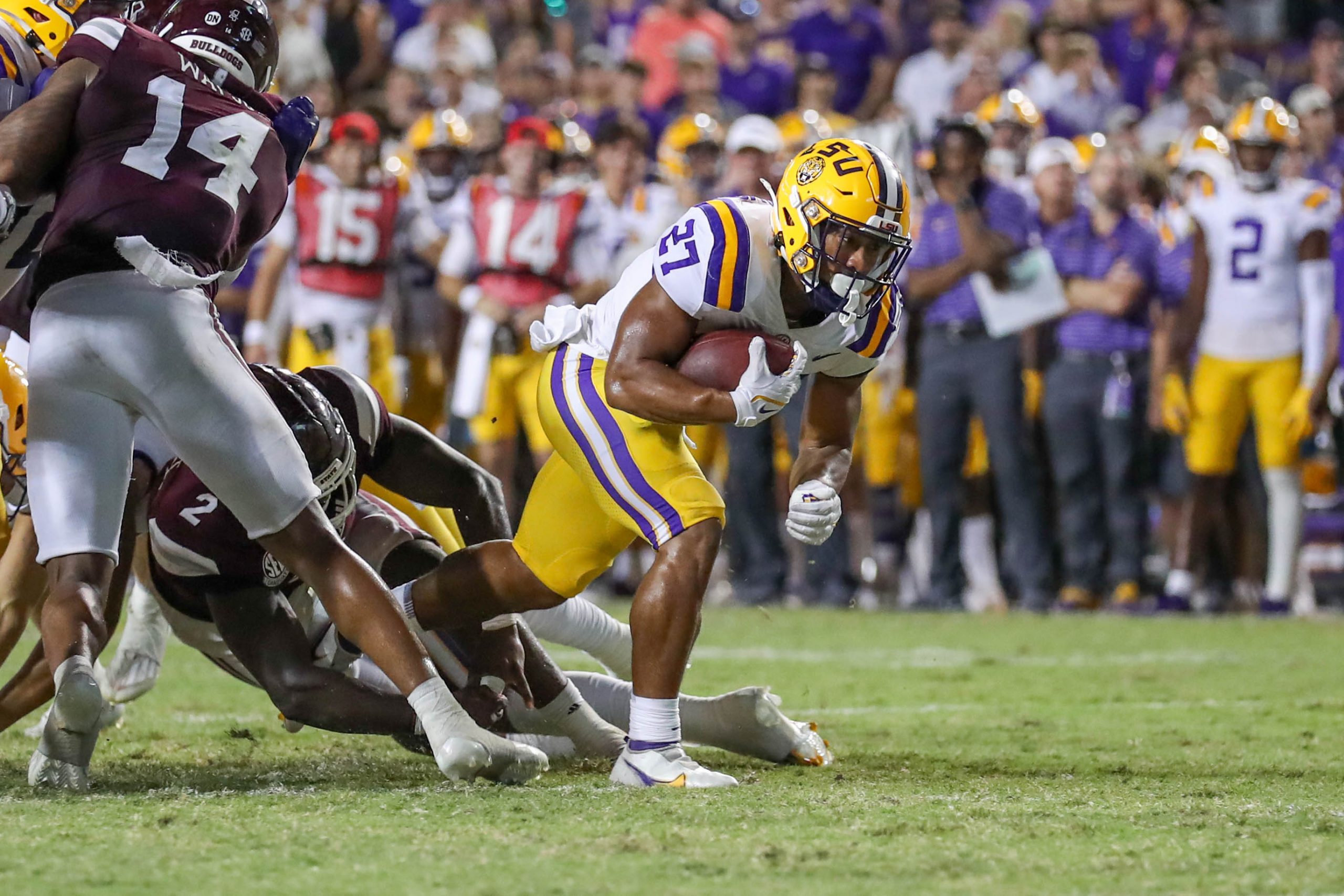 During his weekly press conference on Tuesday LSU football coach Brian Kelly was adamant quarterback Jayden Daniels shouldn't have to lead the Tigers in rushing this season.
Daniels was the team's leading rusher in 2022 with school-record totals from the quarterback position of 885 yards and 11 touchdowns. Clearly, the fifth-year senior's a threat with feet and Kelly wants that element to remain a layer in this year's offense without it being the focal point.
LSU's offense didn't abide by Kelly's wishes with Daniels leading the Tigers with 15 carries for 64 yards in Sunday's season-opening 45-24 loss to Florida State.
Thanks to a 35-yard burst near the end of the half, running back Josh Williams wound up with 44 yards on four carries, but the Tigers running backs were only responsible for 49 yards on 12 carries with touchdown runs from Noah Cain and Tre Bradford.
Kelly spoke about the subject once again during Wednesday's Southeastern Conference Coaches Teleconference, explaining his preference for a balanced running attack led by the running back position instead of Daniels.
LSU (0-1) hosts Grambling State (0-1) in it home opener at 6:30 on Saturday in Tiger Stadium.
"I think we were in a position to be balanced most of the game and then the fourth quarter obviously got away from us, and we weren't balanced," Kelly said. "We want more equitable distribution. We want to be able to feature the backs more and I think as we look at it critically, we want to be able to feature more carriers from our running backs. I know (offensive coordinator) coach (Mike) Denbrock has looked at making sure that we get everybody involved and not be focused heavily on Daniels.
"He can certainly be an integral part of what we're doing, but we feel like the running game has got to be distributed and that the offensive line will be involved in that," Kelly continued. "They were in situational work where it's a tough yardage. We're on the goal line a couple of times, we're in fourth down situations. Not all of it was the offensive line couldn't get movement. We were in some option-read situations where we didn't make the proper reads. So, I think this is much more about just looking at it systemically that you know we run the ball with a little bit more variety, and certainly get other guys touches."
LSU used a total of three running backs in the Florida State game. Cain had four yards on four carries and Bradford a yard on four attempts to go with his 55-yard reception on his team's first offensive play.
Kelly said Notre Dame transfer Logan Diggs didn't play because of a "coach's decision", John Emery Jr. wasn't available, and Armoni Goodwin was out with an injury.
Here's what else Kelly had to say:
Opening statement:
"Certainly, excited about being home in Tiger Stadium and the team is certainly looking forward to putting last week behind them. They're practicing this week and looking forward to performing against Grambling, a school with incredible tradition and history. We all know about the great players that have played, they're great coaches and certainly Eddie Robinson. (Head coach) Hue Jackson, is obviously an outstanding football coach, NFL coach. He's done a great job of reworking his roster. So, this will be a good challenge for us. A team that obviously is going to play at its very best and that's what we need to do. We need to play up to our level now, an LSU level and we're looking forward to doing that on Saturday."
How much do you want out of Maason Smith who will play for first time in over a year?
"I think we have to be realistic that when you haven't played in over a year, he's not going to be able to play the duration of the game. We're looking, if we can get somewhere near 30 snaps, we'd be really excited about that. So, he's practicing for us, but it's going to take a little bit of time. So, hopefully we get somewhere in that range of quality snaps from him and give him a chance to impact the game."
Expectations for running back Tre Bradford going forward?
"He's in the rotation of backs. I think Tre's done a really good job where certainly he's made great choices in terms of what he's done academically and what he's done to get himself back here and in the program. I think as a running back, he's got really good skills in terms of physicality and catching the football. He's been assignment accurate, so he's going to get as much of an opportunity as all the other backs. We're excited about his progress."
What's been the team's response this week in practice?
"Practice hasn't been the issue, really. Their preparation has been really good. It was the performance end of things that really was concerning and that is going to be central to the growth of our football team. Flipping it from preparation to performance and those adjustments have been made already. We expect to perform at a higher level, we need to perform at a higher level. But their preparation has been, by and large, pretty good. But you can imagine, nobody's very happy. Everybody is certainly paying attention to the details necessary to be prepared to be the best when their best is needed and that's going to be the Saturday."
Status of cornerback Denver Harris this week?
"He's available? Yes, he is available."
You're in the same situation after the first game as in 2022. How does this team bounce back compared to a year ago?
"I think the circumstances are a little bit different. This team certainly recognizes that their performance level in the second half was not at the level, or standard, that they want, or anybody wants. They feel like they've got something to prove. I think in the game last year was a matter of a missed opportunity. So, I think that the feelings are a little bit different, but you still are coming off of a loss. So, in both instances, I think they're both anxious. These teams are anxious to go out and play and play with a more of a sense of urgency. I think we had that last year as well. If you looked at how we started so slowly against Florida State, we talked about a sense of urgency in terms of the need the next week. We're talking about that as well this year. Because we lacked that in the second half."
Is it harder to get a read a team in today's game?
"When you have 14 transfers, and a number of those guys were first-time starters, and you have a number of freshmen. You're still learning about your team, but we'll get to know our team and know the things that we need to do to get them in the right mindset for each and every game. We haven't lost touch with who our players are. We've been with them all year. But when it comes to performance, we had a lot of new players out there and so it's incumbent upon us to put them in the right position to teach them and maybe we've got to do less. Maybe we've got to do some things a little bit differently. And that's where you get a chance to really grow and learn about your football team. And that's kind of what we're doing right now."
"Would any personnel changes be in order this week?
"It's always about evaluation of all players, our coaching. Everything gets evaluated, but for me to kind of answer you and say, 'this guy's not going to play because of this'. There wasn't one player that caused that loss. That was a collective defeat, coaching wise, player wise. We've got to do a better job coaching and our players have got to do a better job playing. Could there be some new players that we get a chance to see? Absolutely. But I don't think you're going to see wholesale changes. I think the changes need to occur in terms of how we coach, how we prepare, and how we get ourselves ready. And I think that's where you'll see the biggest changes."