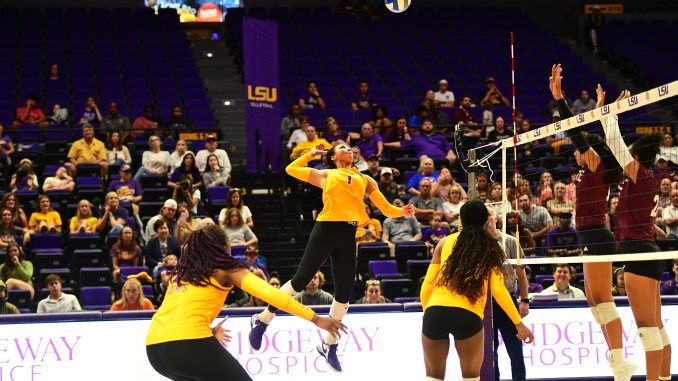 Graduate outside hitter Sanaa Dotson helped pave the way for LSU to conclude the Southeastern Conference weekend with a pair victories.
Dotson, who turned in a career-best .591 attacking percentage, led the Tigers with a season-high 14 kills and in the process collected the 1,000th kill of her career in her team's 3-1 victory Sunday over Mississippi State in SEC play at the Pete Maravich Assembly Center.
LSU (7-6, 2-1 in SEC) swept both Mississippi State (8-6, 1-3) and Missouri over the weekend. The Tigers rallied from a 25-19 loss in the opening set to the Bulldogs for a 25-22, 25-20, 25-20 victory.
Right side hitter Jade Demps produced her third double-double of the season with 11 kills and 12 digs. Outside hitter Samarah Hill had season-high nine kills and nine digs and fellow outside hitter Jurnee Robinson added nine kills.
Setter Maddie Waack led the offense with 50 assists – the second time this season she's reached that number – to go with six digs and four kills. Libero Bri Anderson topped the Tigers with 14 digs and a career-best three aces and outside hitter Paige Flickinger added 13 digs.
LSU battled from a 1-0 deficit, taking an 8-2 lead in the second set and having to rally from a 21-16 deficit with six straight points for a 22-21 lead. Dotson and Robinson added five kills each, helping the Tigers on a 10-2 run to win the set.
LSU fended off a run from State, which trailed 22-19, and rattled off five straight points behind Hill's five kills with Dotson and Demps combining on eight kills.
LSU overcame a 15-14 deficit with a 5-1 run in the final set which Demps contributed four kills and four digs. Dotson and Hill each had three kills and Waak 10 assists.
The Tigers finish up their three-game homestand on Wednesday against Arkansas at 7 p.m.