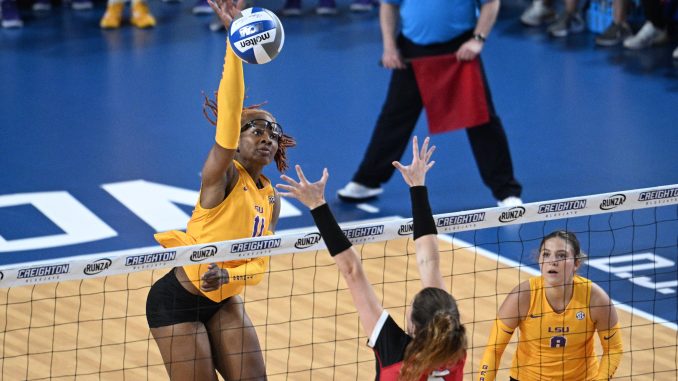 OMAHA, Nebraska – LSU's volleyball was able to leave the Creighton Blue Jay Invitational with a victory Sunday over Ball State.
The Tigers (2-3) overcame a pair of earlier 3-0 losses to Northern Iowa and No. 20 Creighton to register a 19-25, 25-14, 25-13, 25-23 win over Ball State.
Freshman outside hitter Jurnee Robinson cemented her place on the all-tournament team with a match-high 17 kills and season-high four blocks. She also had three digs and two aces.
Robinson topped LSU with 43 kills in three matches.
Right side hitter Jade Demps, a Wisconsin transfer, finished with 11 kills, seven digs, three aces and a block and Paige Flickinger added a match-high 13 digs, eight kills and two aces. Preseason All-SEC selection Anita Anwusi added eight kills.
Sophomore setting Maddie Waak led the Tigers with 36 assists. She also had three blocks, three kills and two aces, while freshman middle blocker Angie Lee had six blocks and four kills in her first match of the season.
LSU came back from a first-set deficit to steadily build a lead in the second set that increased from 9-3 behind an ace from Flickinger to 21-9 and finally a 25-14 win. The Tigers jumped out to a 6-0 lead in the third set on consecutive service aces from Waak and took a 7-2 edge. Flickinger's solo block made the score 22-12 before pushing to a 25-13 win.
LSU rallied from a 4-0 deficit with a 6-1 run and took a 6-5 lead. The set was then tied eight times before the Tigers went on a 3-0 run and took a 20-18 lead with Robinson delivering four kills and a block in a set that was tied 13 times and had nine lead changes.
LSU returns home Wednesday to face UL-Lafayette at 11 a.m. at the Pete Maravich Assembly Center.