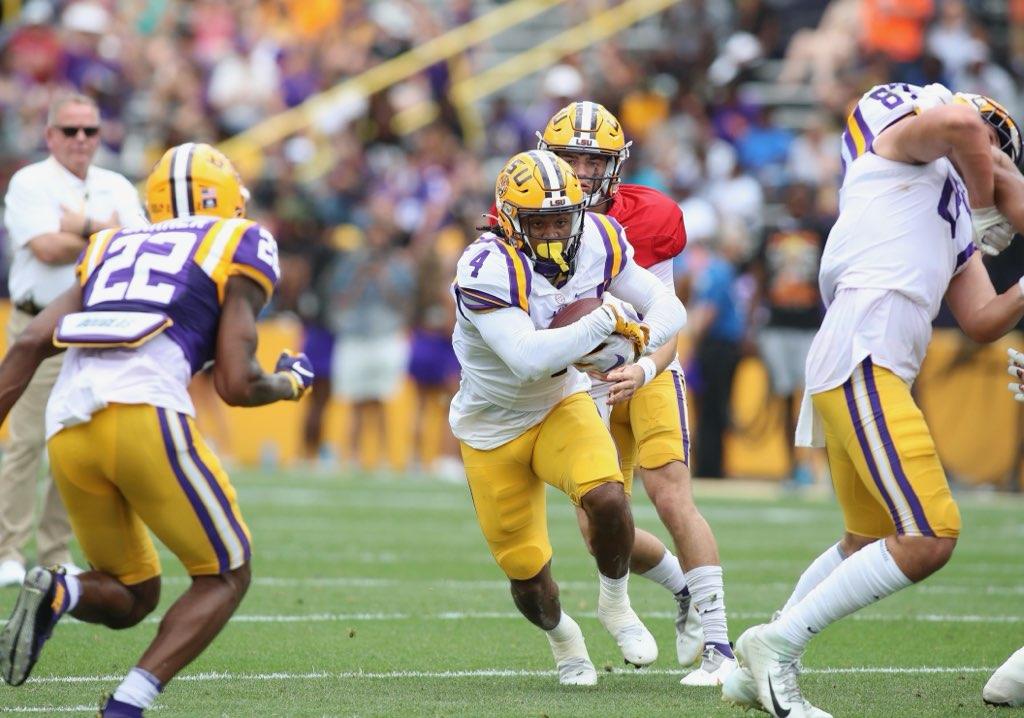 With LSU's football team getting the opportunity to scrimmage some Friday and again Saturday morning, first-year coach Brian Kelly said it's apparent the battle for the team's starting quarterback is a "two-man race".
Sixth-year senior Myles Brennan opted to step away from football at the beginning of the week, narrowing the Tigers' search for a starting quarterback to Arizona State transfer junior Jayden Daniels and redshirt freshman Garrett Nussmeier.
"It's pretty clear it's Nussmeier and Daniels," Kelly said after Saturday's scrimmage, which was disrupted by rain at Tiger Stadium. "They just have more experience than (true freshman) Walker Howard. Walker's done a great job. His situation now would be an emergency situation, and can we redshirt him?
"It's a two-man race and it's extremely competitive. Jayden does some really good things. His ability to get the ball out of his hand quickly; it's not a guy that just runs. (He) pushed the ball down the field very well today. Nuss made some really good plays. (He) had an unblocked edge player coming at him, gets the ball out of his hand.  I wouldn't be surprised … if they both get the opportunity to play some time this year. But we're going to have to name a starter and that's going to happen here pretty quickly."
Kelly said his team ran 20-23 plays Friday in a scrimmage setting and was close to 50 plays Saturday with the first, second and third teams getting action before torrential rains halted action.
"We've gotten the kind of work I needed … relative to scrimmaging," Kelly said. "There are competitive battles at a lot of positions."
One of the more significant developments in both scrimmage opportunities was there were no injuries to report, Kelly said.
LSU will take the next two days off from practice, including the first day of school Monday, before returning to practice Tuesday. They will have meetings, though, on both days.
EMERY UNAVAILABLE/RB POSITION
Senior running back John Emery Jr. was believed to be in position to be a part of LSU's multi-faceted running game in 2022. He returned in the spring after missing the entire 2021 season, when the NCAA ruled him academically ineligible.
When asked about Emery's status for the team's season opener Sept. 4 against Florida State, Kelly said the former five-star product out of Destrehan High was exemplary with his actions on the football field. But he cited student privacy laws for being unable to expound.
"He is in good standing in football," Kelly said. "Everything that he has done, he's done a great job with us in football. Everything he's done for us has been outstanding in football. Anything else that arises would not be anything I could comment on because of privacy rights."
Earlier, Kelly mentioned Emery's name when the subject of the team's running back position was discussed.
"You guys know the situation with John Emery," Kelly said. "I really can't get into the specifics of that because of the Buckley Amendment. He's certainly going to be a part of what we do this year."
Penn State transfer Noah Cain, a Baton Rouge native, had a good day running the ball Saturday, Kelly said.
"He hasn't played a lot of football and it's kind of coming back to him," Kelly said. "He's a smart kid, he's 224 pounds. He's strong and he ran with that physicality we were looking for today. That was a bright spot for us.
"Leonard Fournette's not in that backfield," Kelly added. "So, we don't have that marquee guy. All of them complement each other very well and I think we'll be very effective at that position. I think each one of them will contribute in a manner that will allow us to be successful at that position."
PLAYMAKERS GALORE
Junior wide receiver Kayshon Boutte, who was lost for the 2021 season after the sixth week of the season because of a broken bone in his ankle, turned the second play of the scrimmage into a big play, Kelly said.
"Boutte hit a screen, made two or three people miss," Kelly said. "We saw his explosiveness and how difficult he is to tackle today."
Kelly also applauded the efforts of sophomore wide receiver Malik Nabers along with both tight ends Kole Taylor and Mason Taylor.
"Lots of good things happening on the offensive side," Kelly said.
ALL SMILES WITH D-LINE
Kelly said it's more than just the returning experience that has him beaming over the play of his defensive line. They're also pretty talented, led by projected first-round NFL Draft choice BJ Ojulari at defensive end.
"We have guys that are elite players," Kelly explained. "Maason Smith, J-Roy (Jaquelin Roy) and Ali Gaye and then you add BJ Ojulari, who can do multiple things for you. That's where it starts to allow you do a lot of things up front and be creative."
Missouri transfer Mehki Wingo, junior Desmond Little and sophomore Jacobian Guillory have also contributed on the interior during the preseason and figure into the team's playing rotation this season, Kelly said.
NOTES
LSU tinkered with its first team offensive line Saturday, Kelly said. Senior Cameron Wire, who had been running with the No. 2 offense, started at right tackle, right tackle Anthony Bradford moved to right guard and right guard Myles Frazier moved to left guard … The linebacker position continues to rely on a 4-to-5 player rotation with Mike Jones Jr., Greg Penn III, Micah Baskerville, Kolbe Fields and Harold Perkins playing at the position, Kelly said. … Kelly said the play of freshman Laterrance Welch and Jaelyn Davis-Robinson has further deepened LSU's secondary, which also signed transfer portal cornerbacks Jarrick Bernard-Converse of Oklahoma State, Mekhi Garner (Louisiana), Colby Richardson (McNeese) and Sevyn Banks (Ohio State) along with the safety duo Greg Brooks Jr. and Joe Foucha of Arkansas.