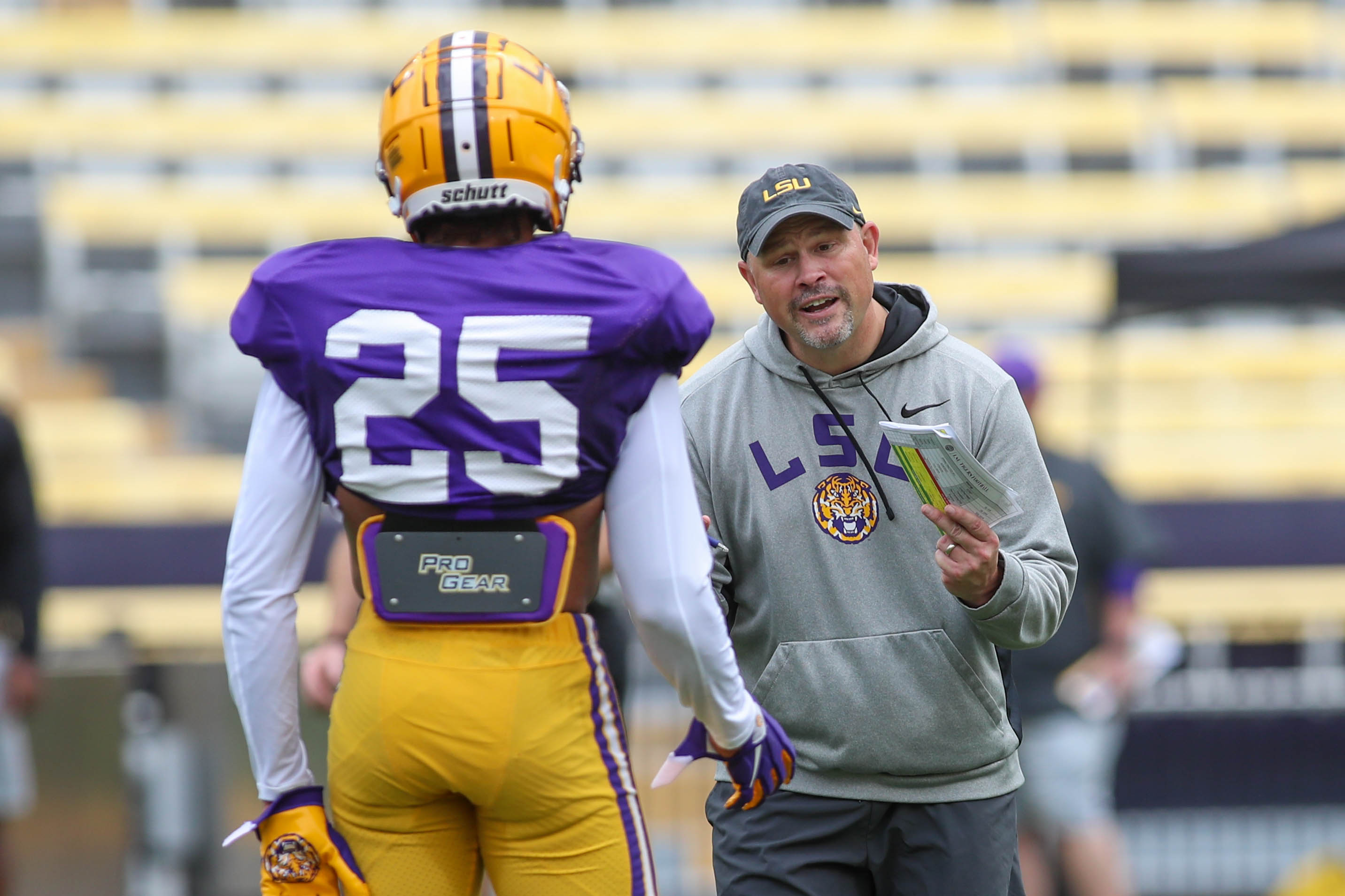 He didn't give away any state secrets.
But when Matt House met with media members after a preseason camp practice late this week, the first-year LSU defensive coordinator did shed some light on what the Tigers' defense might look like in 2022.
It's a rebuilt unit that will be a good bit different than when LSU went 6-7 in 2021.
The Tigers loaded up on transfers to replace their many key losses, including cornerback Derek Stingley Jr., who went No. 3 overall to the Houston Texans in the 2022 NFL Draft, and cornerback Eli Ricks, who transferred to Alabama last season and now is dealing with a reported minor back issue that cropped up during a recent Crimson Tide scrimmage.
Here is some of what House – a former defensive coordinator at Pitt, FIU and Kentucky, and the Kansas City Chiefs' linebackers coach the past three seasons – had to say as LSU prepares for its Sept. 4 opener against Florida State at the Superdome in New Orleans:
* On LSU's base defense, and use of the nickelback:
"If they (opposing offenses) come out with numerous tight ends, then we'll go to base. But the reality is most people now want to play in 11 personnel (1 running back, 1 tight end), so, yeah, when we're in 11 personnel we're basing out of what we call a 'big nickel,' or a 'buffalo.'
"Right now it's Greg Brooks (Jr., a transfer from Arkansas) and Sage (Ryan, a redshirt freshman from Lafayette Christian Academy) (who are playing the nickel)."
* On presenting multiple looks with the use of various packages and sub-packages: "We're intentional with our multiplicity, ok, and the more looks you can give the quarterback.
"Then, also … with the competition, guys deserve different roles, and we want to put our football players in the best position to succeed, alright? So sometimes that means putting in different sub-packages based on situations."
* On the cornerbacks, a group that lost its starters from 2021 but now features four experienced transfer portal signees in Jarrick Bernard-Converse (Oklahoma State), Colby Richardson (McNeese), Mekhi Garner (Louisiana) and Sevyn Banks (Ohio State):
"A position that we were a little bit concerned about the depth coming in has kind of been a position that's developed into almost a strength. So I'm excited to see where that goes, and I love the competition that's being bred there, and those guys, I love their approach every day.
"The four older guys in particular, if there's a situation where they're out with the first-team defense, they have obviously a great approach. But when there's a situation they're up with the second-team defense I see the same focus and the same mentality. Those guys just love to play."
* On the defensive line, and balancing when to rush four with when to bring extra pressure:
"I love our front, ok, and I love that they can generate pressure with four. But … if you become one-dimensional to the offense, then you make it easy on them, alright? And the reality is if you mix in enough pressure, it helps your four-man rush."