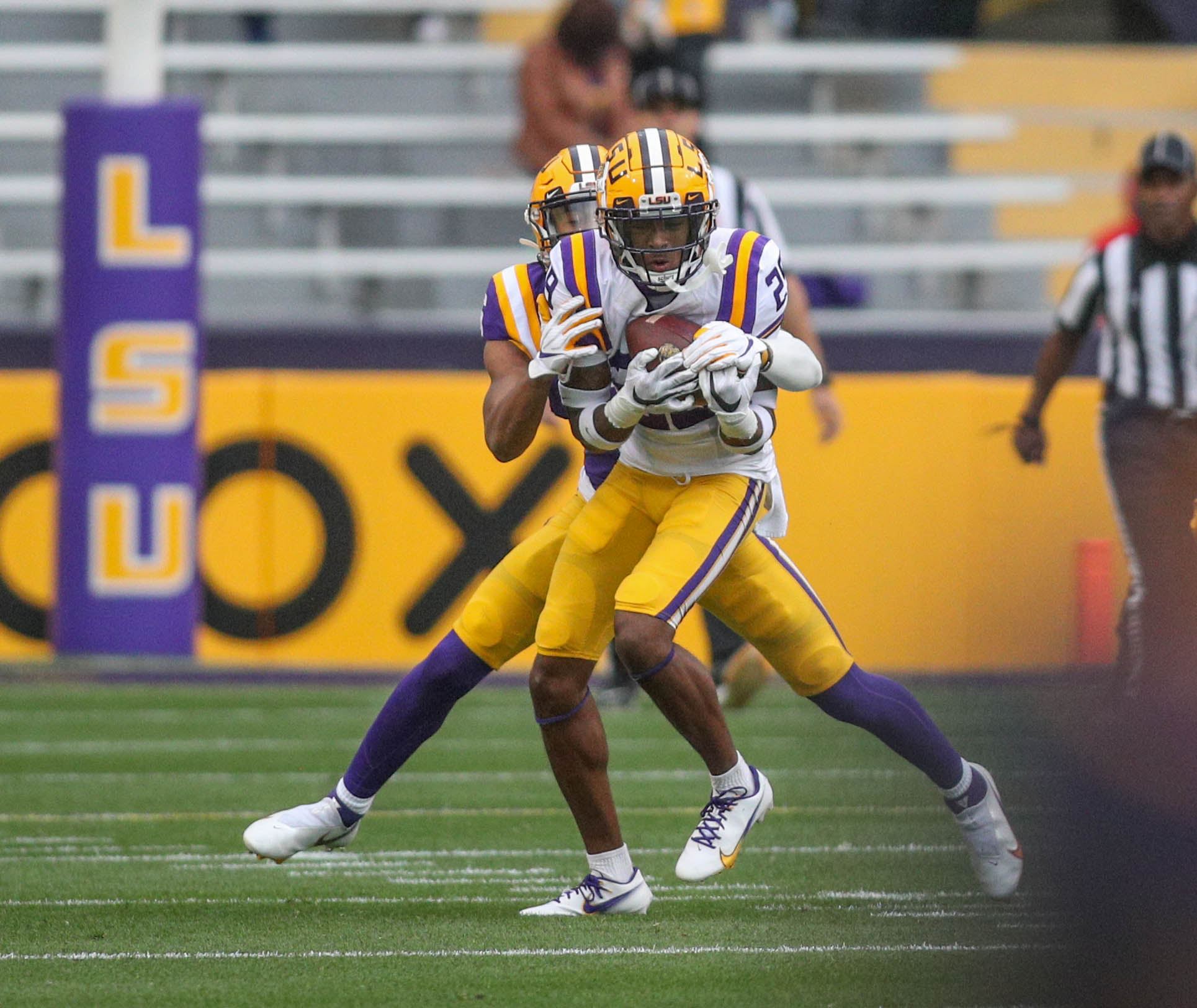 LSU will be without what was expected to be one of its top running backs for the first two games of the 2022 season and without an experienced backup cornerback for the entire year, The Athletic reported Sunday.
A day after first-year LSU coach Brian Kelly hinted that John Emery Jr.'s status for the Tigers' Sept. 4 season-opener against Florida State could be in jeopardy, The Athletic, reported Emery would be suspended for both the FSU and LSU's Sept. 10 home opener against Southern. He is expected to appeal the ruling, the website said.
"He is in good standing in football," Kelly told reporters following Saturday's scrimmage in Tiger Stadium.
"Everything that he has done, he's done a great job with us in football. Everything he's done for us has been outstanding in football. Anything else that arises would not be anything I could comment on because of privacy rights."
Emery, a five-star recruit out of Destrehan High, was suspended all last season by NCAA due to academic issues. The Tigers went 6-7 a year ago and the NCAA's ruling covers a full 15-game season, thus the report of a two-game suspension by The Athletic.
With Emery dealing with the academic situation, Corey Kiner having transferred to Cincinnati in the spring and Oklahoma transfer Tre Bradford leaving the program earlier this month, Penn State transfer Noah Cain and returnee Armoni Goodwin have been running as LSU's top two backs in preseason camp.
Junior cornerback Raydarious Jones is also expected to be suspended for all of '22 season because of academics, The Athletic reported.
Jones, a native of Horn Lake, Mississippi, has played 19 career games and made four tackles in LSU's games against both Ole Miss and Alabama in 2021. He was a true freshman in 2019 and played in four games without recording any statistics.
During a meeting with the media last Wednesday, Kelly said he felt much better about the team's situation at cornerback than he was in the spring. LSU lost both its starters – Derek Stingley Jr., drafted by the Houston Texans, and Eli Ricks, who transferred to Alabama – from a year ago and one of its more promising players, Dwight McGlothern, transferred to Arkansas.
The Tigers signed Jarrick Bernard-Converse from Oklahoma State, Mehki Garner of Louisiana, Sevyn Banks of Ohio State and Colby Richardson of McNeese from the NCAA transfer portal. They also signed two freshmen, Laterrance Welch of Acadiana High in Lafayette and Jaelyn Davis-Robinson of Waxahachie (Texas) High.
"We came into camp with a lot of uncertainties at corner and going into our 13th practice (Friday), I think we've got six corners we feel we can play," Kelly said. "That's a far cry (from) where we were a few months ago."