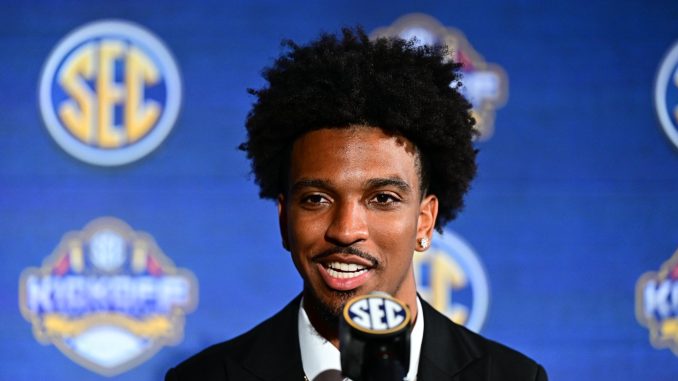 Just how much has the stock of LSU quarterback Jayden Daniels increased since his arrival in Baton Rouge last year?
He's now regarded among the conference's top quarterbacks and with a legitimate opportunity to contend for the 2023 Heisman Trophy.
"I mean, I don't really look at stuff like that," Daniels said Monday of his Heisman odds during the SEC Media Day in Nashville, Tennessee. "I'm blessed and honored to be part of a prestigious award like that. Hopefully when I win football games, hopefully my odds go up, but my main thing is really just focusing on helping the team win football games. If individual success comes with it, then it comes with it."
The 6-foot-4, 205-pound Daniels, who spent the first three years of his career at Arizona State, made quite a splash in his first season at LSU, helping the Tigers to a 10-4 record, SEC Championship Game and Citrus Bowl victory over Purdue.
Some observers believed the native of San Bernardino, California would turn professional following the 2022 season, but instead opted to return for a fifth season. He cited an opportunity for additional personal growth and the chance the Tigers were on the cusp of national greatness.
"This summer we've just been working hard at it, working hard at our timing," Daniels said. "Even when we do our player-led practices and stuff like that, we're giving guys opportunities to go make plays. That's the biggest thing that I say that we could take that leap to make the offense more explosive."
Stability is one of LSU's biggest bywords and no area is that more apparent than on offense with the return of head coach Brian Kelly, offensive coordinator Mike Denbrock, quarterbacks coach Joe Sloan and Daniels.
With the dual-threat Daniels back for another season, the Tigers have eight returning starters from a unit that averaged 34.5 points, broke the school record with 39 rushing touchdowns and passed for nearly 270 yards a game.
But with the return of the aforementioned group, primarily Daniels, there's an understanding LSU's capable of more this season.
"From what we saw in the first week (2022 season) where a step up-in-the-pocket meant step up and run or not making those tight-window throws. I think that's what we saw during the year was his natural progression of understanding the offense and being more confident," Kelly said of Daniels during Media Day. "We want to see that in Year 2. We want to see that confidence that we saw at the end of the year continue to show itself right through the first game against Florida State."
LSU made a late bid to and knocked at victory's door in the season opener last year against Florida State in the Caeser's Superdome.
It took Daniels a while to get unleashed, but when he did, he nearly brought the Tigers back from a 24-10 deficit with a touchdown to close the third quarter and on the final play of the game.
Behind the hot hand of Daniels, LSU had closed to within 24-23 but suffered a disappointing one-point loss when Damien Ramos' potentially game-tying extra point was blocked.
Daniels became the first quarterback in school history to pass for more than 200 yards (209) and rushed for 100 (113) yards in the same game in regulation. He completed 26 of 35 passes for 209 yards and two touchdowns and rushed for 113 yards on 18 carries.
He was also sacked four times and did not commit a turnover.
Daniels went on to accumulate 3,798 total yards and 28 touchdowns. He set the school record for yards rushing (885) and touchdowns scored (11) by a quarterback and became the nation's leading rusher for amongst quarterbacks.
He also completed 266 of 388 yards for 2,913 yards with 17 touchdowns and just three interceptions.
LSU opens the season again with Florida State on Sept. 3 at Camping World Stadium. Both teams are expected to be ranked in the Top 10 to begin the year.
"From my first game to the bowl game, I would just say being comfortable within the system," Daniels said. "First game, first everything. First game with a new team, new coaches, so you didn't really know what to expect or where to go. Fast-forward to the bowl game, you can see how much more comfortable everybody was with each other, how much comfortable the coaches were with the players and the players were with each other as a team and also with the coaches. Moving forward to this year, what I hope to change is Week 1, start with a win. Last year we started with a loss. I want to start with a win this year."

Daniels traced his origin of success to last season to a 40-13 home loss to Tennessee.
As Daniels seemingly caught fire, so did the Tigers with five consecutive victories after the Tennessee game that improved their record to 9-2 and national ranking to No. 6. He exceeded 400 yards of total offense three of those game and had consecutive games with five or more touchdowns in wins over Florida and Ole Miss.
But it was his play in a memorable 32-31 overtime win over Alabama that further solidified Daniels' status as one of the nation's rising quarterbacks. He showed a tremendous amount of poise in leading the Tigers back from three deficits and a tie to defeat the Crimson Tide with a 25-yard touchdown run on the first play of overtime and two-point pass to Mason Taylor.
"Even though we lost, but against Tennessee, I felt comfortable running the offense after that," Daniels said. "We kind of just took off as an offense of what we were capable of doing and what we knew that we could do. That's getting explosive plays. Going out there and really just taking shots and giving those guys a chance to make plays."