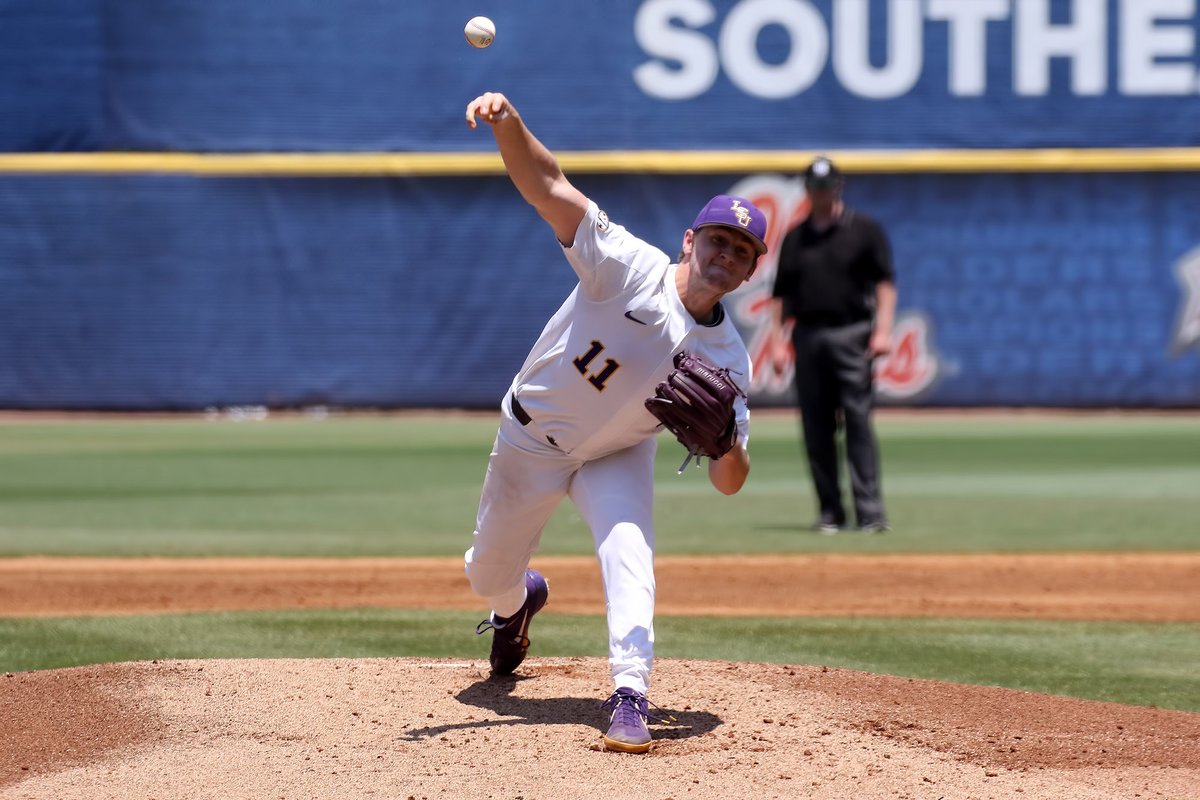 HOOVER, Ala. — Paul Mainieri prides himself on being a coach who considers all the angles and leaves no stone unturned. For example, during preseason camp he has LSU practice in every different jersey the team will wear during the regular season so nothing feels different.
That's why he was kicking himself at about 3:30 Thursday morning when Landon Marceaux stepped into the hotel elevator with him. He told Marceaux he wished he'd have sent him back early to get a full night of sleep before starting an elimination game against Auburn in a few hours.
Marceaux's response: don't sweat it, Coach. The freshman had pitched in some strange situations during his high school career and didn't think starting a do-or-die game on four hours of sleep would be too big of a deal.
"He told me a story about when he was younger and he'd started a game at 2 o'clock in the morning," Mainieri recalled. "So he said 'I've pitched under some weird circumstances before.' So that gave me a lot more confidence."
Marceaux rewarded that confidence in the latest in a growing line of late-seasons gems. Knowing LSU needed him to go deep in the game, Marceaux shut Auburn out over the first six innings. He allowed two unearned runs in the seventh but LSU came back to win 4-3 in a wild one on Thursday afternoon.
LSU probably wouldn't have survived if it got any less from Marceaux given the state of the pitching staff following the 17-inning marathon with Mississippi State. Zack Hess, Matt Beck, Devin Fontenot and Ma'Khail Hilliard were all unavailable after length outings the past two days.
"I felt like I really needed to carry this team today," Marceaux said. "Just get on my back and then let's go. I go as deep and as hard as I can. That's all I was trying to do today."
Pitching into the seventh inning seemed long a longshot after Marceaux had to throw 30 pitches to get out of a bases-loaded jam in the first inning.
A six-pitch second inning seemed to settle Marceaux into a groove and the freshman was on cruise control from there. He needed just 52 pitches to get through the next five innings after running his pitch count up to 30 in the first.
"My fastball command was really good after the first inning, and I was able to cruise from there pretty much," Marceaux said. "I could get the breaking ball over for strikes and got swings-and-misses on the changeups."
Thursday makes three starts in a row when Marceaux has been somewhere between quite good and downright dominant. He's allowed three earned runs over 18.2 innings during that span (1.45 ERA) with 14 strikeouts and LSU has won all three games.
The latest win only bolsters LSU's chances of hosting an NCAA Regional, and perhaps more importantly, it continues to cement Marceaux as a starter who could be a force in the NCAA Tournament. Between Marceaux, Eric Walker and the return of Cole Henry, LSU's rotation is as strong as it's been all season.
These are the kind of games LSU recruited Marceaux to pitch, and both his confidence and LSU's confidence in him are swelling following his final start before the big dance begins. Those early struggles and bouts with arm soreness feel like a distant memory as the postseason rolls on.
"He just continues to get better," Mainieri said. "When we recruited Landon, I thought it was one of the biggest recruits we've had in a long time … Finally he's just feeling healthy and he's pitching the way we thought he would pitch."
Photo courtesy of LSU Sports Information