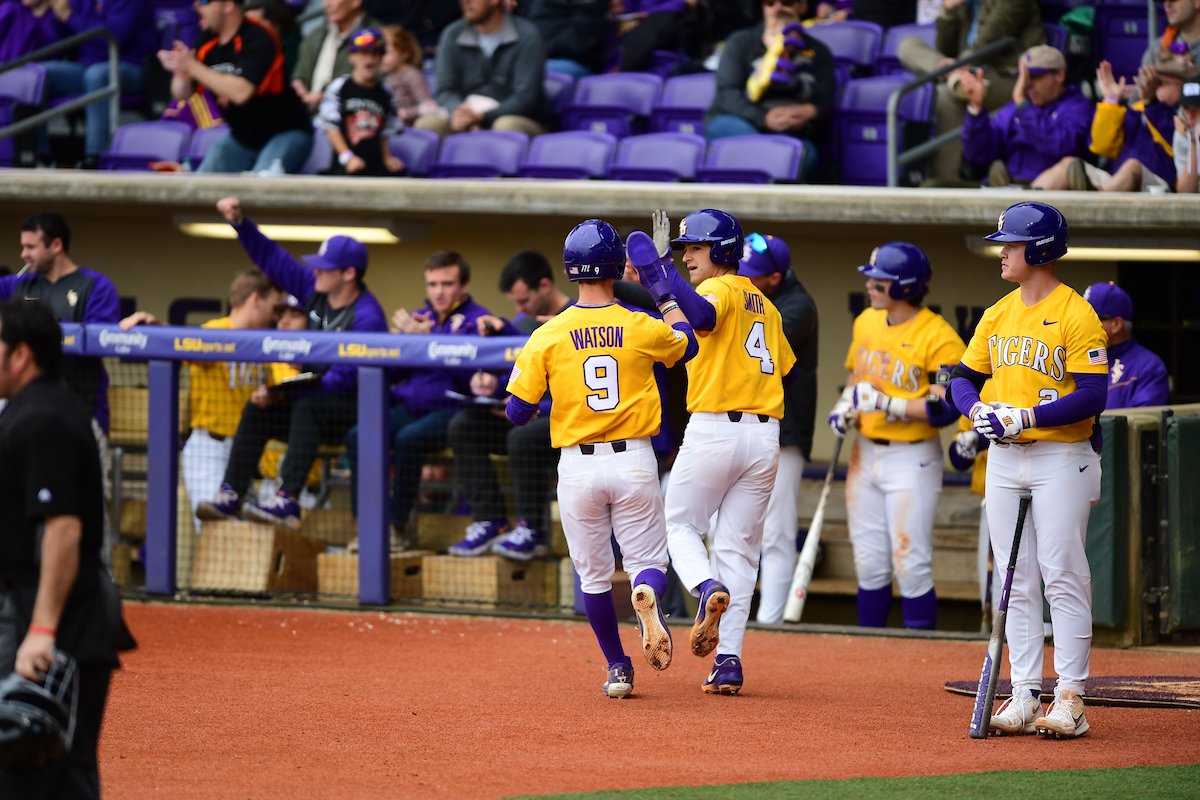 HOOVER, Ala. — Logic doesn't always apply to baseball, but you can throw it out the window entirely when it comes to LSU in Hoover.
Mississippi State is a sure-fire national seed and had the reigning SEC Freshman of the Year on the mound. LSU handed the ball to a senior who has had more major arm surgeries in his career than SEC starts with only a few spare arms to back him up in the bullpen.
"You had to love our matchup there, right?" LSU coach Paul Mainieri smiled.
LSU blitzed Mississippi State off the field behind a combination of timely hits and aggressive, almost brazen baserunning to pull off another improbable SEC Tournament upset.
The Tigers advanced to the semifinals with a surreal 12-2 mercy-rule shortened romp at the Hoover Met on Friday night. Tournament rules halted the fight after seven innings as LSU continued on its latest bizarre march to the weekend.
Chants of "We're still here" emanated from the LSU dugout in the moments after the final out. Believe or not, the Tigers are still alive.
"It's hard to explain baseball sometimes," Mainieri said. "I've been around it my whole life, 37 years as a head coach. I'm just not surprised by anything anymore. These last three days have all been kind of unique in their own way."
A third win in Hoover — this one against a top-five foe — only continues to bolster LSU's case for hosting an NCAA Regional next week. LSU will get a chance to add another feather in its cap on Saturday when the Tigers face Vanderbilt with a spot in the finals on the line.
A lot of the credit goes to Clay Moffitt, who gave LSU two scoreless innings before losing the plate in the third.
Aaron George allowed those inherited runs to score upon taking over but avoided a big inning and hung two zeroes on the board after LSU blew the game open. Chase Costello worked the final two frames.
"I'm glad we only played seven innings," Mainieri said. "Every inning helps that we can save from having to pitch."
Mississippi State freshman JT Ginn looked as dominant as advertised in the early going, but the wheels came off in a hurry in the third inning.
Chris Reid started the merry-go-round with a single and advanced to second on a dirt ball. Brandt Broussard smoked an RBI double down the left field line. Josh Smith and Antoine Duplantis contributed RBI singles. A throwing error and a bases-loaded walk brought home the other runs in the inning.
Things really went off the rails in the fourth inning. Drew Bianco lifted a sacrifice fly to extend the lead to 6-2 and Daniel Cabrera rolled an RBI single through a Mississippi State shift. Zach Watson doubled down the left field line to drive in a run and put two runners in scoring position.
"It just seemed like in those two innings we had great at-bat after great at-bat," Reid said. "That's what really good teams do, and I believe we're a really good team. We're getting hot at the right time."
That's when LSU's professional speedster went to work.
Reid, not exactly known for being fleet of foot, beat out a slow ground ball as both runners came around to score. Reid then scored all the way from first base on a double to right field from Saul Garza. Garza then scored from second base on a throwing error.
"Reid has got some wheels!" Garza laughed. "I didn't think he had it in him, but great slide by him at home plate."
There's some bad news on an otherwise perfect night, however. Reid left the game after he "blew out a tire" rounding second base on that play. Broussard also left the game due to elbow discomfort. Cade Beloso was scratched from the lineup after getting hit with a line drive on Thursday.
LSU is running low on position players and doesn't have many more options in the pitching department than they did on Friday night. Mainieri announced he had no idea who'd start the game before he could be asked.
The options are limited: Will Ripoll, Riggs Threadgill and Rye Gunter haven't pitched yet. Devin Fontenot will be available, Mainieri said. Zack Hess will almost certainly try to talk his way into being used.