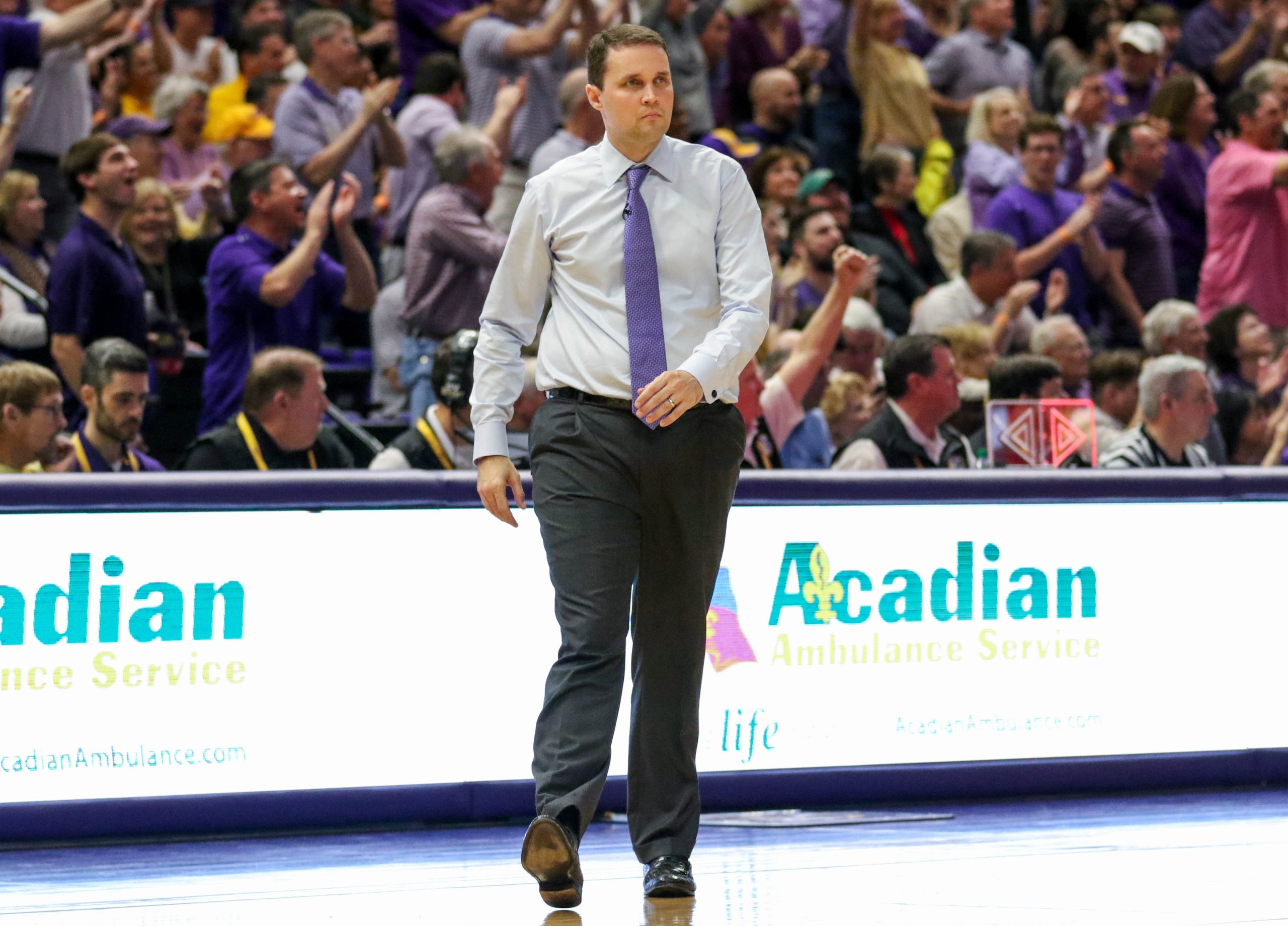 ­­­A new report from Yahoo Sports revealed the name of the alleged middleman suspended LSU head coach Will Wade referred to when speaking about his "strong-ass offer," presumably for Javonte Smart.
Citing documents and multiple sources, the report names Shannon Forman, a Baton Rouge basketball staple who Smart has referred to as a mentor as the middleman in question.
The report also links Forman to Christian Dawkins, the convicted middleman Wade was first reportedly caught talking to on an FBI wiretap back in October.
The report states that an LSU official declined comment for a story. An official with the program told NOLA.com | The Times-Picayune That Smart's status for the game remains unchanged.
A document cited in the report also implicates former LSU forward and current Chicago Bulls two-way contract holder Brandon Sampson.
An email sent from Dawkins to ASM Sports president Andy Miller as well as other employees reads:
"I met with … Shannon Forman, who has Javonte smart (sic). [Forman] had two kids in the elite 24 game that have a shot down the line. And he also wants to give us Brandon Sampson."
Smart, as well as LSU forward Naz Reid, played in the Under Armour Elite 24 game on the date linked to the email.
LSU suspended Will Wade on Friday, March 8, a day after Yahoo dropped a bombshell report linking Wade to a potential play-for-pay scandal citing an FBI wiretapped conversation that appeared to include him speaking about paying improper benefits to a third-party connected for Smart in exchange for his commitment to the program.
In speaking to Dawkins, Wade seemed frustrated with this third party, saying he felt he had offered enough for what LSU was trying to get.
The transcript as reported by Yahoo Sports read as follows:
"I was thinking last night on this Smart thing," Wade said. "I'll be honest with you, I'm
[expletive]
tired of dealing with the thing. Like I'm just [expletive] sick of dealing with the [expletive]. Like, this should not be that [expletive] complicated.
… "Dude," Wade continued to Dawkins, referring to the third party involved in the recruitment, "I went to him with a
[expletive]
strong-ass offer about a month ago. [Expletive] strong.
"… The problem was, I know why he didn't take it now, it was [expletive] tilted toward the family a little bit," Wade continued. "It was tilted toward taking care of the mom, taking care of the kid. Like it was tilted towards that. Now I know for a fact he didn't explain everything to the mom. I know now, he didn't get enough of the piece of the pie in the deal."
Dawkins responded by saying, "Hmmmm."
"It was a [expletive] hell of a [expletive] offer," Wade continued. "Hell of an offer."
"OK," Dawkins said.
"Especially for a kid who is going to be a two- or three-year kid," Wade said.
There remains no confirmation that anything involving the "offer" would be considered an NCAA Violation or if Smart or his family had any knowledge of said "offer."
As a No. 3 seed in the NCAA Tournament, LSU will take on No. 2 seed Michigan State in an East Regional semifinal in Washington D.C.
Smart has averaged 11.4 points and 3.4 rebounds per game as a freshman. He missed one game this season after the report earlier this month implicated his recruitment.
After an internal investigation conducted by LSU with the NCAA's guidance, he was cleared to play again On March 15, hours before the Tigers' first game of the Southeastern Conference tournament.
Photo Credit: Jonathan Mailhes