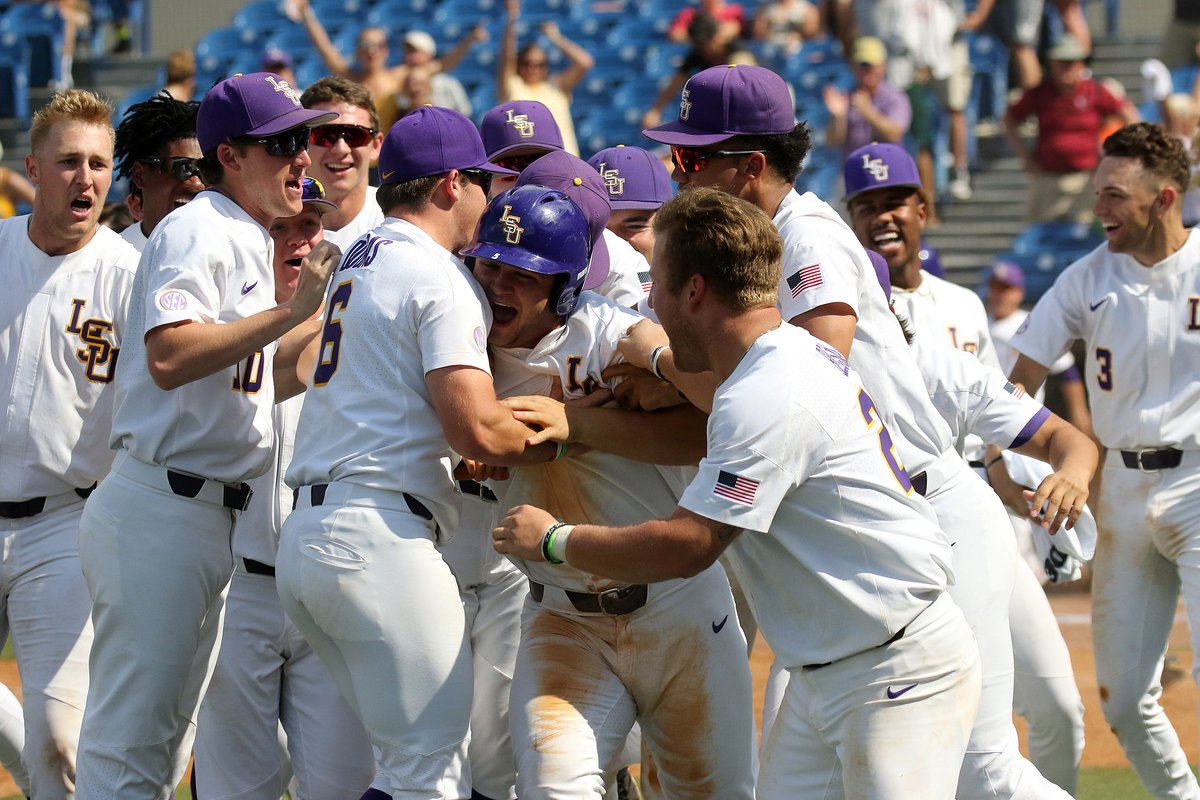 HOOVER, Ala. — Giovanni DiGiacomo broke for home, threw on the brakes and then took off again as soon as he saw the baseball squirt out from underneath Auburn's catcher.
The speedy freshman scored easily to tie the game as threw defenders scrambled to pick up the baseball. Fellow freshman Drew Bianco, who pinch ran, jogged home with the winning run once a throw to the plate sailed wide.
So ended an insane 24 hours of baseball for LSU with one of the weirdest walk-off wins you'll ever see.
"Every day you show up to the baseball field you're libel to see something you've never seen before," LSU coach Paul Mainieri said. "In 37 years of coaching I can't recall seeing a walk-off win where two runs score on a short wild pitch like we did."
LSU entered the bottom of the ninth trailing Auburn 3-2 in an elimination game at the SEC Tournament on Thursday afternoon. Two critical defensive errors had them three outs from going home in a game they'd controlled throughout.
Scoring the tying and winning runs on a wild pitch that barely got away seemed like a fitting way for LSU to survive some 13 hours after the Tigers were on the wrong end of a historic 17-inning marathon with Mississippi State.
It's also a testament to the resiliency of a team that got its heart broken in historic fashion and bounced back on roughly four hours of sleep to survive in come-from-behind fashion.
"We got back around 3:40 last night and most of us probably didn't fall asleep until 4:30," said Josh Smith. "I think it says a lot about our team the way we responded today. We're not going to quit no matter what."
DiGiacomo, one of Wednesday night's heroes, ignited the comeback bid with a leadoff single to left.
Mainieri, not wanting to play extra innings, let Saul Garza swing away, and the catcher lined a single to left-center field. Both advanced into scoring position with a bit of aggressive, head's up baserunning.
After a sharp lineup, LSU sent up Chris Reid to pinch hit. Mainieri wanted to play for contact, but it turned out LSU didn't even need Reed to swing — just direct traffic.
He took a ball in the dirt and both DiGiacomo and Bianco, who pinch ran for Garza, scored as everyone in Orange inexplicably couldn't find the ball. Reid was waving his arms the whole way.
"He didn't see it I guess," DiGiacomo said. "He was just trying to find it and then the ball kicked out real quick. Then I broke for the plate."
Strangely enough, Bianco said he actually had been a part of such a play before. He was on second base in a high school playoff game in Mississippi and scored after a wild pitch and a throw that got away.
"My brother was at third, and he scored on a wild pitch," Bianco explained. "Then it was a bad throw and I scored on it. When that happened, I was like 'I can score on this because I've done it before.' Just a crazy moment and a crazy win."
The win bolsters LSU's case to host an NCAA Regional next week and sets up a matchup against the loser to Vanderbilt and Mississippi State on Friday afternoon.
Either national seed would be a tough task for LSU given the state of its pitching staff after basically playing four games in three days. LSU doesn't have a starter in line for the game and will have to piece it together with a tired bullpen.
"We're a tired staff," Mainieri said. "We might be picking names out of a hat tomorrow. We'll see. We'll do the best we can."

But hope remains as long as LSU is still breathing, and they do so largely because of another masterful effort from Landon Marceaux.
It took Marceaux 30 pitches to work his way out of a bases-loaded jam in the first inning, which seemed like an ominous sign for LSU and its depleted bullpen. Zack Hess, Matt Beck, Ma'Khail Hilliard and probably Devin Fontenot were all unavailable to pitch.
A six-pitch second inning seemed to settle Marceaux into a groove and the freshman was on cruise control from there. He needed just 52 pitches to get through the next five innings after running his pitch count up to 30 in the first.
LSU had the game in cruise control until bad defense squandered the lead, just as it had in the 16th inning the night before. Smith threw away a routine ball and LSU misplayed a chopper as Auburn took the lead with two unearned runs.
Smith atoned for his mistake with a game-tying single in the bottom of the inning, but Auburn scratched out another run in the eighth.
LSU was very much on the roped with three outs to go on virtually no sleep, but the Bayou Bengals never stopped fighting. The road gets tougher from here, but Thursday's win will be one to savor for a long time.
"Losing last night was one of the more difficult losses of my coaching career," Mainieri said. "But I told them at breakfast in a heartfelt way that I was proud of them despite the result, and if they could find the energy and enthusiasm to find a way to win today, it'll be one of the more special wins I'll remember of my time at LSU.
"Nobody would have given us a chance of coming back after going to bed at 4:30 in the morning. I'm really proud of them."
Photo courtesy of LSU Sports Information