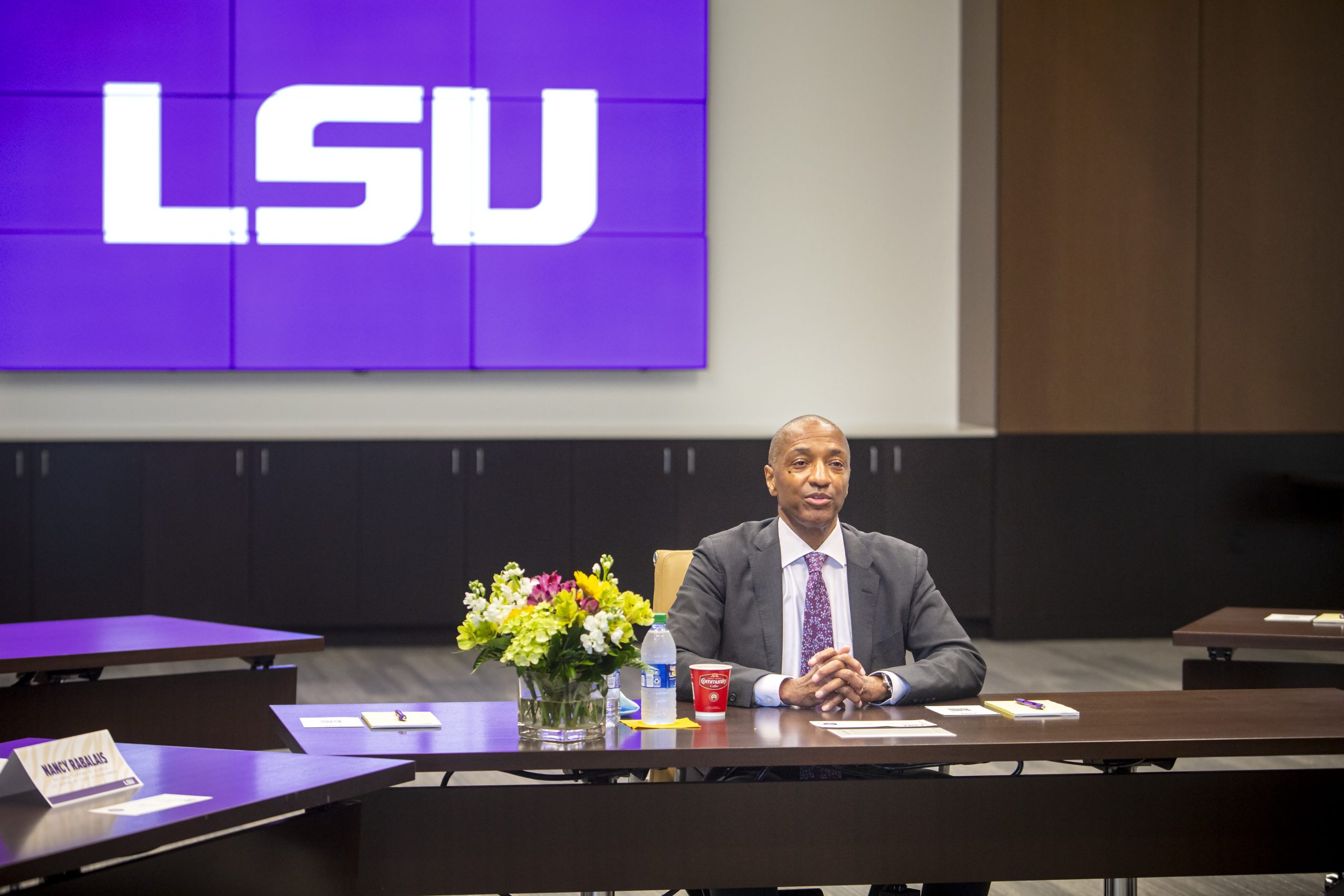 As LSU President William Tate IV timidly avoids joining the 21st Century by addressing his school's complex history, he hurts football recruiting. With more than four of five scholarship Tigers being Black citizens, it is outrageous for the Ole War Skule to retain names of slave owners, slave traders and Confederate icons in prominent places on a campus where Black gladiators are glorified on Saturday night and insulted the rest of the week with reminders their ancestors were regarded as property and were not allowed to attend LSU for nearly a century.
Tate disbanded a committee assigned to review the merits of removing names like John Audubon, John Hill and David Boyd from major buildings at LSU. This is curious in light of the move to lift the name of Gen. Troy Middleton, hero of WWI and WWII, from the library. A current LSU Board member (not Collis Temple) told me at Louie's Café the cost was higher to remove names than to retain them. Change is difficult, but it is preferable to being on the wrong side of history.
President Tate was quite forceful when it served his needs to lead the charge and snub Dale Brown by having him share his name on the court at the PMAC with Sue Gunter. Tate certainly did not consider cost when he authorized $17 million on a buyout of football Coach Ed Orgeron, who could have been fired for cause without additional compensation after running interference for athletes guilty of sexual misconduct. Tate also signed off on a contract that exceeded the market rate when Brian Kelly was hired at more than $10 million per year for ten seasons with a 90-percent reward if he is fired.
LSU foes will exploit the university's Civil War Era stance of honoring racists as a method to wound Kelly in recruiting. Tate is urged to take bold action and destroy any vestige of a past that is both unfortunate and criminal. This courageous action would win him plaudits nationwide and enhance his stock should he seek shelter elsewhere under the less friendly regime of a new Louisiana governor. As Tate approaches the age of Social Security benefits, his options will be limited should his tenure end abruptly at TigerTown.
LSU has invested heavily in Kelly, who is counted on to retire multi-million-dollar deficits of other sports, including women's basketball. Football is king and an antiquated past should not be tolerated. This lack of decisive leadership lowers prospects of more national football championships. Pandora's box was opened when LSU dissed Gen. Middleton for writing a racist letter in 1961 to his counterpart at the University of Texas as Middleton was retiring as president of a university he served with distinction for a generation.
Tate was hired after the library decision, but the Middleton Standard does not permit those with racist pasts to be honored at the Ole War Skule. Tate is only delaying the inevitable, and his legacy will be tarnished irreparably should he vacillate. The LSU president, who is a remarkable testament that race cannot keep a gifted man from great achievement, has conquered significant obstacles to reach the pinnacle as leader of our state's flagship university. He has the capacity to cleanse the stains of discrimination and exclusion of Blacks at LSU if he opts for bravery over cowardice.
Coach O was Offensive
Ed Orgeron was recognized as a standout defensive strategist when Les Miles rescued him from the scrap heap and put on his staff in 2015. Four games into the 2016 season, Coach O was given the keys to the kingdom. Forty months later he had piloted LSU to its greatest season in history as his 15-0 Tigers won the national championship with a 42-25 blowout of Clemson on Jan. 13, 2020.
It is fair to credit Orgeron with ushering in the Golden Age of Golden Arms at LSU. His three prominent starters at quarterback from 2016-2021 combined for 138 touchdowns passing and just 25 interceptions, a stupendous record of success replicated in few other places. Here are the three quarterbacks who played superbly under Orgeron's direction.
Danny Etling: 27 touchdowns, 7 interceptions…24 games at LSU.
Joe Burrow: 76 touchdowns, 11 interceptions….28 games at LSU.
Max Johnson: 35 touchdowns, 7 interceptions….18 games at LSU.
Etling and Burrow transferred to LSU from Purdue and Ohio State while Johnson left the Tigers to play at Texas A&M where he is the reigning starter for the Aggies.
Johnson tossed for 27 touchdowns in Orgeron's final season in 2021. That figure ranks as the fourth highest total in LSU history for a single season, eclipsed by Burrow's stratospheric total of 60 scoring passes in 2019 and 28 for Matt Mauck in 2003 and from JaMarcus Russell in 2006.
At press time, Jayden Daniels is continuing the tradition of exceptional transfer passers. The Arizona State defector passed for 29 touchdowns against just 5 interceptions in his first 18 games at LSU.
Daniels is the superior runner with 1,078 yards rushing and 13 touchdowns in 18 games.
Johnson gained 78 yards and scored two times as he was sacked numerous times in his two years at LSU.
Burrow amassed 767 yards rushing and 12 touchdowns at LSU; Etling was good for 174 yards and 3 touchdowns for the Tigers.
Ridley, Believe it or Not
Five LSU running backs have gained 1,000 yards in a season for LSU and with an NFL team. The list does not include Kevin Faulk, Charles Alexander, Jim Taylor or Billy Cannon.
The LSU backs to reach four digits on the ground in a college and professional season are Leonard Fournette, Dalton Hilliard, Jeremy Hill, Harvey Williams and Stevan Ridley. Yes, Steven Ridley.
Here we go:
Stevan Ridley: 1147 yards rushing in 2010 for LSU and 1263 yards for New England in 2012.
Jeremy Hill: 1401 yards in 2013 for LSU and 1124 for Cincinnati in 2014.
Leonard Fournette: 1034 yards in 2014 and 1953 yards in 2015 for LSU and 1040 yards in 2017 and 1152 yards in 2019 for Jacksonville.
Harvey Williams: 1001 yards for LSU in 1987 and 1114 yards for Oakland in 1995.
Dalton Hilliard: 1268 yards in 1984 and 1134 yards in 1985 for LSU and 1262 yards in 1989 for New Orleans.