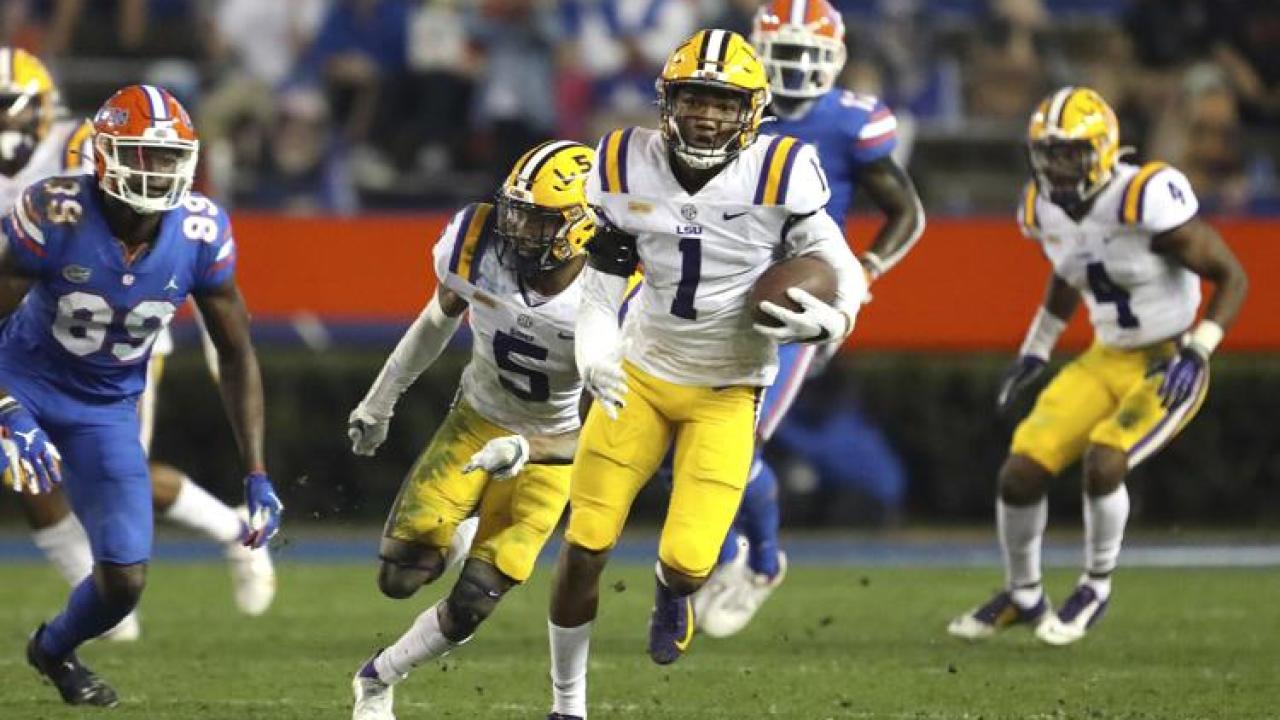 Two days after announcing that his leading receiver had suffered a season-ending injury, LSU head football coach Ed Orgeron is dealing with another major blow to his team.
Starting sophomore cornerback Eli Ricks, who played and recorded two tackles in last Saturday's 42-21 loss at Kentucky, reportedly suffered a shoulder injury that will require season-ending surgery.
"Eli will be out and unavailable for the rest of the season," Orgeron said during his appearance on Wednesday's Southeastern Conference Coaches Teleconference.
Orgeron said that he's considering the move of junior nickelback Cordale Flott to cornerback, his original position, and moving freshman Sage Ryan, who has yet to play this season, into Flott's position.
"It does make it tough but it's next man up," Orgeron said of his team's injury woes. "Somebody's got to rise to the occasion. We've lost several players, especially starters on defense, and we have some young guys that have to step up."
Both The Athletic and Matt Moscona, host of ESPN's After Further Review, reported that Ricks' mother, Shauna, said that her son wasn't opting out of the season and doesn't plan to transfer.
Orgeron said Ricks' injury has been a reoccurring one and that finally he and his family decided that surgery would best remedy the situation.
"It's a sustained injury. Just kept coming and coming back," Orgeron said. "He and his family decided to get operated on to get it fixed. I think he's going to get it fixed pretty soon. It was a nagging injury here and there and he kept on playing with it and it just kept reoccurring."
LSU hasn't been immune to season-ending injuries this season with the loss of defensive end Andre Anthony, linebacker Jared Small and wide receiver Kayshon Boutte. Junior Derek Stingley Jr. underwent a procedure on his left foot and has missed his team's last three games and will be out again for this Saturday's 11 a.m. home game with Florida. Quarterback Myles Brennan suffered a broken arm before the start of fall camp and hasn't played this season.

The Tigers will also be without defensive end Ali Gaye, defensive tackle Joseph Evans and safety Major Burns this week as well.
The 6-foot-2, 195-pound Ricks earned Freshman All-American honors in 2020 with 20 tackles and four interceptions – two of which were returned for touchdowns – with go along with nine passes broken up. He played in all 10 of his team's games and wound up having surgery to repair a torn labrum following the season, keeping him out of spring training and summer activities.
He was also selected third team All-American, second team All-SEC and earned a spot on the SEC's All-Freshman team.
Ricks played in all six of his team's games this season, registering 11 tackles – including a high of five against Mississippi State – with an interception and two passes broken up.