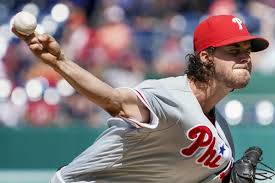 Five former LSU players will participate in the 2023 Major League Baseball Playoffs that begin on Tuesday.
The former Tigers who are scheduled to be on active MLB playoff rosters include third baseman Alex Bregman of the Houston Astros, right-handed pitcher Kevin Gausman of the Toronto Blue Jays, right-handed pitcher Aaron Nola of the Philadelphia Phillies, outfielder Andrew Stevenson of the Minnesota Twins and infielder/outfielder Josh Smith of the Texas Rangers.
A total of 42 former Tigers have been a part of MLB playoff teams since 1990, and 13 former LSU players have been members of World Series Championship teams in that span, including Bregman, who has claimed World Series rings with the Astros in 2017 and in 2022.
Smith and the Rangers will open a best-of-three American League Wild Card Series against the Tampa Bay Rays at 1 p.m. CT Tuesday in St. Petersburg, Fla.
Gausman and the Blue Jays will begin their AL Wild Card Series at 3:30 p.m. CT Tuesday in Minneapolis versus the Minnesota Twins, and Nola and the Phillies face the Miami Marlins in Game 1 of their National League Wild Card Series at 7 p.m. CT Tuesday in Philadelphia.
Bregman will begin playoff action on Saturday in the American League Divisional Series, as the Astros received a first-round bye after winning the AL West Division title. The Astros will meet the winner of the Toronto-Minnesota Wild Card Series in the best-of-seven Divisional Series.
Nola and Smith are both Baton Rouge natives and products of Catholic High School. Gausman is a native of Centennial, Colo., and Bregman is a product of Albuquerque, N.M.
Smith made his MLB debut with the Rangers last season, and he has collected eight doubles, one triple, six homers, 15 RBI and 29 runs this season as a third baseman, shortstop and leftfielder. He was selected in the second round of the 2019 MLB Draft by the New York Yankees.
Gausman, a two-time All-Star – this season with the Blue Jays and in 2021 with the San Francisco Giants – has recorded a 12-9 mark in 2023 for the Blue Jays with a 3.16 ERA and 237 strikeouts in 185.0 innings.
Gausman is in his 11th MLB season – his second with the Blue Jays – and he has previous postseason experience with the Baltimore Orioles in 2014, the Atlanta Braves in 2018, the Giants in 2021 and the Blue Jays last season.
Nola, a 2018 NL All-Star, helped lead Philadelphia to the National League pennant last season, and this season he has recorded a 12-9 mark and a 4.46 ERA in 193.2 innings with 202 strikeouts.
Last season, he registered the most strikeouts (235) with fewer than 30 walks (29) in Major League Baseball History. Nola, the Phillies' first-round draft choice in 2014, is in his ninth MLB season in Philadelphia.
Bregman, along with being a two-time World Series champion and four-time AL pennant winner, is a two-time All-Star and the 2018 All-Star Game MVP. He batted .262 during the 2023 regular season for Houston with 28 doubles, four triples, 25 homers, 98 RBI and 103 runs scored.
Bregman is in his eighth season with the Astros, who selected him as the No. 2 overall pick in the 2015 MLB Draft.