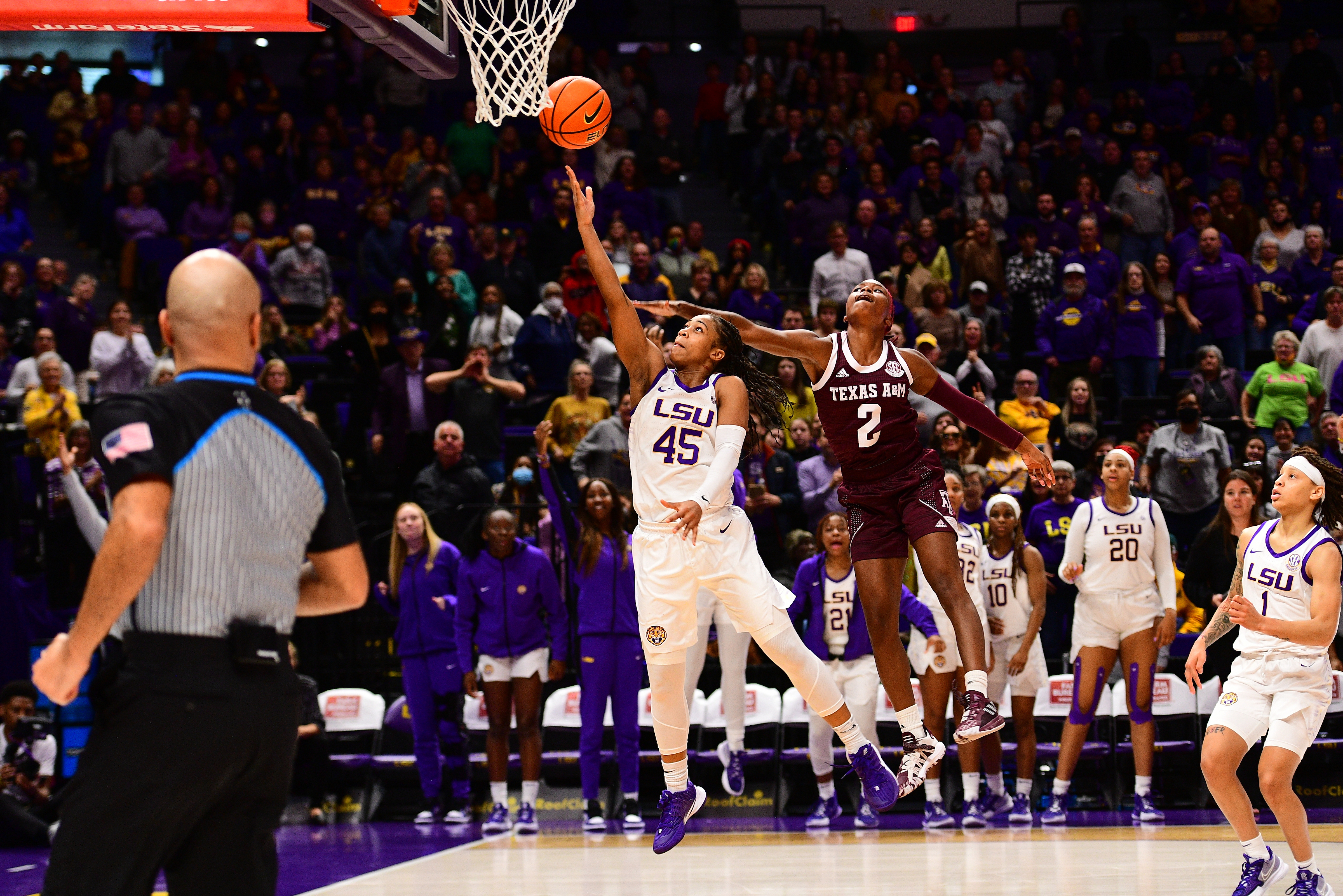 There was plenty of buzz about the direction of the LSU women's basketball program following the debut season of coach Kim Mulkey.
The Tigers evolved from a team coming off a losing record to one that reached a second-round game in the NCAA Tournament played on their home floor.
LSU finished 26-6 overall and was second during the demanding Southeastern Conference regular season. The Tigers hosted two games in the NCAA Tournament, a come-from-behind win over Jackson State before bowing out to Ohio State.
Mulkey, who won national Coach of the Year honors, will attempt to put another strong product on the floor after the recent release of her 2022-23 schedule.
The Tigers, after exhibitions Oct. 27 (Mississippi College) and Nov. 3 (Langston), officially begin the season Nov. 7 at home against Bellarmine, the first of five consecutive games in the Pete Maravich Assembly Center.
LSU will take part in two preseason road trips, one that takes the Tigers to the Bahamas (Nov. 24-26) for two games and another to the Maui Classic in Hawaii (Dec. 17-18) for two more games.
Mulkey's club embarks on a 16-game SEC schedule starting Dec. 29 at Arkansas, part of a home-and-home series that also has the Tigers hosting the Razorbacks on Jan. 19.
LSU will also play host to Texas A&M (Jan. 5) and Tennessee (Jan. 30), with key travel dates against reigning SEC Tournament champion Kentucky (Jan. 8) and defending NCAA champion South Carolina (Feb. 12.)
The SEC's postseason tournament will take place March 1-5 in Greenville, South Carolina.
With a team that's in direct contrast to the one she inherited, Mulkey only has one returning starter in senior guard Alexis Morris, who averaged 15 points a game. The Tigers also have senior guard Ryann Payne and redshirt sophomore center Hannah Gusters back from last year's team.
That's not to suggest this year's LSU team is devoid of talent.
Mulkey and her coaching staff were extremely active in the NCAA transfer portal and signed four players from Division I schools. They also added the top-rated player from the junior college ranks.
Six-foot-three junior forward Angel Reese of Maryland is a player with All-American credentials, and with 6-4 graduate student LaDazhia Williams of Missouri LSU will have a formidable inside presence.
The Tigers also signed junior point guard Kateri Poole of Ohio State and guard Jasmine Carson of West Virginia to go with 5-11 juco forward Last-Tear Poa, from Northwest Florida State College.
LSU also welcomes one of the nation's top high school signing classes, led by top 100-rated players guard Flaujae Johnson, forward Sa'Myah Smith and guard Alisa Williams.
LSU SCHEDULE
(Times to be announced)
October
27 – Mississippi College (exhibition)
November
3 – Langton (exhibition.); 7 Bellarmine; 11 – Mississippi Valley; 13 – Western Carolina; 16 – Houston Baptist; 20 – Northwestern State; 24 – George Mason, Bahamas, 25/26 – UAB, Bahamas; 29 – Southeastern
December
3 – At Tulane, 11 – New Orleans, 14 – Lamar; Maui Invitational – 17 – TDB, Maui, Hawaii; 18 – Oregon State, Maui, Hawaii; 29 – at Arkansas
January
1 – Vanderbilt; 5 – Texas A&M; 8 – at Kentucky; 12 – at Missouri; 15 – Auburn; 19 – Arkansas; 23 – at Alabama; 30 – Tennessee
February
2 – Georgia; 5 – at Texas A&M, 12 – at South Carolina, 16 – Ole Miss; 19 – at Florida; 23 – at Vanderbilt; 26 – Mississippi State
March
1-5 – at SEC Tournament; Greenville, S.C.