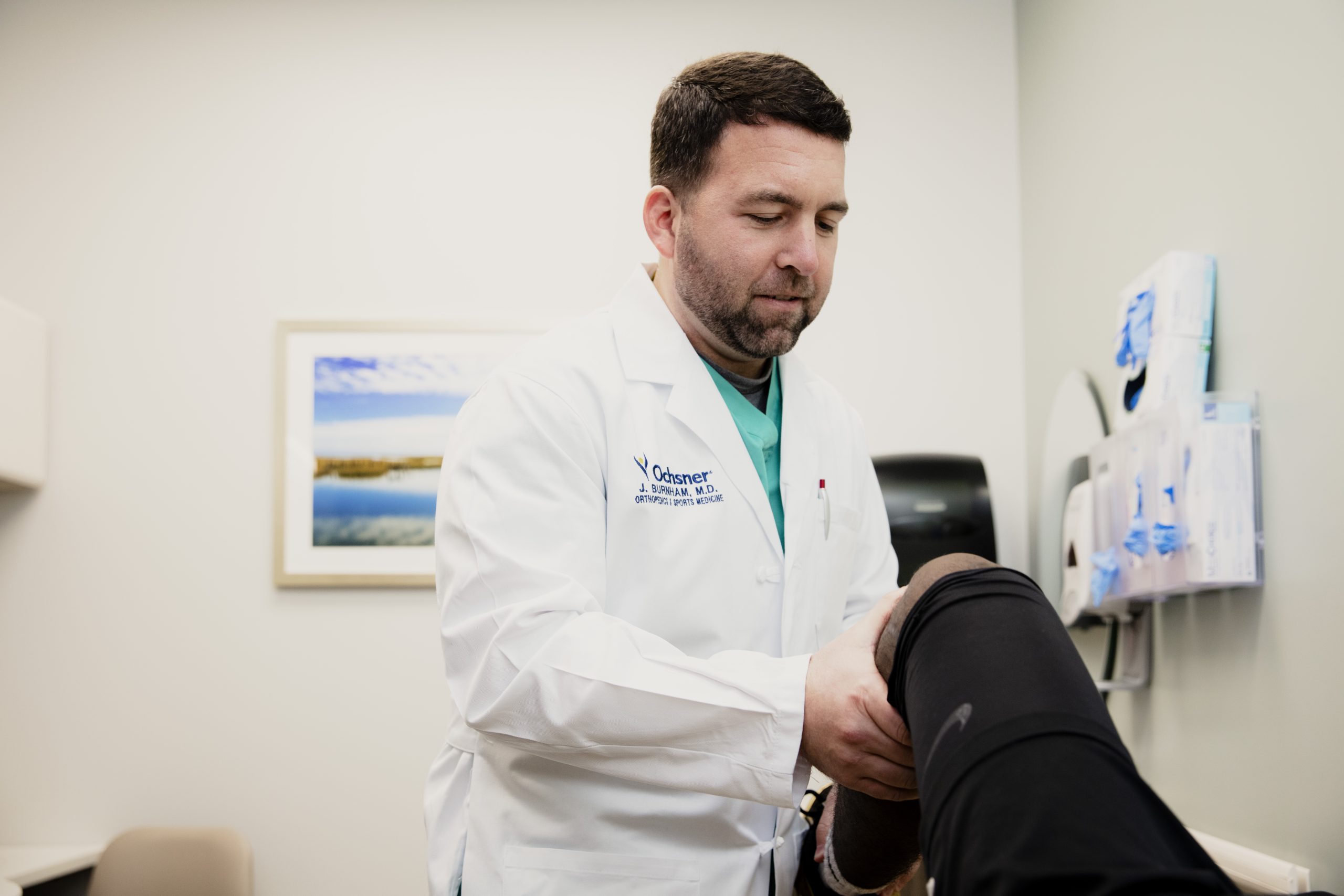 Jeremy Burnham has not spoken recently with Nick Saban.
The current Alabama and ex-LSU coach probably has no clue his former Tigers walk-on fullback, the kid who spent four years on the roster but never made it into an actual game, is now Dr. Jeremy Burnham, director of sports medicine at Ochsner Baton Rouge and the first Baton Rouge-area orthopedic surgeon to use a breakthrough technology – the Bridge-Enhanced ACL Repair Implant, also known as BEAR – to repair a torn anterior cruciate ligament.
Saban perhaps also isn't aware that Burnham is Ochsner's principal investigator for the Surgical Timing and Rehabilitation, or STaR, medical trial, which will benefit U.S. military members and others who've suffered multiple-ligament knee injuries.
Yet when Burnham needed a few kind words from his former coach,
Saban was quick to respond.
"I reached out to him through email and kind of updated him when I was applying for residency getting out of med school," Burnham said, "and he actually wrote a letter of recommendation that got included when I applied for residency programs."
Burnham – a graduate of Baton Rouge's Parkview Baptist School, LSU for undergraduate studies and
the LSU-Shreveport Medical School – had a lengthy resume and multiple recommendations.
However …
"I'm on the interview trail, and all anybody wanted to talk about was my letter from Nick Saban," Burnham
said. "It stole the show."
That was a good thing for Burnham, who was accepted into the University of Kentucky College of
Medicine residency program.
Similarly valuable were all the sweat and tears shed by a running back who lettered, but whose name does not appear on LSU stat sheets.
"In the interviews you'd be talking to the head of the program wherever you are … and they'd ask you questions," Burnham said, "and the theme they kept drawing on was orthopedic residency is tough, you're going to spend a lot of hours here, a lot of hours working, there's going to be a lot of challenging things, (but) we feel that you playing four years of college football as a walk-on and
making it through that process is a good indication of your grit and determination and your chance of success in this career field.
"That's when it started coming together for me and I started realizing, man, those things, they did help me."
Toiling in the summer heat for four years. Learning the value of persistence, despite experiencing no immediate reward. Understanding the Saban way.
All that helped, even if Burnham didn't play a down beyond his high school days, even if there were times when transferring was oh-so-tempting.
"You have that period of time where you're kind of wondering, 'Did I make the right decision? What should I have done?' " Burnham said. "I have zero regrets about it now. I wouldn't change a thing."
As Burnham came close to completing his residency at Kentucky, where he studied under renowned orthopedic surgeon Dr. Mary Lloyd Ireland, the young doctor was encouraged by Beau Lowery to pursue a sports medicine fellowship at the University of Pittsburgh Medical Center (UPMC).
Lowery, LSU's director of sports medicine as of last July, earned his master's degree in kinesiology from LSU in 2005. He spent nine years starting in 2012 on the sports medicine staff of the New Orleans Saints, including a 2017-21 stint as the NFL franchise's director of sports medicine.
Lowery also spent time from 2001-03 assisting with Pittsburgh Steelers training camps, which is where he got met longtime Steelers head orthopedic team physician and UPMC orthopedic surgeon Dr. James Bradley.
"From an orthopedic sports medicine perspective, it's one of the best in the country," Lowery said of UPMC. "So, when Jeremy matched with it, I was like, 'Man, that's where I would go.' "
Burnham heeded the advice of Lowery, who was acquainted with Burnham's
father, Dr. Jeffrey Burnham, a former LSU football team physician.
At UPMC – where he trained under the tutelage of, among others, Bradley and the late Dr. Freddie Fu, a pioneering orthopedic surgeon – Jeremy Burnham learned the value of improving what needs improvement.
"They really challenged me in my training there to not be OK with the status quo, and to try look and say, 'Are there ways we can do this better?' " he said. "And not just 'better' in our own opinion, but 'Can the rigorous science show that?'
"They challenged me and said, 'Hey, in addition to going and building a clinical practice, don't forget that this is how we make progress. It's about pushing these things forward.' "
THE BEAR TRIAL
Involvement in the BEAR trial is evidence Burnham took those words to heart.
So too is the multiple ligaments repair trial Burnham has been involved for about seven years.
"There's a ton of time and effort that goes into the planning to do it right," Burnham said of trial work. "And sometimes the results aren't what we think they're going to be. We may think some procedure is better, and then the studies and the data say otherwise. But you have to be committed to following that data, and not just following your opinion."
With about 400,000 ACL injuries sustained each year in the United States alone, Burnham is motivated to find ways to improve traditional surgical repair methods.
Benefits of the BEAR are plentiful, particularly the fact it allows patients to keep their ACL rather than replace it with separate tissue.
"Some ligaments in the knee have healing capacity," Burnham said. "The ACL is not one of those ligaments. It is inside of the knee, where all the joint fluid is. And when it tears, it just doesn't heal itself, or very rarely heals itself."
Orthopedic surgeons typically have had little success repairing the ligament by suturing it.
"The gold standard … for 30 years has been to do a reconstruction, which is putting a new ligament in there," Burnham said. "We get a healthy tendon from somewhere else in the body … and we fashion that into an ACL.
"We drill some big tunnels in the knee, and we put this tendon in there, and it eventually incorporates into an ACL, or something close to it."
The procedure is time-tested, but imperfect.
"The outcomes aren't 100% … where we want them to be," Burnham said, "and no matter how good the surgery is, and the rehab … it isn't as good as (the patient's) ACL was before.
"The holy grail for ACL surgery, for a long time, has been if anybody can figure out how to get it to successfully and reliably heal back if we repair it. That's what this technique is."
HOW IT WORKS
The minimally invasive BEAR procedure involves implanting a bioengineered material, creating an environment around the torn ends of the ACL that allows the ligament to reattach itself and heal.
A small, cylindrical device filled with a small amount of the patient's blood is placed between the ends of the torn ligament, bridging the ends and allowing a clot to form. Over time, the ligament's original attachments to the femur and tibia bones are healed and the body absorbs the device.
Recovery time from the BEAR procedure remains in the typical 9-to-12 month range it is for traditional ACL repairs, but – according to Burnham – one recent study has shown quadriceps muscle strength comes back sooner and another has shown trust in the knee, often referred to as "psychological return to
play," returns sooner too.
The BEAR procedure appears to be particularly effective for younger patients, for whom tissue, cartilage and ligament preservation is especially beneficial.
"As we get older, if some of those things wear out you can get them replaced," Burnham said. "You can get a knee replacement. … But when you're 15 years old or 20 years old, a knee replacement is not an option.
"I think it's crucial to preserve the patient's own tissue and anatomy anyway, no matter what the age, but certainly in younger patients it's exponentially important, because they have so much more activity in front of them and so much more life and demands in front of them that we want to do that.
"When you do an ACL reconstruction … you're doing some things that are irreversible to the knee, and this (BEAR) ACL repair technique is so minimally invasive that it leaves a lot of options open in the future, because you're basically restoring the patient's normal anatomy."
It really is next-level doctoring.
"The new frontier in sports medicine," Ochsner's Patrick Cook said, "is 'How do we use our own body's tissue to heal itself?'
"With this new BEAR implant, this isn't a reconstruction. It's a repair, and that's significant because – in the right patient – if you can facilitate the body's ability to repair the native ACL, you've got perfect anatomic restoration, because the attachment sites are still there."
No high-level professional American athlete, however, is publicly known to have undergone the new BEAR procedure. No current LSU athlete has undergone the procedure either, according to
Lowery.
But, according to medtechdive.com, the NFL Players Association provided some of the initial research funding needed as Dr. Martha Murray pioneered the implant and technique at Boston Children's Hospital.
"I think at that level, with professional athletes when there's so much money on contracts and things like that, that people tend to go … with that traditional gold standard," Burnham said. "If we can prove that this procedure not only helps the weekend warrior but also high-level athletes," Lowery added, "and you're not having to go do an autograft and take a piece of tissue from somewhere else in the body, which is really right now the best option, then that becomes really significant."
The first human study on the BEAR technique was published in 2016, according to Ochsner Baton Rouge, and the procedure was granted FDA approval in December 2020.
"Getting the FDA clearance, and having some … really, really robust studies that have come out and said the results are as good as the gold standard without some of the drawbacks of an ACL reconstruction – that's where we started using it clinically," Burnham said, "because we needed some of that good, unbiased data to say whether it was that effective or not."
To Lowery, the surgeries Burnham and others in the field are performing is potentially "game-changing."
"Sitting in this seat, when you're looking at taking care of student-athletes, you want to be really innovative," he said. "You want to try to check the box as far as, 'Man, are we doing everything we can to help these kids from a medical standpoint and is there something we're missing?' "
It's why those in the business strive to see if theories pan out.
"I would say that is sports medicine," Lowery said. "I say it all the time: I think it's important for us to ask those questions, do the clinical research, look at it, and then be able to evaluate it."
FROM DINARDO TO SABAN
Having the patience to see such a trial through is something Burnham might not be doing without lessons learned at LSU, where his first head coach was Gerry DiNardo in 1999.
His freshman-season plan was to try out, make the roster as a walk-on, then perhaps transfer to a smaller school so he could actually play. Then DiNardo got fired after going 2-8 through the first 10 games of his last of five seasons at LSU, and Saban – Michigan State's head coach at the time – was hired to replace him.
"I still planned on leaving, but when Saban came in you could just tell something was different about him," Burnham said.
Burnham wasn't alone in feeling that.
"I don't think I realized the significance of who I was around at that time, and I don't know he (Burnham) probably did either," said Cook, a strength and conditioning staff intern at the same time his college buddy Burnham was on the football team. "I mean, nobody knew that Saban was Saban back then."
But Burnham did seem to sense something special brewing.
"I said, 'I'm gonna stay on the team and make it under Saban,' " he said. "In retrospect, that was such a good move for me from a 'life' standpoint."
Was it ever.
Burnham dearly wanted to play as a Tiger.
He did take part in spring games. He served as a scout team fullback. He even
dressed for several games.
But his final chapter on the field never was written. He never really came close, not with LaBrandon Toefield, Domanick Davis and Joseph Addai – all of whom played in the Nfl – among those ahead of him in the running backs room. He had no Rudy-like movie moment.
"I don't think anybody goes out there and lasts if they're not a competitor, in which case that scenario (not playing) drives you nuts," Burnham said. "I knew physically I was completely out-classed, you know? But it still drives you. You still want to give it everything you can. It's this weird scenario, though, especially after Saban got there, (where) all of a sudden, you're just exposed to things being done at a different level, and you're kind of asking yourself, 'Could I enjoy this in a scenario where it's not done at such a high level?' "
The answer for Burnham was 'no.'
"Once you taste it," he said of the Saban's methodology, "it's hard to do anything else.
"For me, I knew being a football player was not going to be my life. I knew that wasn't where my talent was. … But I tasted that kind of drive, that kind of commitment, of doing things at a high level that I wanted to be a part of.
"You can't be in that kind of a situation, especially with somebody like Nick Saban around, without it being transformational, just because you're a part of that culture all of a sudden, and whether you realize it or not it has an impact on you."
A LIFE-CHANGER
Sure, there were times when Burnham might have made a quick pivot and gone a different direction – precisely the sort of movement that can tear an ACL.
But something deep down kept telling him to stick it out.
"I look back at those years and I wouldn't trade them for the world," he said. "There was equal frustration at the time, and then questioning, 'What's the next step? Do I transfer now? What do I do?'
"Then (you) just … sometimes sit back and have faith that God has a plan, and for some reason this was part of it, and you can't see the end result, but you know during those periods you're growing, you know it's pushing you."
And now?
"You look back," Burnham said, "and you say that was all important to the development of what I do now and who I am and how I approach difficult situations, how I approach adversity, how I try to be disciplined for my day."
Mental toughness. Not giving up when things get hard. Setting goals, then waking up each day and doing everything required to eventually realize them.
What was taught by Saban and then-strength and conditioning coach Tommy Moffitt transfers from the football field and weight room to the doctor's office and his operating room.
"What I know about orthopedic surgeons is they're extremely hard-working and dedicated," said Cook, a certified orthopedic physical therapist who now works as a manager of clinical excellence for sports and orthopedics at Ochsner New Orleans while also occasionally assisting with LSU track-and-field athletes.
"I think those qualities that get you through being a student-athlete at a (Division) I college, especially one like LSU at that time, when they were changing the culture and trying to become national champions and all that – there's certain people that are built to handle that."
Burnham evidently was one.
Understanding the need to buy into Saban's demands, in this case, made Burnham better.
"It obviously kind of fostered my love for sports medicine and wanting to be around high level sports," he said of wearing the LSU jersey under Saban, "so I feel like I owe a lot of gratitude to that life situation.
"The thing I remember is that there was no detail that was small enough you could overlook it. … You couldn't be mediocre, even in small details."
Never was that more apparent for Burnham than early in 2000.
"We had a losing year. Everybody was down. Our coach (DiNardo) was no longer there. Morale was terrible," he said. "Then I remember (Saban) coming in, and I remember doing our 'Fourth Quarter' conditioning program, and he would film it with the cameras, the eye in the sky. I was used to seeing that at practice."
Not for conditioning periods.
"So, if you were slacking … it was going to get brought to somebody's attention," Burnham said. "Even if it was me, a walk-on nobody knew, if I was not putting in the effort that I needed to put in, it was going to get noticed.
"He (Saban) had a vision he was committed to. He was dedicated to it. He worked extremely hard. He was there all the time, putting in some crazy hours. He demanded excellence from himself, and pretty much everybody around him.
"I remember there were some … players that left, just people that, in general, didn't want to be a part of it. And there were people that were unsure (if) he was running everybody off because he was so hard on everybody – those kinds of questions (that typically arise) when somebody comes in and tries to turn
something around.
"Then you look at it with 20-20 hindsight, and you realize he really knew what he was doing, and it's led to this consistent generational success he's had."
DETAILS REALLY DO MATTER
Seven national championships, one at LSU (after Burnham was done), six at Alabama. Ten SEC championships. Multiple national Coach of the Year awards.
Burnham didn't necessarily get it then, but he knows now that what Saban was selling has paid off for both.
"Med school and residency is tough. You're putting in a lot of hours. There's a lot of challenge, a lot of uncertainty with it," Burnham said. "I think being out there helped me develop that mental mindset to know that even through the challenges 'Hey, I can get there early. I can be disciplined. I can work as hard as they taught me to out there.'
"Obviously in medicine the little details matter. In surgery the little details matter. So, I have to be disciplined to pay attention to that."
Saban taught him how.
When Burnham returned to Baton Rouge after med school, his residency and his fellowship, legendary and late local high school coach Kenny Guillot – who turned Parkview in a state football power with four LHSA state championships from 2001-12, then later become athletic director – welcomed the good doctor back into the fold and began mentoring him.
Burnham is now a team physician for both Parkview and the Southern University football team, which plays LSU on Sept. 10 at Tiger Stadium. It's then that Burnham likely will step again onto the field he often stood on but never got to run the ball.
What he did carry away from the experience, however, is much meaningful now than a lousy down or two would have been then.
"What I learned from being around and watching Saban turn that program around I'll never forget," Burnham said. "I realize now that it something priceless.
"The way he did things, and the lessons he (instilled), his process that he talks about now – nobody was talking about that stuff then. There were a lot of naysayers for Nick Saban when he first started. But to see that transformation was awesome."
Burnham witnessed it first-hand. He played his part. And he has a letter to prove it.