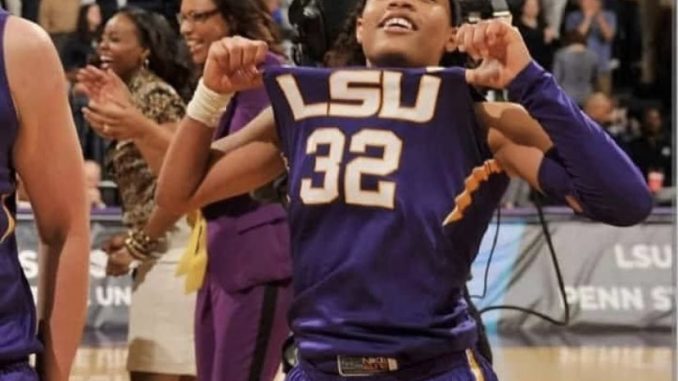 Former LSU women's basketball player Danielle Ballard, who helped the Tigers three NCAA Tournament appearances and back-to-back Sweet 16 trips, died Thursday as the result of injuries suffered from being hit by a car.
Ballard, 29, was pronounced dead at Regional One Health Hospital in her hometown of Memphis, WREG-TV of Memphis reported.
"We are deeply saddened by the passing of Danielle," LSU released in a statement. "She meant a great deal to our program and was such a big part of our women's basketball family. It's difficult to understand why this happened to someone who was so full of life and had so much promise. Our thoughts and prayers are with her family and friends."
Memphis police were dispatched to the intersection of Coleman Road and Raleigh LaGrange – located just miles away from FedEx Forum – at 1:26 a.m. Thursday to investigate a report of a pedestrian being hit by a car.
Police said the driver that struck Ballard remained on the scene but an investigation was ongoing and no arrests had been made.
The 5-foot-9 Ballard was regarded as a basketball legend in her hometown, where she was hailed as one of the best players to ever come out of Memphis. She starred at Memphis Central and led her school to the Class 3A state title – its first in 89 years – where she graduated in 2012.
She was ranked as the ESPN's No. 25 player nationally and seventh-best guard prospect and signed with then LSU coach Nikki Caldwell.
Ballard averaged 12.1 points, 6.8 rebounds, 2.8 assists and 2.4 steals, starting in 67 of 81 career games before being dismissed from the team July 6, 2015 following her junior season. She scored 977 points, grabbed 548 rebounds with 230 assists and 194 steals.
She distinguished herself as a first team preseason All-SEC selection for the 2014-15 season after helping LSU to its second straight Sweet 16 appearance.
Ballard scored 24 points with 17 rebounds in a first-round NCAA win over Georgia Tech, followed that with 22 points and 10 rebounds in an upset of No. 7 West Virginia and managed 24 points and 10 rebounds in a 73-47 loss to Louisville in the Sweet 16.
She missed the first 14 games of the '14-15 season because of a violation of team rules and didn't play until Jan. 8. She went on to average a career-best 14.5 points and 7.8 rebounds.
During her career, Ballard was named Louisiana's Freshman of the Year, twice earned spots on the All-SEC Defensive Team and was a third team Freshman All-America team by Full Court. She was selected LSU's team MVP, Louisiana's Player of the Year, All-SEC first team along with being a WBCA All-America honorable mention choice for the '14-'15 season.