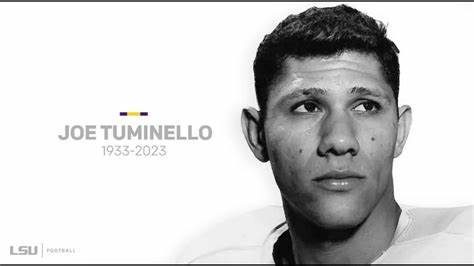 Joe Tuminello, a standout on both sides of the ball for LSU in the 1950s and a member of the LSU Athletics Hall of Fame, passed away Saturday.
He was 90.
Tuminello, a native of Brookhaven, Mississippi born Feb. 24, 1933, lettered at LSU from 1952-55 and helped coach the school's freshman team in '56. The LSU freshman team went undefeated that year and set the foundation for the national championship squad in 1958, a roster that featured future stars in Billy Cannon and Warren Rabb. 
Tuminello earned All-SEC honors three times – he was a second-team selection in 1953 and 1954 followed by first-team honors as a senior in 1955.
As a junior in 1954, Tuminello scored both of LSU's touchdowns in LSU's 14-13 win over Tulane in the season finale. In his final season with the Tigers, Tuminello served as team captain for what was Paul Dietzel's first LSU squad.
He caught 43 passes for 502 yards and was elected to LSU's Athletic Hall of Fame in '56.
Tuminello served as the head coach of St. Landy Parish high school programs from 1958-77. He was the head football coach at the Academy of The Immaculate Conception from '58-'65 and then at Port Barre High School from '67-77. He later became principal at Melville High School and then served as the personnel director for the St. Landry Parish School District.
"My dad exemplified what it was to be a true LSU Tiger, both on and off the field," his sons Joey and Al Tuminello said. "The numerous awards he received were very meaningful, but he felt his greatest award was the friendship of comradeship with fellow players and coaches.
"He had a positive impact on so many lives as a coach and administrator—far too many to mention. He was a loving husband, father, grandfather, and great-grandfather who will be greatly missed by all who were fortunate enough to know him."
In place of a funeral service, Joey Tuminello said the family plans to host a memorial event for his father. Details have yet to be finalized.