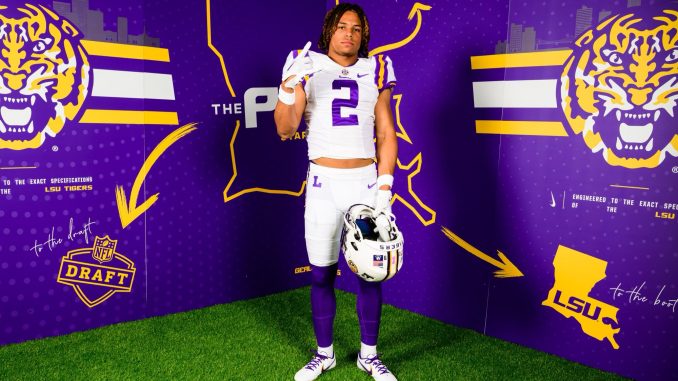 One of the state's top prospects in the Class of 2024 said LSU's among his top five schools and to expect a decision before the start of his senior season.
That elicited an outpouring of responses from several of LSU's current football players and handful of Tigers committed in the Class of '24, both groups reaching out on social media with a recruiting pitch and a distinct message to Many four-star safety Tylen Singleton: #TigersNeedTylen.
The personalized strategy became prevalent during LSU's recruiting season a year ago, resulting in the signings of quarterback Rickie Collins of Woodlawn High, wide receiver Shelton Sampson Jr. of Catholic High, safety Kylin Jackson of Zachary and wide receiver Khai Preen of St. James.
LSU hopes to be able to duplicate such results with the 6-foot-1, 185-pound Singleton, a top 10 prospect in Louisiana, when he chooses between the Tigers, Arkansas, TCU, Texas A&M and Tennessee – a group of schools he identified on Wednesday in an interview with KALB-TV. He'll graduate in December and enroll in January at the school of his choice.
Singleton, a first team Class 2A All-State safety in 2022, has been ranked as high as the state's No. 1 prospect but now is a consensus No. 5 prospect going into the start of the '23 season. He's ranked as high as the state's third-best prospect by Rivals.com, No. 9 safety by On3Sports and the No. 114 overall player by Rivals.com.
The three-year starter has been a key figure on defense for Many which has won two of the last three state championships during his career, including last year's 35-13 win over Union Parish in the Division III nonselect championship game.
Singleton, who played in the shadow of USC signee Tackett Curtis, registered 78 tackles with two sacks for the Tigers who went 13-0 a year ago.
First-year Many coach Dillon Bennett said you can expect to see more of Singleton this season, adding wide receiver duties to his defensive responsibilities.
"Everybody knows what he can do defensively, nobody's seen what he can do offensively except for us in this building," Bennett told KALB. "I'm excited to see what he does. He's an explosive player. It's going to be fun."
LSU's long made Singleton's recruiting a priority, spearheaded by defensive coordinator Matt House. Singleton made an unofficial visit to LSU on April 14.
"We didn't even talk about football; we talked about life, life after football," Singleton said of House. "We looked at film, at my plays where I did great and plays where I could've been better. I like playing the nickel. And I feel that he can bring out the best of my abilities at any level."
Singleton's made two official visits to Texas A&M and Arkansas in June and will schedule his remaining visits.
"Right now, I have five schools that are high on my list," Singleton said. "They are all different, and I like them. I will make a decision when the time is right. So, expect it to be late July or early August."