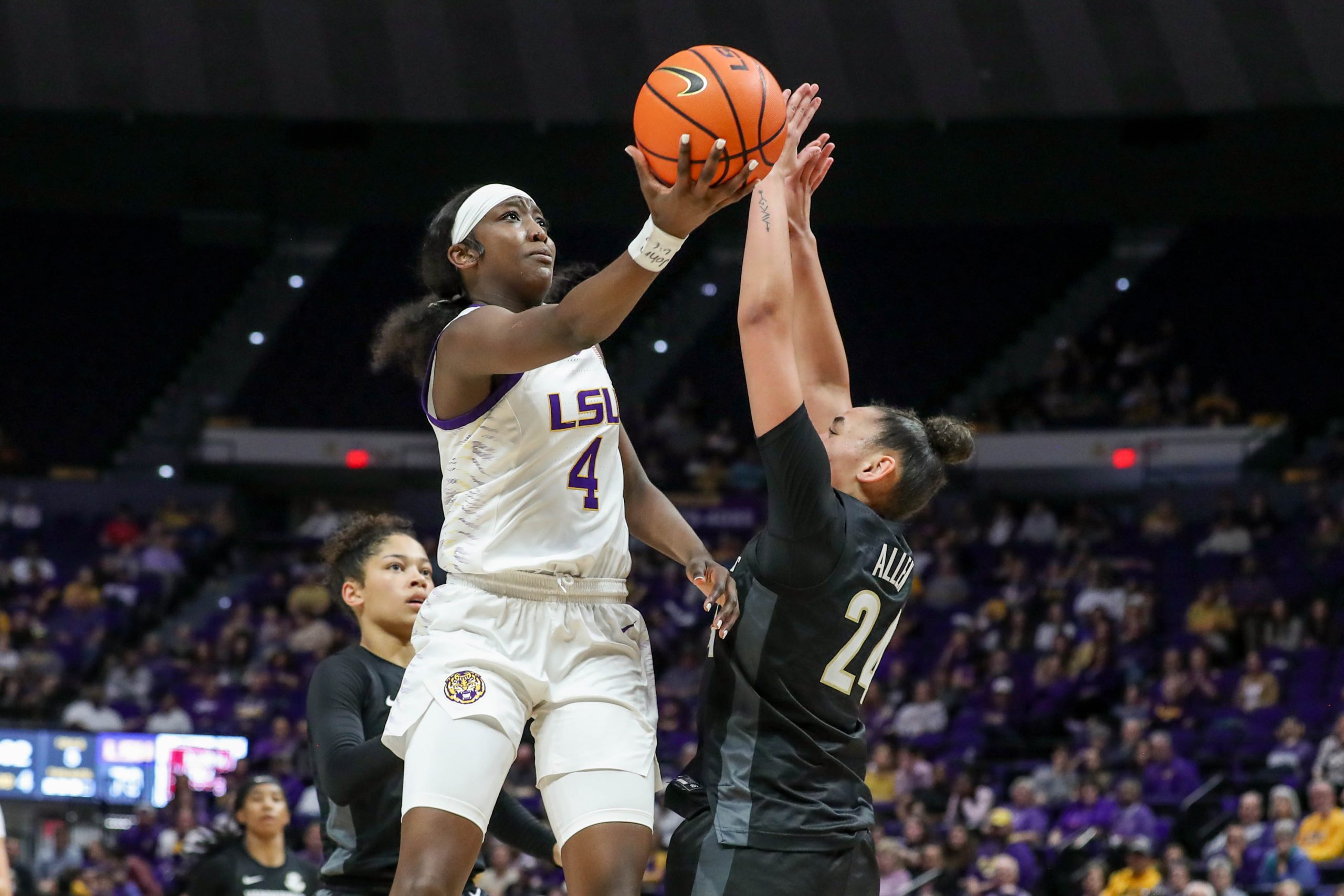 Fourth-ranked LSU, which finished runner-up to top-ranked South Carolina in the Southeastern Conference, placed two players on the league's first team and one on th all-defensive team. The Tigers also posted the SEC's Freshman of the Year for the first time in 24 years.
Led by sophomore forward Angel Reese and fifth-year senior guard Alexis Morris, LSU (27-1, 15-1 in SEC) placed two players on eight-member first team which was selected by the league's coaches and released Tuesday. Reese was also chosen to the all-player all-defensive team and guard Flau'jae Johnson was selected Freshman of the Year, the first time for a Tigers since LaSondra Barrett accomplished the feat in 2009.
Reese led the SEC in both scoring (23.7) and rebounding (16.0) and shot 48% from the floor in her first year since transferring from Maryland. The native of Baltimore was selected this season a league-record seven times as Player of the Week and has recorded 28 double-doubles which ties her for the school's single-season record with Sylvia Fowles.
Reese helped LSU finish the regular season with a 74-59 victory over Mississippi State in which she reached the 20/20 plateau for the fifth time this season with 23 points and 26 rebounds. She earlier established the school record of 28 rebounds which were also the most by a player since the 1981-82 season and her 36 points were the most by an LSU player since Cornelia Gayden's 49 in 1995.
Morris, who took over the team's primary point guard position, elevated herself from a second team selection last season to first team with a 14.5 scoring average. She also handed out 4.2 assists.
Morris has scored 20-plus points in six games and had at least five assists on 14 occasions.
Johnson, the nation's No. 26 incoming freshman, averaged 11.6 points and 5.9 rebounds in her first season. She was selected the SEC's Freshman of Week three times.
In her first SEC game, Johnson registered a double-double with 10 points and 11 rebounds in a road win over Arkansas. She's scored in double figures 17 times with a high of 27 points against Northwestern State and registered three double-doubles. She had a season-high 13 rebounds against UAB.
She became LSU's fourth overall winner of the Freshman of the Year honor.
Smith has consistently been among LSU's top three reserve players and given the Tigers an additional player that can score when needed and defend at all times. She's averaged 5.3 points, 4.5 rebounds and 1.4 blocks.
South Carolina's Aliyah Boston was named Player of the Year as well as Defensive Player of the Year. The Gamecocks also took the other major two awards with Kamilla Cardoso the Sixth Woman of the Year and Dawn Staley was the team's Coach of the Year.
Here's the complete 2023 SEC Women's Basketball Postseason Awards:
First Team
Brittany Davis, Alabama
Alexis Morris, LSU
Angel Reese, LSU
Angel Baker, Ole Miss
Aliyah Boston, South Carolina
Zia Cooke, South Carolina
Jordan Horston, Tennessee
Rickea Jackson, Tennessee
Second Team
Erynn Barnum, Arkansas
Aicha Coulibaly, Auburn
Diamond Battles, Georgia
Madison Scott, Ole Miss
Jessika Carter, Mississippi State
Hayley Frank, Missouri
Kamilla Cardoso, South Carolina
Ciaja Harbison, Vanderbilt
All-Freshman
Saylor Poffenbarger, Arkansas
Flau'jae Johnson, LSU
Sa'Myah Smith, LSU
Debreasha Powe, Mississippi State
Ashton Judd, Missouri
Raven Johnson, South Carolina
Janiah Barker, Texas A&M
Sydney Bowles, Texas A&M
All-Defensive
Diamond Battles, Georgia
Angel Reese, LSU
Madison Scott, Ole Miss
Jessika Carter, Mississippi State
Brea Beal, South Carolina
Aliyah Boston, South Carolina
Player of the Year – Aliyah Boston, South Carolina
Freshman of the Year – Flau'jae Johnson, LSU
Defensive Player of the Year – Aliyah Boston, South Carolina
6th Woman of the Year – Kamilla Cardoso, South Carolina
Scholar-Athlete of the Year – Hannah Barber, Alabama
Coach of the Year – Dawn Staley, South Carolina