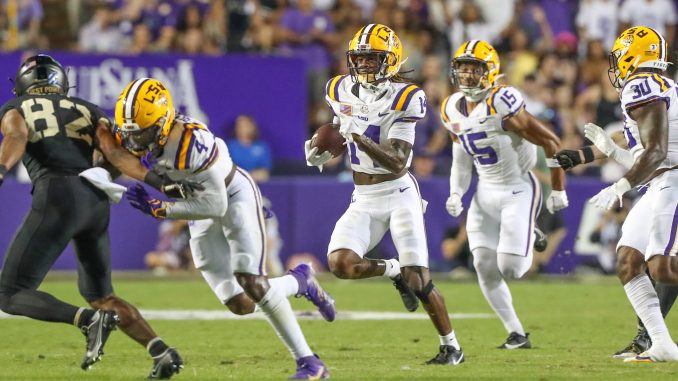 Before he could totally soak in the accomplishment LSU safety Andre Sam had his eye on an even bigger prize.
"I should have had four," Sam said of two-interception performance after LSU's 62-0 victory over Army last Saturday. But with two, I'm satisfied. I'm going to make up for those. I'm going to enjoy this win, watch the film and get back to the drawing board on Monday."
With plenty of angst concerning LSU's diminishing options at cornerback, including an injury by the team's top corner Zy Alexander against Army, Sam provided a ray of sunshine for the Tigers' secondary.
The 6-foot, 190-pound Sam, who joined LSU's roster as a sixth-year safety out of the transfer portal, recorded his first multi-interception game in two years. He recorded three tackles and by his count, got his hands on two other passes that went awry.
"It's fun to watch," LSU coach Brian Kelly said of Sam. "His patience is what's really starting to show. I thought he took himself out of some plays earlier in the year, being maybe just a little too aggressive or out of control. Maybe some missed tackles. He's really settled in and is playing confident and patrolling the middle of the field. He may have liked (to have) a couple of back where he may have had four interceptions. Playing at a high level. We need him to continue to do that. If he does, he presents a solid piece for us back there."
The impetus of Kelly's haul in the transfer portal was cornerback where he signed Alexander of Southeastern Louisiana, JK Johnson of Ohio State and Denver Harris of Texas A&M to infuse a depth-thin position with experience.
Alexander is the lone member in that group to start in all of LSU's eight games until an apparent ankle injury late in the first half sidelined him for the rest of the game. He's questionable in the Tigers' next game, Nov. 4, at Alabama.
Sam has towered over all of them in terms of longevity with eight starts and his overall production.
He's third on the team with 49 tackles, only three behind team leader linebacker Greg Penn III, with a career-high eight in a 49-39 road win over Missouri. He's also the team leader with three interceptions and seven pass breakups.
Over his last three games Sam's averaged 6.6 tackles against Missouri, Auburn and Army – all of which have been victories.
"The main thing is the more work in practice, before practice, after practice," Sam said of the team's improving defense. "And using that extra time in film study, extra work on and off the field so we've built that big trust zone. We've been able to work and play faster."
Sam reached a highpoint in LSU's blowout of Army.
With freshman quarterback Champ Harris pressed into duty because of an injury, LSU's defense was in control from the beginning and Sam feasted in the secondary.
LSU led 14-0 after Jayden Daniels 86-yard TD pass to Brian Thomas Jr. when the Tigers got the ball back, courtesy of Sam's first interception. Harris badly overthrew his receiver and sailed his pass right to Sam, who made a 33-yard return to Army's 33-yard line.
Three plays later, the Tigers were in the end zone on a 9-yard TD pass from Daniels to Thomas, two plays into the second quarter.
LSU struck quickly to make it 45-0 on Garrett Nussmeier's 51-yard TD pass to Malik Nabers and Sam gave his team the ball back on Army's ensuing possession.
Sam intercepted Army's Larry Robinson and returned it 27 yards to the Knights' 35-yard line. That drive resulted in a 32-yard field goal from Damian Ramos and a 48-0 lead with 1:50 to go in the third quarter.
"It's been about playing with the right mindset every week and I think they're beginning to grab hold of that," Kelly said of his defense.
After starring for Class 3A Iowa High outside of Lake Charles, Sam signed with McNeese State where he redshirted in 2017. He went on to earn consecutive berths on the All-Southland Conference team in 2020 and '21 – a combined 18-game schedule that bridged the spring and fall seasons because of the COVID-19 pandemic.
Sam led the Cowboys in tackles both seasons with 52 and 70 tackles, respectively, and totaled four interceptions and seven pass broken up. He transferred to Marshall for the '22 season, starting in 10 of 12 games, where he registered 53 tackles – including a season-high 10 in an upset of Notre Dame – to go with five ½ tackles for loss, 7 passes broken up and an interception before heeding Kelly's call to come to Baton Rouge.
"I'm from Lake Charles and most kids don't get the opportunity to wear this jersey," said Sam, who has 275 career tackles, 11 TFLs and 9 interceptions, "so I'm doing it for the kids back home."