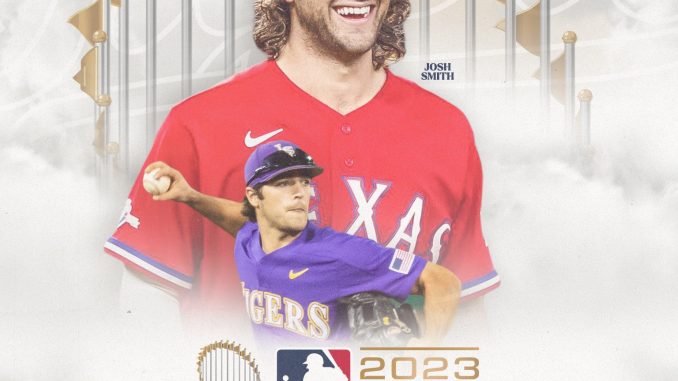 Baton Rouge native Josh Smith, a graduate of Catholic High and three-year letterman at LSU, will take part in his first World Series when the Texas Rangers meet the Arizona Diamondbacks.
Smith, an infielder with the Tigers from 2017-19, attempts to become the 16th former LSU player to win a World Series ring.
The best-of-7 World Series begins at 7 p.m. Friday at Globe Life Field in Arlington, Texas, home of the Rangers.
LSU's had 15 former players win world championships in 20 attempts, beginning in 1954 with Alvin Dark with the New York Giants.
Smith made his MLB debut with the Rangers last season. The third baseman, shortstop and leftfielder has eight doubles, six homers, 15 RBIs and 29 runs scored this season.
Smith was selected in the second round of the MLB Draft by the New York Yankees and traded to the Rangers in July of 2021.
At LSU, Smith the team's starting shortstop in 2019 after missing most of the 2018 season with a stress reaction in his vertebrae. He was the starting third baseman for LSU's 2017 College World Series runners-up team, earning Freshman All-America and Freshman All-SEC recognition.
Smith, a three-time member of the SEC Academic Honor Roll as a finance major, was LSU's leading hitter in 2019, batting .346 (89-for-257) with 17 doubles, two triples, nine homers, 41 RBI, 72 runs and 20 steals in 24 attempts.
He finished the 2019 season No. 4 in the Southeastern Conference in runs scored (72), No. 6 in batting average (.346), No. 6 in stolen bases (20), No. 8 in hits (89), and No. 10 in on-base percentage (.433).
Following is the list of the former LSU players who became World Series champions:
MLB World Series Champions from LSU
INF Alvin Dark, New York Giants – 1954 (player); Oakland Athletics – 1974 (manager)
1B Joe Bill Adcock, Milwaukee Braves – 1957
LHP Mark Guthrie, Minnesota Twins – 1991
LHP Eddie Yarnall, New York Yankees – 1999 and 2000
LHP Randy Keisler, New York Yankees – 2000
RHP Russ Springer, Arizona Diamondbacks – 2001
RHP Curtis Leskanic, Boston Red Sox – 2004
RHP Brian Wilson, San Francisco Giants – 2010 and 2012
INF Mike Fontenot, San Francisco Giants – 2010
LHP Brian Tallet, St. Louis Cardinals – 2011
INF Ryan Theriot, St. Louis Cardinals – 2011; San Francisco Giants – 2012
RHP Louis Coleman, Kansas City Royals – 2015
3B Alex Bregman, Houston Astros – 2017 and 2022
RHP Will Harris, Houston Astros – 2017
OF Andrew Stevenson, Washington Nationals – 2019