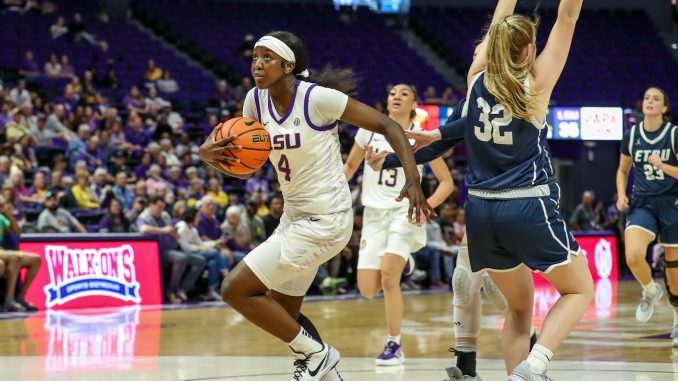 The team's most recognizable face from last year's LSU NCAA national championship team was just a casual observer when Thursday's exhibition game tipped off.
Third-year coach Kim Mulkey didn't start any of the three returning starters from last year's title game, but the No. 1 Tigers' 99-28 victory over Division III East Texas Baptist was a testament to their talent level and depth.
LSU flexed its muscles, boasting a pair of starting units that rivaled each other in talent and production, with preseason All-SEC first team selection Flau'jae Johnson scoring a team-high 18 points in 22 minutes.
"I wanted to see the new ones," said Mulkey, who started freshmen Mikaylah Williams, Janae Kent and Aalyah Del Rosario and transfers Hailey Vah Lith and Aneesah Morrow. "I wanted to see them have an opportunity to start in an LSU uniform because some may not start this year. Some of them may.
"I wanted to do something different and then in the second quarter bring in the kids that were here last year, and then fill in the third and fourth quarters," Mulkey said. "Honestly, I thought the first and second quarters were better than the third and fourth, when I started mixing people that I think need to play together to beat some of the tough teams this year."
LSU wound up with six players in double figures with returning first team All-America forward Angel Reese scoring 17 points to go with seven rebounds, three blocks, three assists and three steals Sophomore Sa'Myah Smith added a double-double with 16 points and a team-high 12 rebounds.
Van Lith and Morrow scored 10 points apiece, while Williams also had 10 points.
"It makes us unique and we're super versatile," said Van Lith, who scored nine points in 16 minutes. "We have a lot of people that can play multiple positions. So, (it's) us continuing to find those best rotations and us figuring that out as the season goes on. We'll only get better from here."
LSU, which hosts Loyola-New Orleans in its final exhibition game next Wednesday at 7 p.m., shot 50% from the field (36 of 72), held East Texas Baptist to 18.9% shooting (10 of 53), held a decided 51-34 rebound advantage and forced 39 turnovers.
East Texas Baptist is a Division III school that didn't return any starters from its 20-7 team last season. They didn't have a player score in double digits.
"We came in knowing it was going to be a David versus Goliath matchup," ETBU coach Blake Arbogast said. "Our kids have a memory of a lifetime that they can share with their kids and loved ones from here on out."
LSU distanced itself by scoring the final 20 points of the first half, opening 51-9 advantage, and that run reached 26 consecutive points on a Reese free throw that made it 57-9.
A free throw from Jayla Hall stopped an 8-plus minute scoring drought for ETBU at the 7:16 mark of the third quarter.
Guard Kateri Poole made a pair of free throws in consecutive trips down court that gave the Tigers a 70-19 lead entering the fourth quarter.
LSU's lead reached 60 points (81-21) on Johnson's two free throws, 70 points (92-21) with 3:13 left and the final score accounted for the team's largest margin.
Smith scored her team's final 11 points over the last 3 ½ minutes, including a pair of three-point plays.
LSU began the first two quarters with two different starting lineups, resulting in a commanding halftime advantage.
Johnson came in the Tigers' second wave and scored 12 points and helped her team finish the first half on a 20-0 run. She capped that stretch with a pair of three-point plays and finished the half by driving the baseline for a bank shot with two seconds left.
East Texas Baptist, which was limited to 4 of 29 shooting (13.8%), last scored on Kadia Ward's putback at the 6:22 mark, cutting LSU's massive lead to 31-9.
Johnson scored 17 seconds into the second quarter and didn't let up until the buzzer sounded, completing an impressive drive along the baseline for a 42-point halftime cushion.
Reese turned two of her three steals in the quarter into driving layups, the second of which resulted in a pair of free throws and 36-9 lead.
LSU scored the first 12 points of the game with all five starters getting into the scoring column with Williams' free throw accounting for the 12-0 lead just over three minutes into the game.
LSU reeled off the last 12 points over a four-minute stretch of the quarter that Williams capped with a steal and layup with 14 seconds left for a 26-5 lead.
"It felt as expected," Van Lith said. "We have a lot of new pieces, a lot of people that have never played college basketball before. Just getting that in-game experience, you've got to take the ups with the downs."