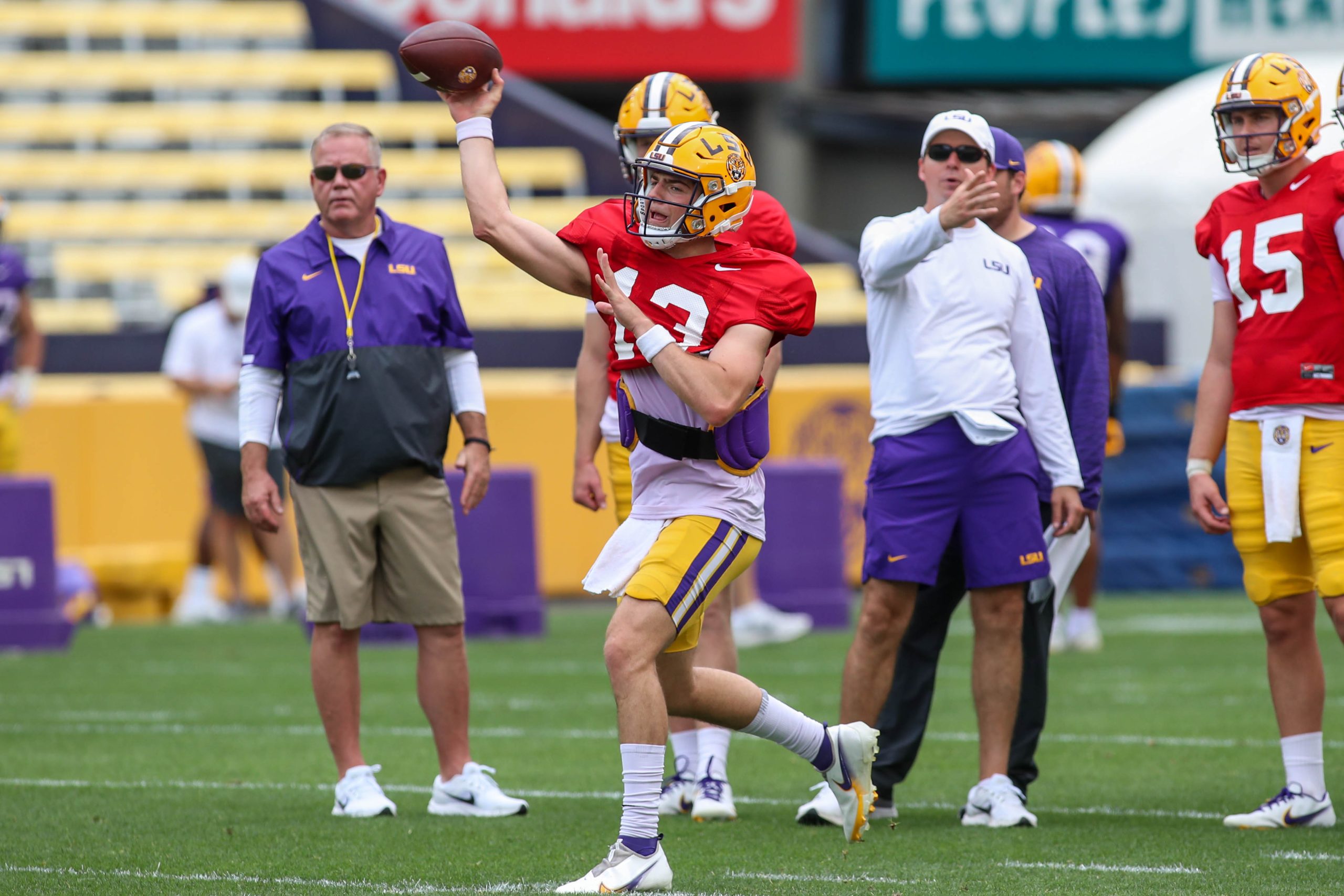 After LSU's first practice of its 2022 preseason camp, and its first under a new coach, Brian Kelly wasted precious time before making a point.
Don't ask.
Not yet.
"Obviously it's the first day. We've got a long way to go," the former Notre Dame coach said. "We haven't decided on the quarterback yet, obviously, after today.
"So you hold those questions."
Yet the first question posed to Kelly was about the open quarterback battle involving returnees Myles Brennan and Garrett Nussmeier, Jayden Daniels and Walker Howard.
Brennan, in his sixth year at LSU including two redshirt seasons, was injured and out throughout 2022 as a result of what he's suggested was a freak offseason fishing-related accident that resulted in a broken arm.
Nusssmeier played in four games last season, but no more, not even LSU's Texas Bowl loss to Kansas State, so as to preserve his redshirt.
Daniels started three seasons at Arizona State, then entered the NCAA transfer portal and decided on LSU shortly after last season ended.
And Walker is a true freshman from St. Thomas More High in Lafayette who has not yet been ruled out of the mix.
"I think they're all anxious to prove what they can do," Kelly said in response to his first question about the QBs, "and want that opportunity.
"So, you know, they prepared really hard, all of them. They're all in great shape. The mental preparation, you can see, is further along now that they know the playbook. So I think all just need to get out there and have the opportunity to showcase what they can do."
Another question Kelly faced focused not on who will win the job, but rather a timetable of sorts for how things will play out before the Tigers open their season Sept. 4 against Florida State at the Superdome in New Orleans.
"Really the focus here is let's get through this first week and make sure we make good choices and good decisions as it relates to the health and the acclimatization of our football team," Kelly said, "and then really ramp it up as it gets to the quarterback situation.
"So you're not going to see much separation in the first seven days. That will begin to start to take shape and form as we get into down-and-distance situations."
The Tigers were forced to practice indoors Thursday due to wet weather issues, and they plan to practice inside again on Friday.
KELLY'S IMPRESSIONS OF BOUTTE
Kelly got his real look Thursday at star receiver Kayshon Boutte, who missed the second half of last season with a broken ankle bone and did not take part in spring practice while recovering from a second surgery on the joint.
"He's an explosive player," Kelly said of the potential first-round 2023 NFL Draft pick. "He's learning how to practice.
"Today he was a guy I had to remind him a little bit about how to practice the right way. But he's so committed. He's worked so hard. I'm excited for him, really, because you can see his potential is one of 'Can he be the best receiver in the country? I think he can be. But you've got to go out and do it."
THE QUESTION MARKS
Kelly left no doubt as to what the most-uncertain position groups in camps care, suggesting they're at quarterback, the offensive line and cornerback.
"I think those three critical areas … a lot of good and bad things happen in those units, and there's questions that have to be answered," he said.
"I stand here in front of you feeling pretty good about the players we've put together in very short order than go out and play at a very high in the SEC, but the fact of the matter remains we've got to figure out who those guys are."
INJURY MATTERS
Kelly said Jack Bech, who was a frequent contributor at receiver and tight end as a true freshman last season, was "limited" due to shin splints. "He's making the progress necessary … and I think he'll be available for us in the next couple days," Kelly said.
Bech is slated to play exclusively at receiver this season.
Kelly also said freshman linebacker DeMario Tolan was out for the first start of camp while recovering from a disectomy, a surgical procedure that involves removal of abnormal disc material that typically pressed on a nerve root or the spine.