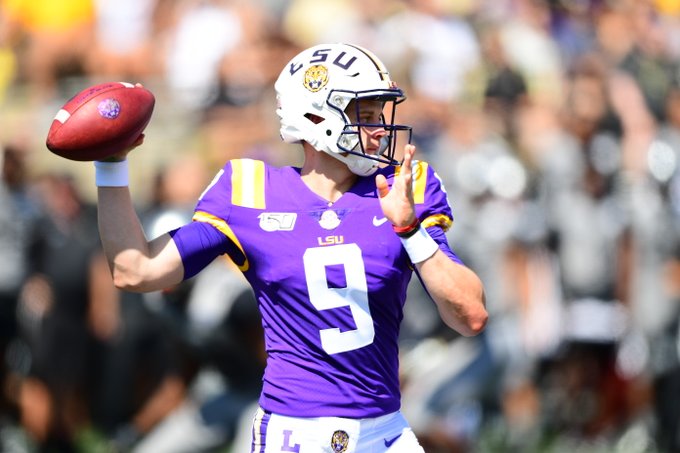 The 2019 Heisman Trophy winner should be determined the week before Louisiana has its gubernatorial run-off between incumbent John Bel Edwards and challenger Eddie Rispone, two men with degrees from LSU. Seven days before Edwards and Eddie square off, LSU invades Tuscaloosa on Nov. 9 in a shootout of enormous proportion between Tua Tagovaila of Alabama and Joe Burrow of LSU.
In six games, Tua has tossed for 2,011 yards, 27 touchdowns and has one interception. For his career, the junior from Honolulu has 81 touchdowns against nine interceptions. He was the Heisman runner-up last year.
With another spectacular performance against Florida, Burrow has lifted LSU to No. 2 in the Associated Press poll by passing for 2,157 yards with 25 touchdowns and three interceptions. In his four-year college career at LSU and Ohio State, Burrow has thrown for 43 touchdowns and eight interceptions.
The collision of the nation's top two teams also features the country's two best quarterbacks at Bryant-Denny Stadium. This setting presents the biggest duel of LSU-Alabama quarterbacks in 47 years. In 1972, undefeated Alabama hosted unbeaten LSU on Nov. 11 at Legion Field in Birmingham with similar implications.
That matchup showcased the quarterbacking skills of Terry Davis of Bogalusa and Bert Jones of Ruston. The Tide prevailed 35-21, costing Jones the Heisman Trophy. The Ruston Rifle finished fourth in the balloting with 61 first-place votes behind Johnny Rodgers of Nebraska, Greg Pruitt of Oklahoma and Rich Glover of Nebraska.
Finishing a close fifth in the Heisman chase behind Bert was Davis with one more first place vote than Jones. The Tide quarterback guided Bear Bryant's 15th team at Alabama to an unblemished regular season before Bama collapsed against national champion Nebraska in a 38-6 Orange Bowl fiasco.
Anticipation for the game at Tuscaloosa is destined to overshadow the electric atmosphere that preceded the Game of the Century on the same field eight years ago. Everything is on the line, including the Heisman Trophy. The last time LSU won in the series was the 9-6 overtime decision on Nov 5, 2011.
It is a safe bet there will be more than 15 points scored between the teams on Nov. 9th. Rules and strategies favor offensive numbers in contemporary competition in ways that were not in place in 1972. Jones and Davis were the two best quarterbacks in the country then and their numbers are puny by today's standards.
Jones was 110 of 218 in the air for 15 touchdowns and eight interceptions in 12 games, including the Bluebonnet Bowl. Davis was 50 of 94 for 777 yards and six touchdowns with five interceptions for Bama. He also rushed for 281 yards and nine touchdowns operating Bryant's wishbone attack.
The most prolific passers in the college ranks in '72 finished ninth and tenth in the Heisman vote. Virginia Tech's Don Strock was 228 of 427 for 3,243 yards and 16 touchdowns with 27 interceptions. Florida State's Gary Huff was 206 of 385 for 2,893 yards, 25 touchdown and 23 interceptions.
Fans enjoy high point encounters, so stratospheric statistics are encouraged by NCAA brass in the same way that Major League Baseball games its competition with juiced baseballs and closer fences to produce a plethora of home runs and strikeouts, the two most macho MLB moments.
The NCAA football should no longer operate as a farm system for the NFL with rosters populated by 300 pounders. Athletes should be required to play the entire game on both sides of the ball. This would elicit physical fitness and end cartoonish offensive numbers produced by quarterbacks who take aim behind an offensive line weighing close to a ton.
This change would also drop the number of players on each team, eliminating the prospect of having stars on the same team wearing the same number. Last year, LSU had Burrow and Grant Delpit, two of its best performers, wearing the same No. 9.
This silly practice of duplicate numbers caused CBS announcer Verne Lundquist in 2007 to voice that LSU's Ryan Perrilloux was playing defense when it was instead Kelvin Sheppard, wearing the identical No. 11.
There is nothing impressive about a spectacle of woefully out of shape linemen trudging up and down the field. These young men are encouraged to gorge themselves at training tables to possess poundage to take up space. In a game in which fractions of seconds count, it is harder for a defender to get past a 320-pounder than a 220-pounder. No wonder that some rotund coaches are not winning the battle of the bulge. Yet they masquerade as molders of men.
The obesity of some of today's teenage competitors will result in a rash of heart disease and strokes later in life that may exceed cognitive deficits that plague some of the players of yesteryear who used their helmets as weapons.
If the NFL is inclined to showcase grotesque physical specimens, it is the prerogative of the league and its employees to have linemen resemble sumo wrestlers. These are professionals who presumably are aware of the risks of their occupation.
As long as we give lip service to amateurism on college campuses, athletes should not be expected to blimp up to keep their scholarships. If the NCAA contests a newly signed law by California to allow endorsements for collegiate standouts, the organization should at least do its best to ensure to the future health of its student-athletes.
When Rick Pitino was coaching basketball at Kentucky and Louisville before his fall from grace, he reportedly demanded physical fitness from his entire staff, including secretaries who started their days on treadmills.
Pitino has his demons, but gluttony and slothfulness are not his failings. It has become fashionable to blast Pitino for sins of ambition and of the flesh, but a thank you is offered from this corner to a coach who practiced what he preached. I would rather see a leader receive some affection on the side than a pious fellow who waddles as he walks.
Thank goodness that America's marquee college quarterbacks are chiseled athletes in Joe and Tua and that Louisiana has two lean men vying to run our state. 53-year-old John Bel Edwards and 70-year-old Eddie Rispone are no lard asses. Our state can be proud no matter which one resides in the Mansion for the next four years. We can be assured that cheesecake and wine will not be in abundance.
Hopefully, the Louisiana trend of physically fit governors will be replicated in the White House.