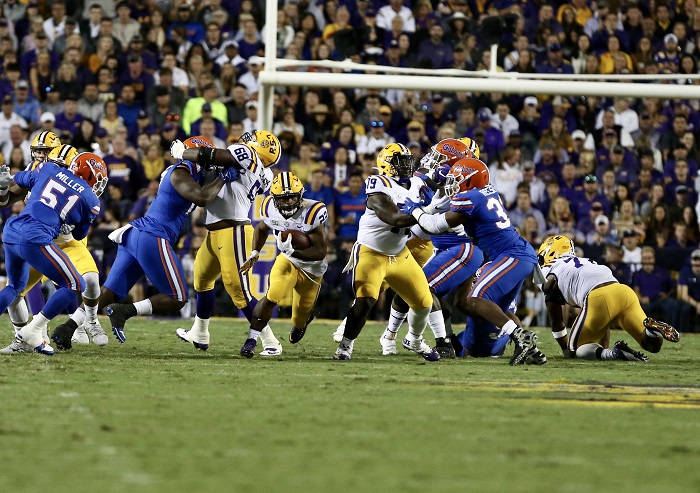 Playing offensive line tends to be a thankless job. When things are going good, the spotlight naturally shifts to the quarterback and skill-position guys who're making plays. It's only when things break down that an offensive line becomes the center of discussion.
Joe Burrow threw for three touchdowns as LSU defeated Florida 42-28 in a thrilling top-10 showdown at Tiger Stadium on Saturday night.
Burrow and his dynamic duo of Justin Jefferson and Ja'Marr Chase made big plays to win the game, as they seem to do every week at this point, but LSU's Heisman hopeful of a quarterback made sure he took time to deflect some credit to his big men up front who played a heavy hand in the victory.
"That's about as flawless as an offensive line has every played that I have seen," Burrow said.
Burrow wasn't sacked and hardly felt pressure from a Florida defense that came into Tiger Stadium among the national leaders in sacks. That's a night-and-day improvement from the five sacks and 11 tackles-for-loss LSU allowed in a loss at Florida last year.
That's especially a credit to LSU's much-maligned tackles, Saahdiq Charles and Austin Deculus. They've often been described as a potential Achilles' heel for an offense that can seemingly do it all, but they held up against Florida's crew of talented edge rusher on Saturday night.
"The biggest stat of the night: no sacks," LSU coach Ed Orgeron said. "Credit to (offensive line coach) James Cregg. The offensive line worked very hard."
Burrow had to scramble around some early in the game, but he put the blame for those breakdowns on himself for making improper checks at the line. Once that got cleaned up, he had all day to sit back in the pocket and pick Florida apart.
"They knew that last year (Florida) kind of got after us up front, and they kind of took that personally," Burrow said. "I'm so proud of those guys. They had a great week of practice. There was no pressure the entire night. Literally not once did I feel pressure. I made a couple of bad protection calls, which is the only reason I got rushed the entire night. Hats off to those guys. I'm so proud of them."
Florida played most of the game with only four or five defenders in the box, a strategic gamble aimed at slowing down LSU's dynamic passing game.
The Gators essentially dared LSU to run the ball, and the Tigers responded by bullying the reduced fronts and opening massive holes to run through.
LSU ran for 218 yards on the night and averaged a gaudy 9.1 yards per attempt. Clyde Edwards-Helaire turned 13 carries into 134 yards and a pair of touchdowns. Freshman Tyrion Davis-Price galloped for a 33-yard touchdown that put LSU ahead for good in the third quarter.
What led to such a big night on the ground? Let Edwards-Helaire tell you himself.
"O-line. O-line," Edwards-Helaire said. "I give all those yards to them. There was an emphasis on point of attack this week. They pretty much blocked everything out and I had simple reads. Every running back had simple reads. O-line all day long."
Center Lloyd Cushenberry undeniably set the tone for the entire group in practice week. Cushenberry printed out stat sheets from that 2018 Florida game and tapped them to the lockers of every one of his teammates up front.
His message was clear and direct: what happened in The Swamp was unacceptable, and the onus was on them to make sure history didn't repeat itself when the rivalry shifted back to Death Valley.
Redemption wasn't the only motivation for Cushenberry and his mates. They also wanted to take the opportunity to make a statement for all the doubters who questioned if their unit could hold up against an elite defense.
"It felt great," the typically-understated Cushenberry said. "We had a point to prove. Everybody in the media was counting us out, saying we're going to get dominated. We read all that, and we see it every week. We're going to come out every week and try to prove you guys wrong."
Not sure that's what Orgeron means by "block out the noise," but he'll certainly sign for similar results from that group up front.
LSU set the tone early. Edwards-Helaire broke off a 10-yard run on the second play from scrimmage. That drive ended in a missed field goal, but Edwards-Helaire exploded through a wide-open hole for 57 yards on the LSU's next possession to set up the game's first score.
"I know we say block out the noise, but at the end of the day we see what people say on social media," Cushenberry said. "We heard people say Florida's D-line was going to dominate us. That motivated us every day to go out and get better so we could prove people wrong today."
That mindset first took hold on the practice field.
LSU enjoyed a particularly physical Tuesday practice, with the starting offensive and defensive lines squaring off. It even spilled over from Competition Tuesday to Turnover Wednesday as two hungry groups went at it to prepare for a game that figured to be decided in the trenches.
"Tuesday was one of our most physical practices of the year," defensive end Breiden Fehoko said. "We were going at it in 9-on-7 and one-on-one run blocks. We did a lot of best-on-best drills. Even toward Wednesday it was getting real chippy at practice.
"That was just the attitude we had all week. We got beat in the trenches last year in Gainesville, so we weren't going to let history repeat itself."
There will be other challenges in the schedule for LSU with showdowns against Auburn and Alabama still to come. But the offense — and the line, in particular — answered a lot of questions with the way it raised its game against the stingiest defense it has seen to date.
Cushenberry and his mates will take Saturday night to enjoy the fruits of their hard labor. Then, after 24 hours pass, it'll be right back to work making sure all those doubters stay wrong.