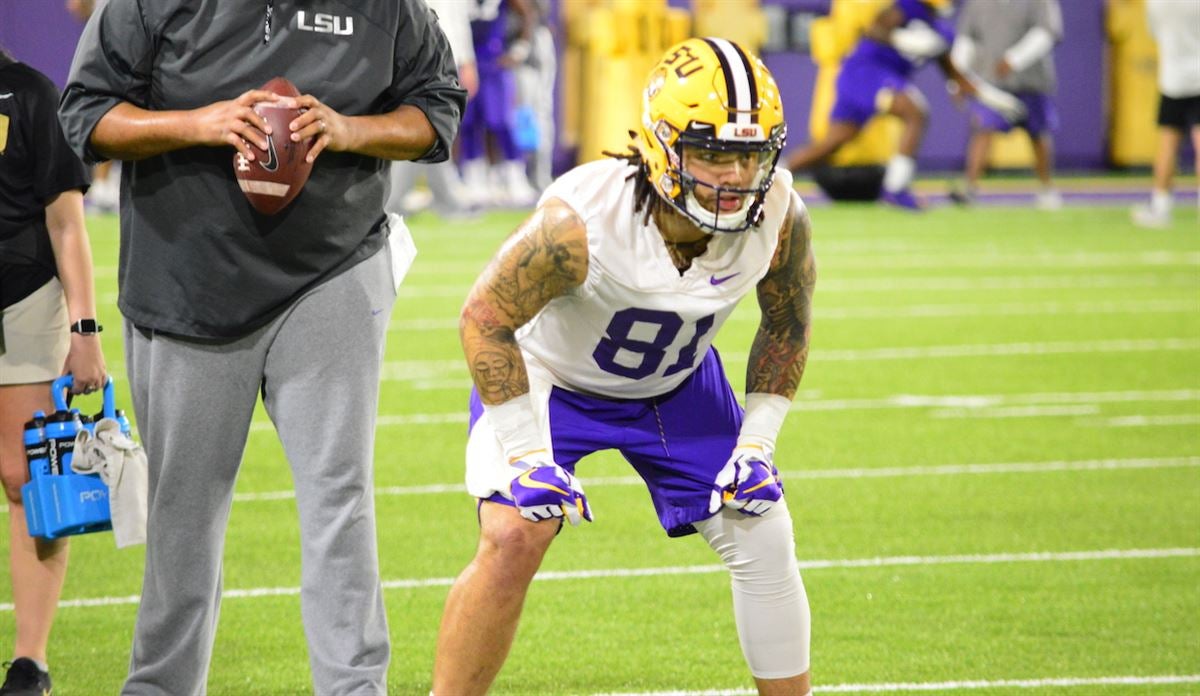 LSU tight end Thaddeus Moss never missed a game in high school. Heck, he doesn't remember missing a practice.
Now he's spent two seasons in LSU's locker room without ever seeing the field in Tiger Stadium, and that just won't do.
"It feels like it's been 20 years since it's been my freshman year," the 2017 transfer from N.C. State said. "Like, I joke around with some guys and I'm like 'man, it's been three years since I played in an actual football game.' … It feels like it's been a decade since I've actually been able to play in an actual football game."
That should change on August 31 when the Tigers take on Georgia Southern for their season opener. His foot is healed, he's getting first-team looks in practice and he's finally able to put on that LSU uniform for a real, live game.
But the road to this point has been anything but easy.
After transferring to LSU a season into his collegiate career, he sat out the obligatory season due to the NCAA transfer rules. No problem. That's what he signed up for.
He entered 2018 summer workouts expecting to play a big role in the offense. Then it happened.
While running a pretty standard route, Moss fractured the fifth metatarsal in his left foot, which at the time seemed pretty manageable. He immediately got surgery on the foot and was told he'd be ready by LSU's season opener against Miami.
But the Miami game came and went, and Moss still didn't feel right.
Multiple times he began practicing with the team again preparing for that week's game only to have the rug pulled out from under him as he re-injured his foot, keeping him from suiting up.
"Last year, it was like 'I'm going to play this week, it's going to be the first week I'm going to be able to play for LSU,' and then poof, I got hurt and it was in two weeks we'll try again."
Unfortunately for Moss, that day never came. Come November, he opted to have surgery on the injured foot once again, which guaranteed he'd miss the entire season.
The physical pain was the least of his worries, as the start-stop nature of his rehabilitation was extremely tough on him mentally.
"Mentally it was really, really, really, really hard," Moss emphasized. "Last year was probably one of the hardest years of my life having to go through that. I never dreamed of playing for LSU. I never expected to play for LSU. So when I got here I've always been excited and looking forward to playing for LSU and being part of LSU."
Moss described the feeling as lonely. Dealing with this situation far from home, far from his family was difficult.
His father, famed former NFL wide receiver Randy Moss, called an checked in on him after his surgery, but for the most part he had to learn how to deal with this adversity by himself.
But a year later, his entire demeanor has changed. He's much happier, he's much more in shape and he's ready to finally take that step on the playing field he's been waiting nearly three years for.
"Now's the time," he said. "Everything happens for a reason. I kept telling myself that. I'm just very confident in how hard I work and the work I put in this offseason. How my body feels right, how I feel at practice, mentally as well as physically.
"I'm just confident right now. I'm very confident in my body. I'm very confident in myself."
Moss said he will try to get the year he missed due to injury via redshirt, which he's currently working with compliance on. If so, he would enter this season effectively as a redshirt sophomore.
How Moss fits into the Tigers' new scheme is yet to be seen, though he is excited about the prospect of LSU spreading distribution of the ball out throughout the offense.
As a tight end at N.C. State, Moss started three games caught six catches for 49 yards and a touchdown.
He hopes and he's sure a the more mature version of himself that's ready to make his LSU debut will have a bigger impact than that, and he's ready to share the love with the rest of the offense.
"We know how talented this offense is. We know how many playmakers we have. We have four or five running backs we can play. We have multiple receivers we can play. We have multiple tight ends we can play. So we know how talented this offense is. That's kind of been the saying with this offense: 'everybody eats.'"