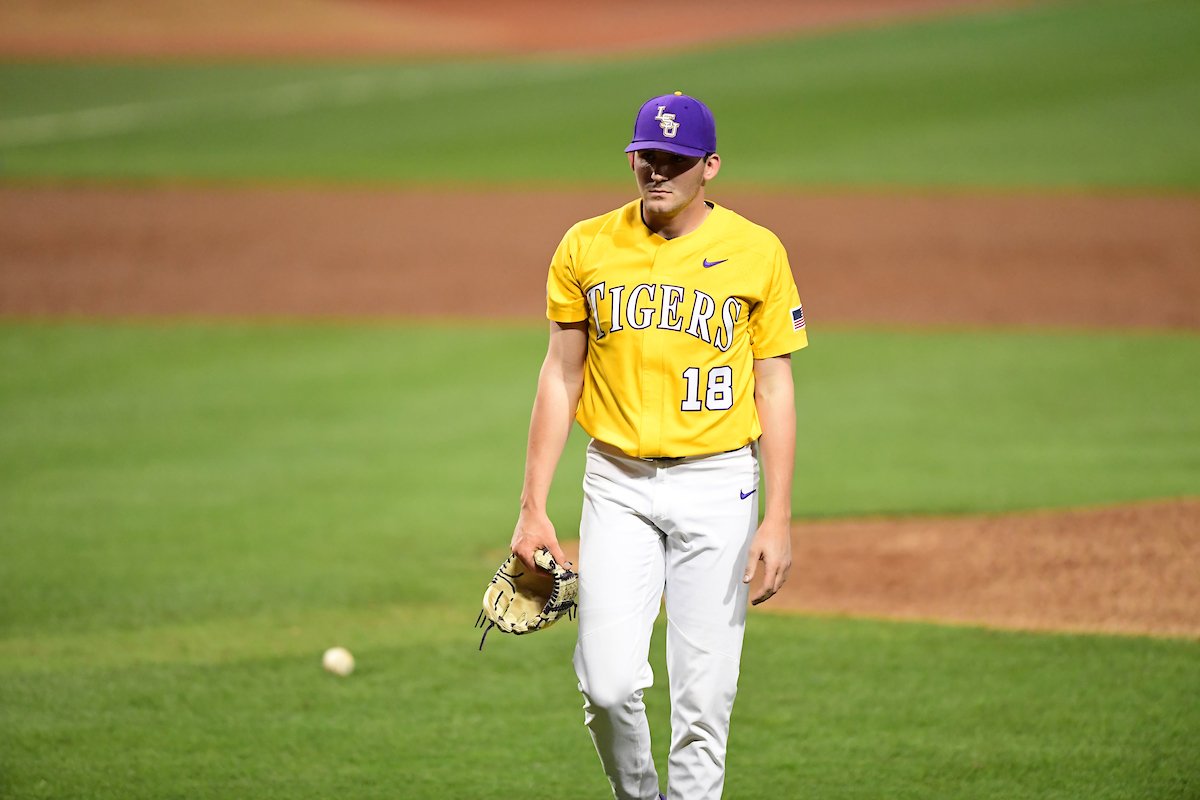 Reinforcements have arrived just in time for the first do-or-die game of LSU's postseason.
Cole Henry is set to return and will start against South Carolina in LSU's SEC Tournament opener on Tuesday night, LSU coach Paul Mainieri announced Monday before the team departed for Hoover.
The plan is for Henry to pitch three innings, provided the first two don't prove too taxing pitch count wise. If all goes well, that could lead to him starting a game in the NCAA Tournament.
"I think he's ready to go out there and compete and do the job," Mainieri said. "It's important that he get out there this week because of course its a precursor for the NCAA Tournament."
The freshman right-hander missed the final four weeks of the regular season due to elbow discomfort. LSU planned to move him to Friday night before the injury and has been scrambling for pitching ever since.
Henry underwent an MRI when he initially felt the discomfort and it came back crystal clear. LSU also sent the results to Henry's personal doctor in Birmingham, who confirmed there was no structural damage.
LSU would've preferred to have Henry available to start every series opener down the stretch, but the Tigers are thrilled to have him back for the start of postseason play.
"It's been a process with him," Mainieri said. "Obviously he's got a super career ahead of him, and we wanted to make sure he's completely healthy. And he wanted to make sure as well.
"It's just taken a while for him to feel normal again. He feels completely normal now."
The first round of the SEC Tournament is single elimination, which is a tricky spot for LSU since neither Eric Walker nor Landon Marceaux are rested enough to start.
Henry's return is a big boost as LSU tries to piece together a bullpen game for the second time in four days. Mainieri said he wants to get through the game using two or three relievers after Henry.
Provided LSU wins, Walker and Marceaux would then be in line to start on Wednesday and Thursday, respectively, in the double elimination portion of the bracket.
The freshman threw a simulated game early Saturday morning, the final hurdle before he could return to active duty. He threw 15 pitches in the first inning of the sim game, sat down and then threw 10 more.
There was rust, as one might expect, but Mainieri saw enough to be convinced his star freshman can get people out.
"Looked pretty good," Mainieri said Saturday. "A little rusty, you know, but health-wise he felt great. Quality of pitching, probably a B. He didn't have great, great command. A couple of curveballs slipped out of his hand, but he looked good enough to do something next week. We'll see how he feels tomorrow and the next day, and then we'll see how we're going to use him.
"What I saw today would make me feel that he's good enough to pitch in the games."