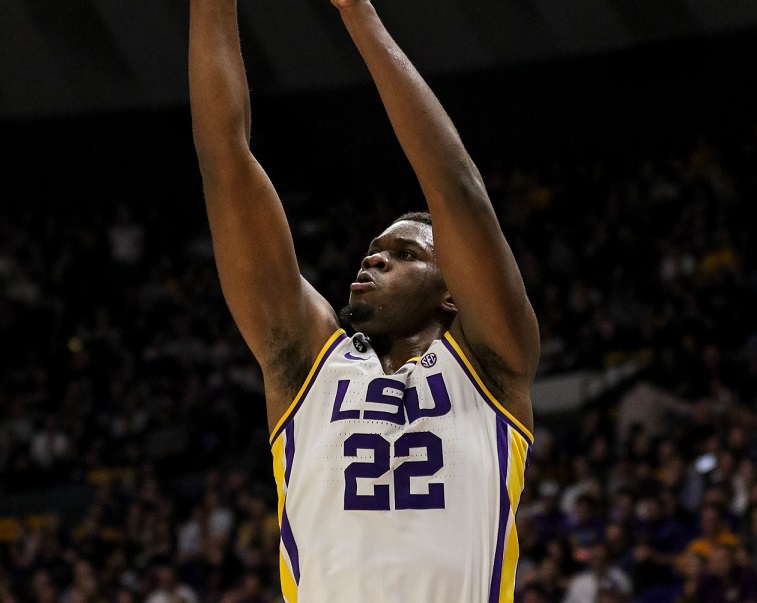 WASHINGTON — When Darius Days played high school basketball, he had one school on his radar, and it wasn't LSU.
No, Days had dreams of playing for Tom Izzo and the Michigan State, the Tigers' opponent in Friday's Sweet 16 matchup.
"I'm very excited for myself," Days said. "Michigan State was my dream school. I always loved Michigan State. … if they would have recruited me, I would have went there. Period."
But Michigan State didn't recruit Days. In fact, Days said he's never spoken to Tom Izzo, and he doesn't have any plans of sparking a conversation now.
"I mean, I'll shake his hand," he said of Izzo. "But I'm with LSU now, so it doesn't matter. It's all good."
Days' infatuation with the Spartans began with Draymond Green and ended when the program showed no interest in him.
Days said he's tried to model his game off Green's, who until last week was the last player to record a triple-double in the NCAA Tournament when he tallied 24 points, 12 rebounds and 10 assists against LIU Brooklyn in 2012.
Now Green serves as a vital role of a Golden State Warriors squad which has won three NBA Finals Championships in four seasons, and Days serves as one of LSU's primary backup roles coming off the bench to spread out opposing defenses with his mobility and his ability to shoot the 3-pointer.
Suspended coach Will Wade often bragged about his shooting ability throughout the season and multiple times said he was due for a big game.
He had one of his best performances in the Tigers 69-67 victory, coming off the bench to score five points in the span of a couple minutes and finish with 10 points thanks to shooting 3-for-4 from the field and a perfect 2-for-2 from the 3-point line. He also grabbed five rebounds and an assist. He did all this despite spending just 15 minutes on the floor.
"Stretch the defense, shoot the open shot and get putbacks," Days said. "That's my job and I try to do it to the best of my ability."
Coming off the bench is no shameful task for this LSU team. The Tigers' three primary bench players could start on a vast majority of Division I programs.
Days, fellow freshman forward Emmitt Williams and freshman guard Javonte Smart all play very specific and specialized roles for LSU, and any of them have the potential to contribute as if they were a starter in any given game.
That's what Days will be trying to do on Friday night when he goes against the team he once considered his dream school.
Now his dream is to advance in the NCAA Tournament, and that dream will likely only be achieved if he plays a role in Michigan State's demise.
"Me, Emmitt and Javonte come off the bench, and we just have to bring a spark," Days said. "We bring a lot of energy. I feel like we help our team out a lot. We come in, run around and do what we're supposed to do."
Photo Credit: Jonathan Mailhes