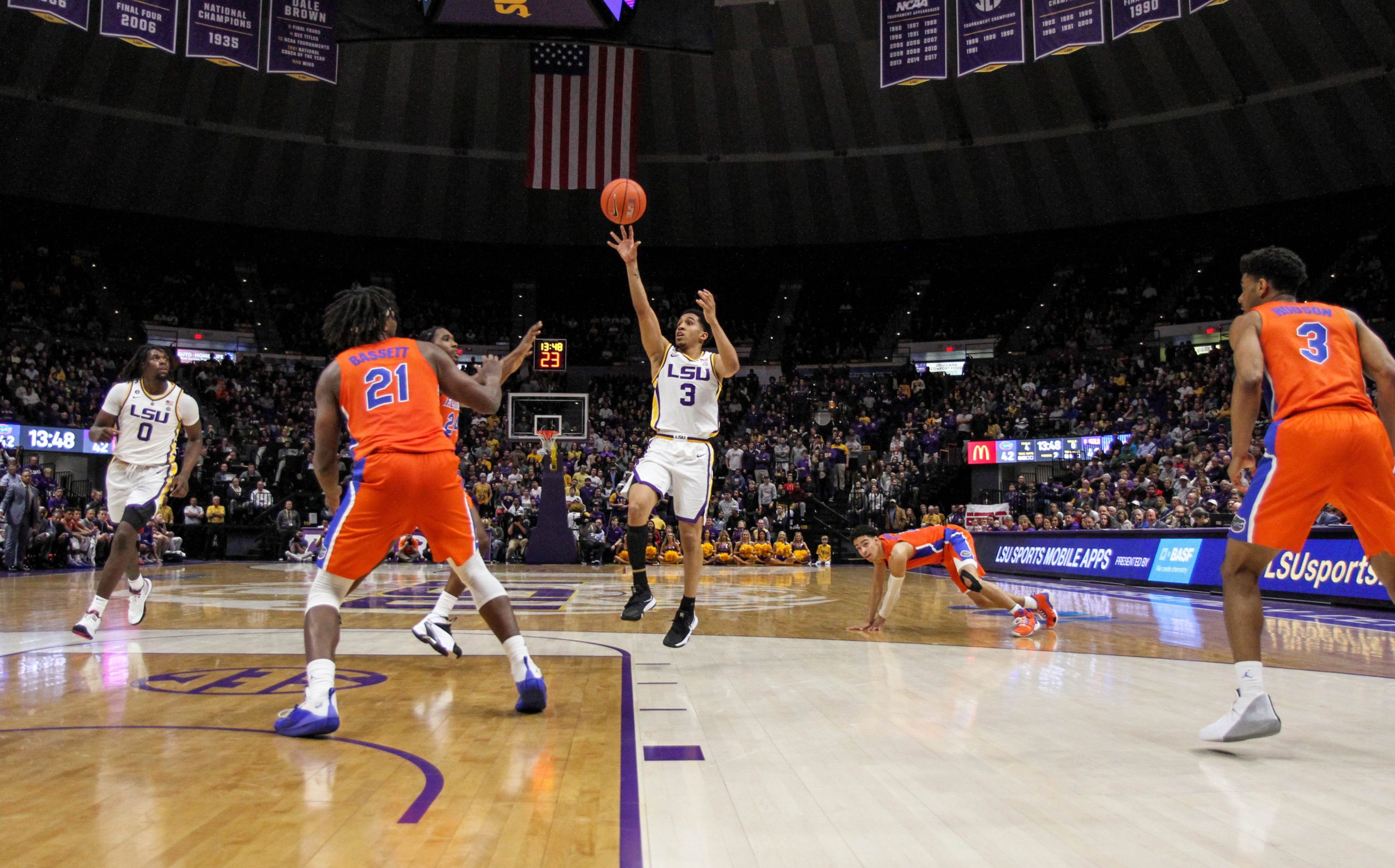 WASHINGTON — It wasn't long ago that Tremont Waters thought the floor in Capital One Arena would be his home floor.
LSU's sophomore point guard with a penchant for hitting game-winners initially signed with Georgetown — though neither he nor the university announced the signing — before requesting a release after the program parted ways with then-coach John Thompson III.
After being granted that release, Waters ultimately signed with LSU and the rest was history.
Now he makes a return to Washington D.C. to play on the floor that was almost his home with LSU's season and a spot in the Elite Eight on the line.
The Tigers (28-6) will take on a blue blood in Michigan State (30-6) in the first East Regional semifinal Friday night at 6:10 p.m. CST in the nation's capital, and the spotlight will be on Waters and Michigan State point guard Cassius Winston.
"It should be a heck of a matchup," said Michigan State head coach Tom Izzo. "And usually everybody hopes for two good quarterbacks. And in the world champions of Super Bowl you always look for two good quarterbacks. We've got two great quarterbacks here, and I am looking forward to seeing how it works."
Waters earned co-SEC Defensive Player to the year honors with three steals per game and he helps run LSU's offense with 15 points and nearly six assists per game.
He may have a significant advantage on defense, but his fellow Bob Cousy Award finalist Winston is one of the most electric offensive point guards, if not players, in the country.
Winston averages 18.9 points and 7.5 assists per game. He's an efficient scorer at every level and he keeps defenders honest with a better-than-40-percent 3-point shooting percentage.
"Obviously a great all-around player offensively and defensively, but watching film I just see that he's really good in transition," Waters said. "He controls the offense. He runs the team, and everything pretty much runs through him."
The Tigers have a considerable size advantage in the post with Naz Reid (6-foot-10, 240 pounds) and Kavell Bigby-Williams (6-foot-11, 240 pounds), and the fact that Michigan State exclusively plays man-to-man defense should help the Tigers use that to their advantage by getting Reid one-on-one with the Spartans' smaller bigs.
Michigan State will also have to stay honest against him with his ability to shoot the 3-pointer, which should allow him to spread the Spartans out when necessary.
"Perimeter-wise, I mean I feel like I'm quicker," Reid said. "I have a quicker advantage. But I mean, those guys are tough and can do things that I can't do, so I mean it's going to be a battle."
Izzo minced no words about how he felt about the Tigers.
He feels LSU poses a challenge for the Spartans that they haven't yet seen this season.
In fact, he compared the 2018-19 version of the Tigers to some of his best teams, including the one he won a national championship with.
"I'd love watching them if I didn't have to play them because it reminded me of our teams back in 2000-2001, with Richardson and Randolph, and just guys that attack the boards," Izzo said. "I say they go with vengeance. They almost go violently to the offensive boards and have done an incredible job with that. Once in a while, the missed shot becomes the best offense. And that's near and dear to my heart.'
WHO: No. 2 seed Michigan State vs. No. 3 seed LSU
WHEN: Friday, March 29, 6:10 p.m. CST
WHERE: Capital One Arena, Washington D.C.
BROADCAST: CBS, 98.1 a.m. FM
THE STAKES: The entire season, a spot in the Elite Eight
MATCHUP RECORD: 1-0 Michigan State
LAST MEETING: 87-71 MSU
KENPOM PROJECTION: 80-72 Michigan State
Photo Credit: Jonathan Mailhes