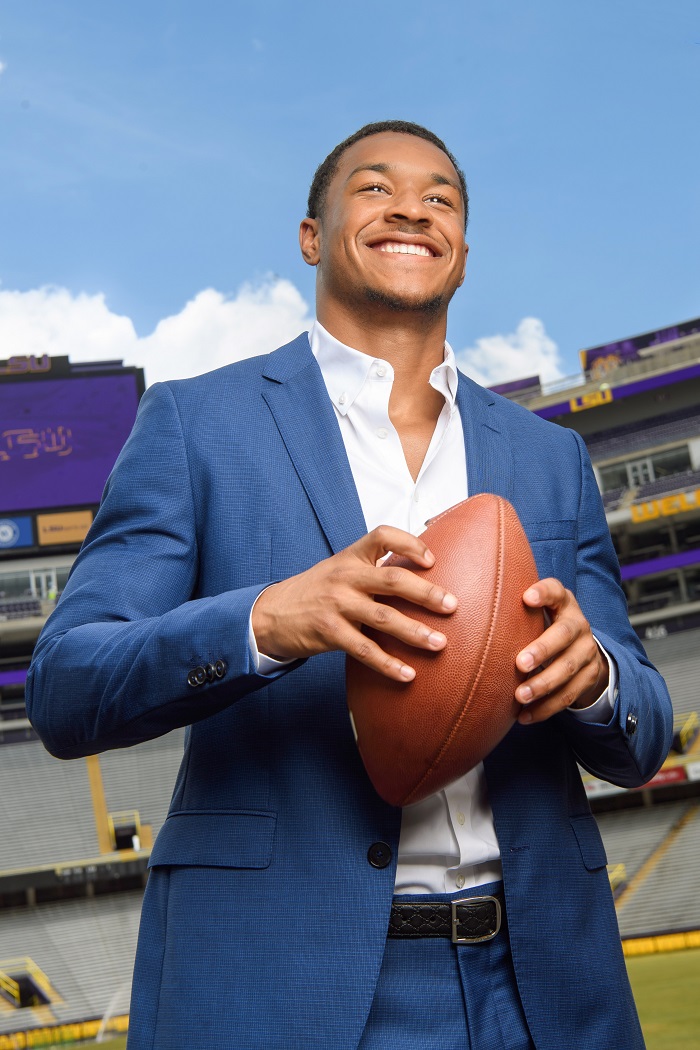 Editor's Note: This is the cover story from our Football Preview Issue. Click here if you'd like to read the magazine in digital form.
Unless you're a prized recruit or a reporter, there's a good chance you've never seen one of the coolest rooms inside of Tiger Stadium.
The entrance is located cattycorner from Mike the Tiger's habitat across North Stadium Drive. Tall metal fencing surrounds the area, and on Saturdays in the fall, it's mostly used to congregate perspective recruits taking visits to campus.
Once inside there's an auditorium on the right and a room filled with tables on the left, but there's a true treasure between them. The back wall is adjourned by paintings of LSU's All-Americans. Jimmy Taylor, Billy Cannon, Patrick Peterson and everybody in between.
One day, a painting of Grant Delpit will hang alongside the other legends who make up the program's illustrious history.
The safety ensured as much by putting together a historic sophomore season in 2018 that earned him unanimous All-American status. Only eight other Tigers had ever accomplished the feat.
But on this sweltering summer afternoon Delpit is just chilling on a couch nearby and answering questions before suiting up — think pinstripes, not pads — to have his picture taken inside of Death Valley.
Delpit grew up watching and mimicking some of those contemporary stars as a born-and-raised LSU fan from New Orleans.
Chad Jones was one of his early favorites because he was a two-sport star — fitting for the do-it-all stud Delpit would one day become. He liked the way Eric Reid made receivers pay for going over the middle of the field. And who wouldn't want to grow up to make plays in that No. 7 jersey like Tyrann Mathieu?
"It's just a bunch of legends, bro," Delpit says. "We've got a bunch of legends here, and I remember watching all of them."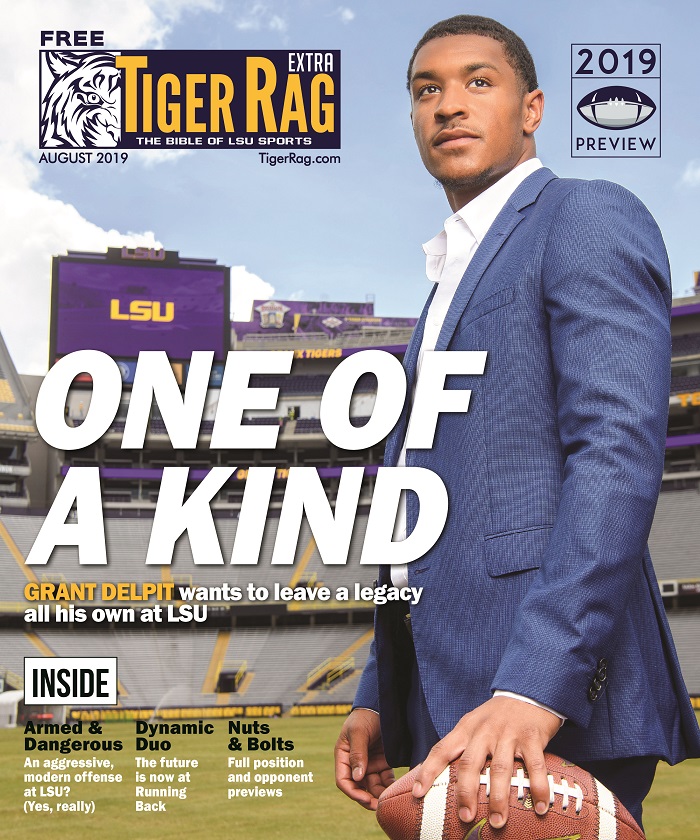 There's two names that always seem to come up when providing context for the level Delpit played at last season: Mathieu and Jamal Adams, the All-American safety who preceeded him.
The Mathieu comparison is all about a knack for making plays on the ball at moments when his team needs it most. Think of the game-changing plays he made in wins over Auburn, Georgia and Mississippi State. Sharing a hometown and now a number doesn't hurt for comparison's sake, either.
Comparing Delpit to Adams almost seems too obvious. Both came to LSU as elite recruits out of Texas and developed into standout, do-it-all safeties by their respective sophomore years. So much range on the back end with a nose for the football.
Teammates used to refer to Delpit by the nickname "Baby Mal" because of the resemblance in style, but those days are long gone now. He's his own man with his own name, and at this rate he'll leave behind his own legacy.
Now people point to young defensive backs like freshman Marcel Brooks and wonder "Can he be the next Grant Delpit?"
Delpit gets why people make these comparisons to past legends all the time. He'll even dive into old LSU practice film to get a sense of how guys like Adams and Mathieu worked during their time in college. But there's a difference between studying the greats and trying to be someone you're not.
"I watch film on all those guys, but I don't think I really modeled myself after anybody," Delpit says. "I was just watching and learning as much as possible from guys before while trying to make my own game. Just make Grant Delpit who Grant Delpit is."
So who is Grant Delpit? How did a skinny kid from New Orleans grow into a virtual lock to be a top-five pick? How'd a traditional safety become haled as the prototypical defensive back for the modern game? And what does the new No. 7 have in store for the 2019 season?
Like so many people in this state, young or old, the story invariably starts with Hurricane Katrina.
–
SIX-YEAR-OLD Grant Delpit loaded himself into the car with the rest of his family. His parents helped him pack some clothes and a few belongings; just some things he might need for a weekend trip to Memphis. As far as anybody knew, that's all it was.
The plan was to ride out the storm from a distance before coming home. The family took Grant and his infant sister to visit Graceland while hurricane-force winds and torrential rain battered the gulf coast.
"I remember a lot about it actually," Grant says. "We thought it would blow over in a weekend or so."
As bad as the scenes on TV were, Grant doesn't remember thinking anything more than this was a weekend away. Everything changed for the family when they saw their house on the news — specifically the roof sticking out from the dark flood water.
Suddenly going home was not an option. The Delpit's detoured to Houston and stayed with family there for about a year before they were able to buy a house of their own. "I stayed there for a good while," Grant says. "You know how that goes."
Two long years passed before Grant so much as went back home to visit friends, and he rarely spent more than a weekend at a time in his hometown. His parents left him out of most of the cleanup and recovery efforts.
"My people went back to take care of that stuff, but I never really went back," Grant says. "It was wild. I wish I could've stayed. I don't know. Leaving all your friends and leaving everything behind. I don't think I was really… I don't know what I was thinking, bro. It was crazy. I still don't know what was really going through my mind."
New Orleans always held a special place in Delpit's heart, but he made the most of his new football-obsessed home.
He played up with the older kids at every level of organized football right through high school. Delpit actually began his organized football career as a skinny running back, and nobody could seem to get him wrapped up.
That's when the thought of playing at the highest level began to crystalize in Delpit's mind. He eventually shifted over into the secondary, just like his father, who played cornerback at Brother Martin back in the day.
"He loves saying I got my football from him, so I guess I've got to give him some credit," Grant laughs. "I always knew that I had something. I had that it factor. Up through high school I'd always played up. Playing up with the older guys, I knew I had something."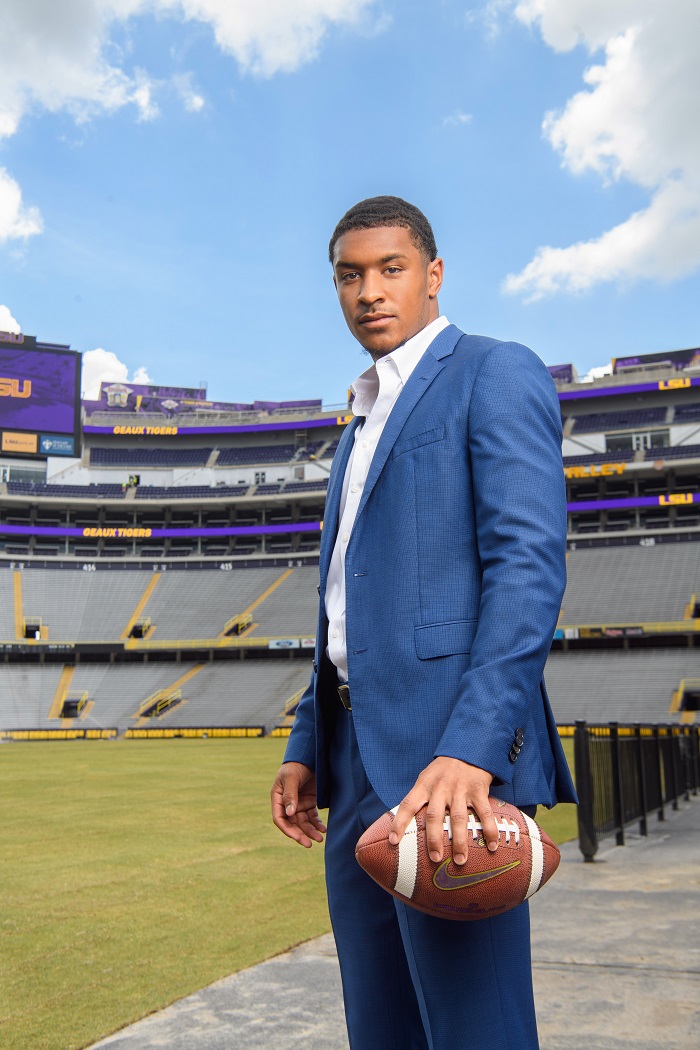 Delpit blossomed into a star at Lamar High School in Houston. He'll argue with anyone — and has had to through his time in Baton Rouge — that there's no better high school football out there than you'll find in East Texas.
Already one of the top prospects in Texas, Delpit raised his national profile another notch by transferring to the IMG Academy before his senior year. He picked off five passes in his one season playing for the football factory in Bradenton, Fla.
Most of the nation's blue-blood programs lined up to recruit Delpit from the IMG Academy, but even after years in Texas and Florida, the appeal of going back home ultimately won out. He picked the Bayou Bengals over Florida, Auburn and a host of others.
"Texas was nice to me after Katrina, especially from a football side of things, but I still consider myself a Louisianan," Delpit says. "It was definitely in the back of my head because I grew an LSU fan. I grew up watching on Saturday nights. I knew in the back of my head, if LSU ever came knocking on my door, that's where I wanted to go."
LSU thought it was getting one of the best safeties in the country, but it took a disastrous injury and one of college football's most creative minds for his immense potential to be flushed out.
–
THE BEST LAID plans never survive a punch in the face. For Dave Aranda and LSU, that proverbial haymaker came in the form of K'Lavon Chaisson tearing his ACL in the 2018 season-opener against Miami.
Aranda had designed LSU's defense around the idea that Chaisson could be a one-man wrecking crew off the edge. Suddenly he was out of the picture, and Aranda was forced to reconfigure LSU's pass rush on the fly.
The emergence of Michael Divinity helped keep the defense together, but LSU wouldn't have thrived without one of Aranda's strokes of brilliance: moving Delpit into a role that was equal parts safety, nickel corner and outside linebacker.
It takes a unique talent to take on such a multi-faceted role. Aranda believes Jamal Adams could've done it, but his junior season was Aranda's first at LSU, so the exotic packages hadn't been fully installed yet. Cornerback Donte Jackson did it to an extent as well. Dwayne Thomas too.
"I think of it this way: we're allowing Grant to be a kid and have fun when he's playing low (in the box) because he's pressuring and making plays," Aranda says. "You've got to be an adult when he's on the back end because you've got to cover, make calls and get guys lined up. He does all those things very effectively. Jamal I think had that. Donte had some of that, but not to the extent of what Grant does."
The role fit Delpit like a glove, and he's got the statistics to prove it. The ascending star led LSU with five interceptions and tied for the team-high with five sacks. No other player in the country tallied five of each during the 2018 season.
LSU asked Delpit to play center field in zone coverage, lock up receivers in the slot, come down in run support and blitz off the edge. And to his credit, he attacked every new wrinkle Aranda and safeties coach Bill Busch threw at him head on.
"Of course I like it," Delpit smiles. "Who wouldn't like doing all that? So that just comes with being a football player. That's just the game, and I love all aspects of it. I like to say that anywhere the coach puts me, I'm going to make the play. I got you, Coach, anywhere on that field."
In an age when NFL teams are dying for multi-positional defenders, versatility is a big reason Delpit's name sits near the top of any way-too-early big board you'll find for the 2020 NFL Draft. Some places have him as high as No. 2, behind only Alabama quarterback Tua Tagovailoa.
So that begs the question heading into the 2019 season: how should LSU utilize Delpit now that Chaisson is healthy again?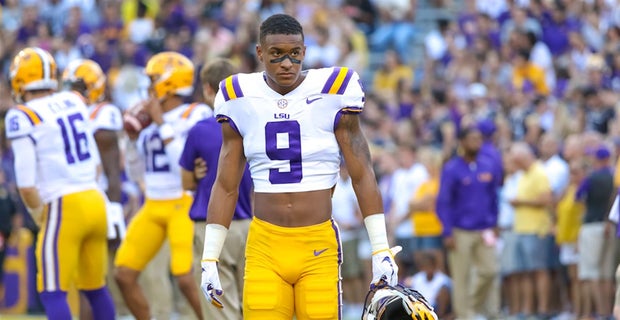 It's a bit of a complicated question. Chaisson and Divinity are proven rushers, as is safety JaCoby Stevens, who thrived at the quarter (read: hybrid safety/linebacker) position during the stretch run.
Meanwhile, LSU lacks a proven deep-middle defender besides Delpit as Eric Monroe and Todd Harris battle to replace John Battle at free safety. That battle could greatly impact how free Delpit is to play down in the box.
Aranda spent a good deal of his summer pondering this balancing act and how best to utilize his returning All-American. Here's the full unvarnished answer from Aranda on how he plans to do so:
"We want to be able to build him toward the line of scrimmage. I think he has the ability to instinctively make plays when there's edges set… I feel like our ability to put him in those spots, in critical spots when we're expecting run, is the smart thing to do. He has shown the ability to play the deep middle and have great range, so we want to be selective when it comes to those times."
The coach continued: "The question always with Grant is he does everything well, and so I think it really comes down to when we are in run-defense mode, we want edges, stuff blown up in the interior and gaps filled where Grant can play alley-to-alley. And then when we're expecting pass, there's a lot of merit to Grant rushing; but if he isn't rushing, there's a lot of merit to having him in the middle of the field. And so his ability to do both and move around I think will feature him, and I think will show his value."
Delpit spent his summer preparing for everything Aranda and Busch might throw at him. He spent time working with Rischad Whitfield — the self-styled "Footwork King" — in Houston to sharpen his technique. That means pass rush moves, man-to-man coverage and everything in between.
He's also bought into a new team-prescribed activity apart from the typical program of running and lifting weights: yoga. Delpit was skeptical at first, but flexability prevents injuries, and health is the name of the game.
"We do yoga every week," Delpit says. "I'll be the first to tell you, I don't like it, but it's necessary to stay healthy."
–
GRANT ISN'T THE only Delpit whose journey has come full circle back to Louisiana. His parents moved back to New Orleans during his freshman year. They'll be in the stands at Tiger Stadium the first time their son runs out the tunnel wearing the No. 7 jersey he idolized growing up.
This will almost certainly be his final year in purple and gold, barring something disasterous or Delpit being drafted by the Minnesota Vikings. And the expectations couldn't be any higher.
"I definitely have number goals, but I think our team goals are way more important than my personal goals," Delpit says. "But, of course, I want to win the awards. I want to win the Thorpe Award. I want to win SEC Defensive Player of the Week for like half the season. In my mind, I think I still have a little more to prove."
The junior also wants to take more of a leadership role on LSU's defense, be that in the locker room, on the practice field or in his interactions with the media. He marveled from afar at the way Devin White conducted himself as LSU's leader in 2018.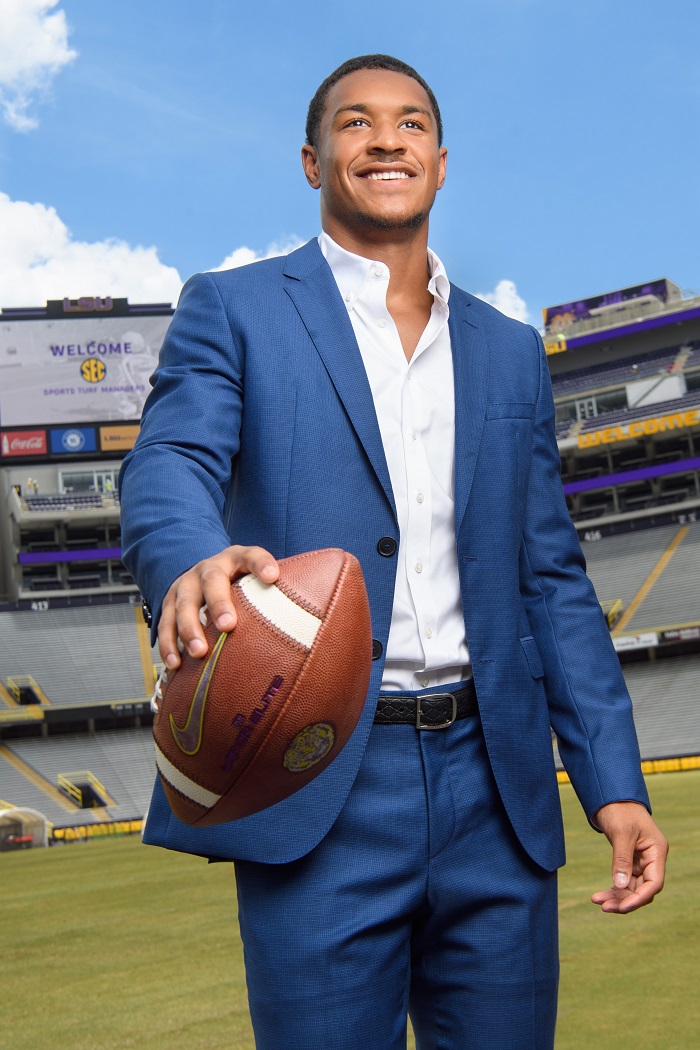 Delpit wants to handle the media exactly like White did, he says. Of course White came to SEC Media Days last summer and proclaimed he wanted to set an all-time tackles record and be regarded as the greatest linebacker in school history.
To go full Devin White, Delpit would predict 100 tackles, eight interceptions and seven sacks on his way to New York for the Heisman Trophy ceremony. "Hey, that would make headlines everywhere!"
Turns out there was no need for Delpit to be so bold. Someone with an even bigger platform to speak from actually saved him the trouble.
"I think Grant Delpit is the best defensive player in the country coming back this year," Ed Orgeron told the assembled masses at SEC Media Days. He repeated himself a few minutes later to make sure everyone got the point.
So that's at least one thing LSU didn't need Delpit to handle. His coach went ahead and made the headline for him and took that burden off his considerably-full plate.
Now all he has to do is back it up on Saturdays this fall.
"It's praise and it's love, so I love to hear it," Delpit responds. "At the same time, I've got to go out and play my game. If I go out and lay an egg, people won't like it the next day. I've got to play my game."