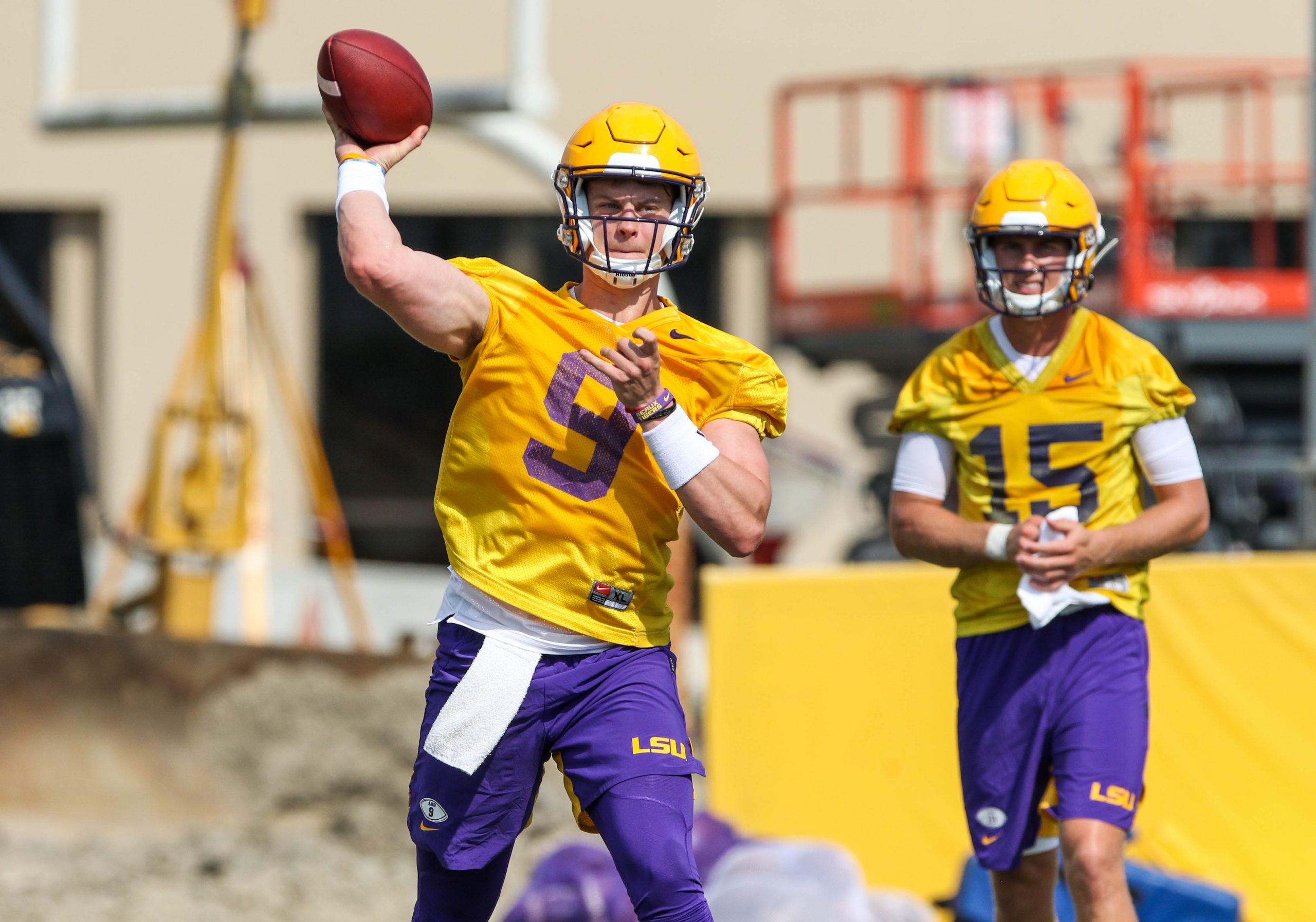 LSU doesn't exactly have specific packages for the quarterbacks behind Joe Burrow, but Ed Orgeron would like to get Burrow's primary backup some reps in the season-opener against Georgia Southern if circumstances.
Orgeron has routinely praised the progress made by Myles Brennan since the start of fall camp. The sophomore redshirted last season, and Orgeron said he'd like to see Brennan get in the game on Saturday night.
"Myles Brennan had an excellent camp," Orgeron said on his call-in radio show on Wednesday night. "He's up to 212 pounds right now. We're going to play him in significant snaps this year."
Brennan appeared in only one game last season. It was revealed after the campaign that Brennan was unavailable for much of the season due to a back injury.
The absence of Brennan left LSU with only one scholarship quarterback, which limited what the Tigers could allow Burrow to do in the running game. He ran more in the final two games of the season.
LSU feels comfortable letting Burrow run this season with Brennan and freshman Peter Parrish backing him up, but they're going to pick their spots, Orgeron said.
"There will be times when we need him to be involved in the run game," Orgeron said. "So games he wont be. We're just going to take that game by game."
INJURED LINEMEN TO REDSHIRT
Freshmen offensive linemen Kardell Thomas and Thomas Perry both underwent surgeries and will redshirt this season, Orgeron said.
Thomas suffered a serious ankle injury in practice during camp and is expected to miss the entire season. Perry has been out with an undisclosed injury.
Neither rookie lineman will be able to return until December at the earliest, Orgeron said.
"They may come back toward the end of the year," Orgeron said. "Hopefully toward the end of the year and maybe they can play in a couple games. Obviously they're going to redshirt."
Despite the injuries, Orgeron said the play of the offensive line was the most positive surprise for him from camp. He singled out Badara Traore and Dare Rosenthal as players who'd improved.
"Our offensive line is the most improved group on the football team," Orgeron said.
NOTES AND QUOTES
A caller asked how LSU hired passing game coordinator Joe Brady away from the Saints. Orgeron: "Joe Brady came to us as a consultant … Called Sean Payton and hired him. We paid him a lot of money."
Orgeron praised the wide receivers for how they caught the ball in camp. Drops were an issue last season. He mentioned Trey Palmer and Jontre Kirklin as possible contributors behind the starting trio of Justin Jefferson, Ja'Marr Chase and Terrace Marshall.
According to Orgeron, new defensive line coach Bill Johnson praised LSU's tight ends for blocking like NFL tight ends. Johnson has spent most of the past two decades as an NFL assistant.
LSU's run defense has to be better this season, Orgeron said. The coach set 100-120 yards allowed per game as a target for the rush defense.
Orgeron on LSU's five running backs: "We're going to need all of them."