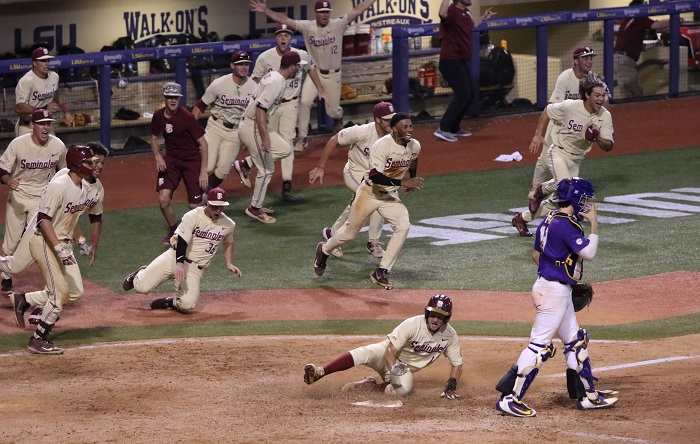 Devin Fontenot fell to a knee and buried his face in his sleeve as Florida State players rushed past him to join the dogpile near first base.
There's no such thing as a pleasant end to the season unless you're the team holding up the trophy in the end, but getting walked off your own field as your opponent punches its ticket to Omaha might be the worst way.
Fontenot loaded LSU on his back and carried them into the 12th inning before Florida State third baseman Drew Mendoza delivered the game-winning single to right, completing a dramatic sweep of the Baton Rouge Super Regional and eliminating the hosts at Alex Box Stadium on Sunday night.
Florida State might have been one of the final four teams to make it into the field for the NCAA Tournament, but the Seminoles sure haven't been playing as such. Florida State will roll into Omaha as the sentimental favorite in its final season under legendary skipper Mike Martin.
Several Tigers collapsed to the ground in their position as the Seminole celebration began, but Mainieri made a beeline for Fontenot. He helped him off the ground and supported him into the waiting arms of teammates who consoled the sophomore reliever as he cried into their jerseys.
"The kid pitched his heart out," Mainieri said. "He was devastated. I know how Devin is. He feels like he lost the game for us, and I didn't want him to feel that way. I didn't want to see the kid out there by himself in pain.
"That performance by Devin Fontenot tonight, if we had won the ball game, we'd be talking about it 15 years from now."
Fontenot entered the game in the sixth inning and held down the fort until LSU rallied for the tying runs in the eighth. He mowed down Florida State for inning after inning in hopes of buying enough time for LSU to scratch out the go-ahead run.
That run never came.
Fontenot fired six no-hit innings of relief before surrendered a one-out single to Florida State shortstop Mike Salvatore.
A pass ball moved the winning run into scoring position, and Fontenot punched out right fielder Reese Albert for the second out, his 11th strikeout of the game.
"That's one of the best relief performances I've ever seen a kid give," Josh Smith said. "For him to come in and do that tonight, it tells you what kind of kid he is and what kind of team this is."
After some debate, Mainieri elected to allow Fontenot to go after Mendoza with two outs and the game on the line. LSU had gotten Mendoza out with velocity all series, and Fontenot was still hitting 93 mph on the radar gun despite a career-high pitch count of more than 90.
First base was open, so LSU could have walked Mendoza intentionally and gone after designated hitter Robby Martin. Mainieri decided against that because Mendoza has a higher strikeout rate and a lower batting average, and Florida State only needed a single to win the game.
"I thought about it hard," Mainieri said. "Mendoza had 69 strikeouts. The next hitter, Martin, was more of a contact hitter, and I thought we could throw fastballs by Mendoza. With two strikes he was able to get the bat on the ball. We had to kind of pick our poison between those two guys."
So ends a roller coaster of a season for LSU on the lowest of the conceivable emotional lows. A bittersweet conclusion for players like Duplantis and Smith who gave and meant so much to the program that Mainieri had to fight back tears while talking about their imminent departure.
"It doesn't hit you right away, for me at least," Duplantis said. "You're competing and you're not even thinking about losing when you're playing. It still hasn't really set in that it's over."
Both Duplantis and Smith were valiant in defeat. They either drove in or scored all four of LSU's run, each coming through with clutch hits as LSU tied the game in the eighth and eventually forced extra innings. Zach Watson came through with the game-tying hit in the eighth.
However those rallies will be remembered as much for the runs they didn't score. Freshman Giovanni DiGiacomo got picked off third base when LSU was on the verge of tying the game in the sixth. Watson got thrown out going for second base when a ball squirted away with the go-ahead run 90 feet away.
Mainieri had no issue with Watson and what he deemed a hustle play. He also took responsibility for DiGiacomo's mistake, explaining that he should've repositioned the runner due to the fact that Florida State was playing its infield back with one out.
"The one with Gio, he's going to learn from that," Mainieri said. "I'm going to take the blame for that."
This is the third time under Mainieri that LSU has been eliminated in the super regionals. It's the second time in four years it has happened in walk-off fashion inside the supposedly friendly confines of Alex Box Stadium. Coastal Carolina pulled off the same sweep in 2016.
It'll also be only the second time that LSU has failed to reach the College World Series in consecutive seasons under Mainieri. The other such stretch came in 2010-11.
It's certainly a disappointing conclusion for a team that began the season at or near the top of every preseason poll.
How to improve in 2020 will certainly be discussed in the days and weeks to come, but for now, it pales in comparison to the heartbreak felt by the players and coaches suddenly forced to say goodbye.
"I don't think any of us should have any regrets," Duplantis said. "We battled through a lot of things this whole year. I'm just so proud of this team and the way we fought."