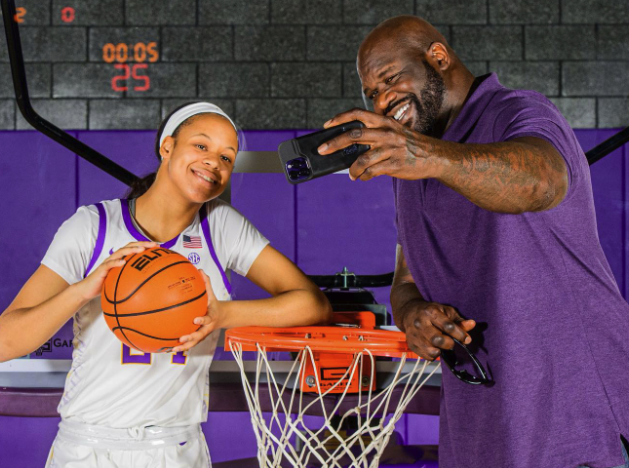 She was on campus in February with her famous father for an unofficial weekend visit that LSU capped with a 74-59 victory over Mississippi State in its Senior Day tribute.
Just over two months later four-star forward Me'Arah O'Neal – the youngest daughter of former LSU All-American Shaquille O'Neal – received a scholarship offer from Tigers second-year coach Kim Mulkey, who directed LSU to its first national championship on April 2.
The 6-foot-4 O'Neal is a four-star prospect and the nation's No. 42 rated player in the Class of 2024 by ESPNHoopgurlz. She just completed her junior season at Episcopal High in Houston which finished with a 20-10 record, falling to Episcopal School of Dallas 71-60 in the Southwest Preparatory Conference state championship game in February.
O'Neal earned first team Private School All-State honors from the Texas Association of Basketball Coaches.
It's been a busy week for O'Neal who not only received an offer from LSU, but also Tennessee, Florida, Cal, Virginia and Baylor.
Shaquille O'Neal had previously sent two of his children to LSU. Daughter Amirah earned a preferred walk-on to play for former coach Nikki Fargas before transferring to Texas Southern, while his son Shareef transferred from UCLA, and spent two years playing for former men's coach Will Wade before entering the NBA Draft after the 2021-22 season.
LSU is also reportedly set to host one of the jewels from the NCAA transfer portal in DePaul All-American Aneesah Morrow. The 6-foot-1 forward has already visited USC, will be in Baton Rouge this weekend and conclude her official visits next week to South Carolina.
In an interview with ESPN's Alexa Philippou, Morrow expressed an interest in what she's looking for in a school.
"Program/school interested in the whole Aneesah, can help her pursue passions in business, entrepreneurship, style + fashion, provide on + off court resources -community, family environment," she said.
Morrow, who has two years of eligibility remaining, entered the transfer portal April 5, just over a month after the Blue Demons went 16-17.
The native of Chicago and product of Simeon Career Academy was a second team selection on The Associated Press All-America team last season. She was one of two players, the other being LSU's Angel Reese, to rank in the top 10 nationally in scoring (25.7) and rebounding (12.2).
Morrow's a two-time All-Big East Conference first team selection and was selected by two different organizations as the nation's top freshman last season.
Morrow reached 1,000 career points in 43 games at DePaul with a school single season record of 848 points last season.
She's recorded 53 double-doubles in 66 career games and was the nation's leading rebounder as a freshman with 13.8 rebounds as a freshman. She had 27 double-doubles that season and averaged 21.9 points with 89 steals.
Morrow scored 30-plus points this past season, including a career-high 45 against Northwestern (Ill.) on Dec. 2. She also pulled down double-digit rebounds 25 times with a high of 22 against Providence on Feb. 18.