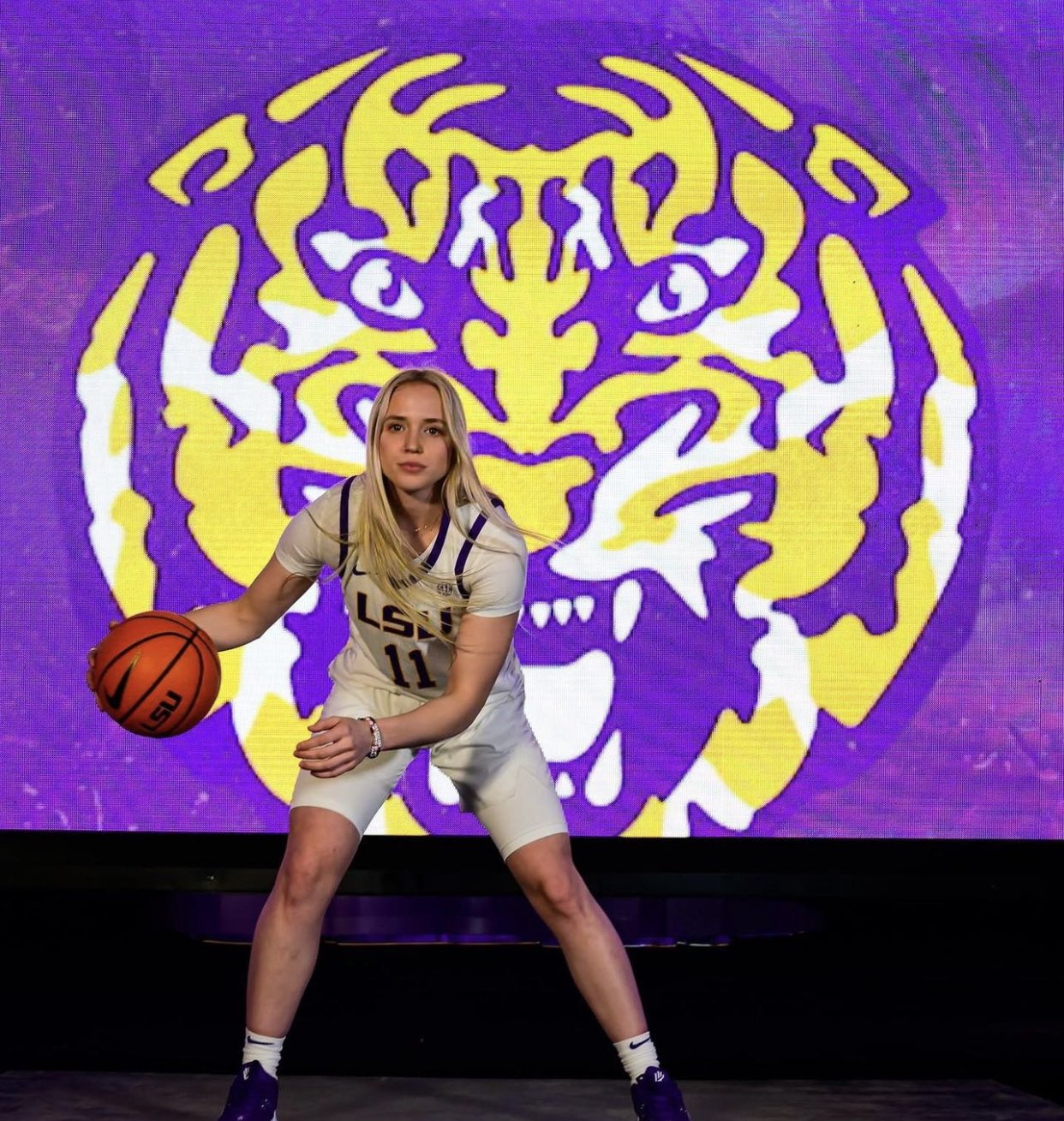 LSU women's basketball coach Kim Mulkey's not used to finishing second very often.
When Mulkey was coaching at Baylor, she pursued one of the nation's top players in guard Hailey Van Lith of Wenatchee, Washington who ultimately signed with Louisville.
Fast-forward four years and this time Van Lith, a two-time All-Atlantic Coast Conference first team performer, couldn't turn down Mulkey a second time, announcing her signing Thursday on social media with the Tigers' second-year coach who led the program to their first NCAA national championship on April 2 with a 102-85 win over Iowa.
The 5-foot-7 Van Lith, a graduate student, committed to LSU where she took an official visit on Tuesday and will have two years of eligibility remaining.
LSU confirmed on Friday that Van Lith was transferring to join the program.
"The fan base and university here love and support their women's basketball team like no other," Van Lith said in a university release. "I cannot wait to play for this incredible community. LSU plays with an intensity and grit that I am drawn to and I am wholeheartedly committed to helping this team be great."
LSU completed its first national championship season with a 34-2 record with a 102-85 victory over Iowa. The Tigers are losing four seniors from that team, including fifth-year point guard Alexis Morris who was a second-round pick of the Connecticut Sun in last week's WNBA Draft.
"I am very familiar with the skill set and work ethic Hailey brings to Baton Rouge," Mulkey said. "She will bring a wealth of experience and talent to our backcourt. Hailey has a fiery personality and passion for the game that Tiger fans will love!"
The arrival of Van Lith, regarded as the nation's top player in the transfer portal, will further fortify a roster that is scheduled to return juniors Last-Tear Poa and Kateri Poole from last year's national title team. The Tigers also signed one of the nation's top high school point guards in Angelica Velez of The Webb School in Bell Buckle, Tennessee.
"LSU's team is full of great players," Van Lith said. "I am overjoyed to have the opportunity to play with them. I know that my teammates will embrace my competitiveness and fire. I will be showcasing my ability to make winning plays on both ends of the court."
Van Lith enjoyed a prolific three-year stay at Louisville where she finished as the school's 12th career leading scorer with 1,553 points. She put up the fifth-most points in a single season in 2022-23 with 729 and her 19.7 scoring average ranked eighth on the school's career list.
She was one of the two players nationally at the Power 5-Conference level, the other being Iowa's Caitlin Clark, to average 19 points, 4.0 rebounds and 3.0 assists.
Van Lith was a driving force in Louisville's run to the Elite Eight where the Cardinals were eliminated by Iowa, 97-83, and finished the season 26-12. She scored a career-best 27 points in the game, the sixth most in program history in a NCAA Tournament game.
She was an honorable mention All-America selection by both The Associated Press and the United States Basketball Writers Association.
Van Lith started in all 101 games during career at Louisville. She averaged 15.4 points, shot 42.2% from the field, 33.8% from 3-point range with 152 3s to her credit and shot 85% from the free throw line.
Van Lith was a McDonald's All-American, the Washington state Gatorade Player of the Year and MaxPreps Player of the Year her final season. She averaged 33.8 points, 9.5 rebounds and 4.7 assists as a senior for Cashmere High School.
She was regarded as the nation's 7 prospect by ESPN.com, coming out in the same class as Angel Reese of LSU and Clark of Iowa.
"Coach Mulkey and I have had a great relationship since I was in high school," Van Lith said. "I am extremely excited and honored to have an opportunity to play for her. She will help elevate my game and push me to be successful at the next level."