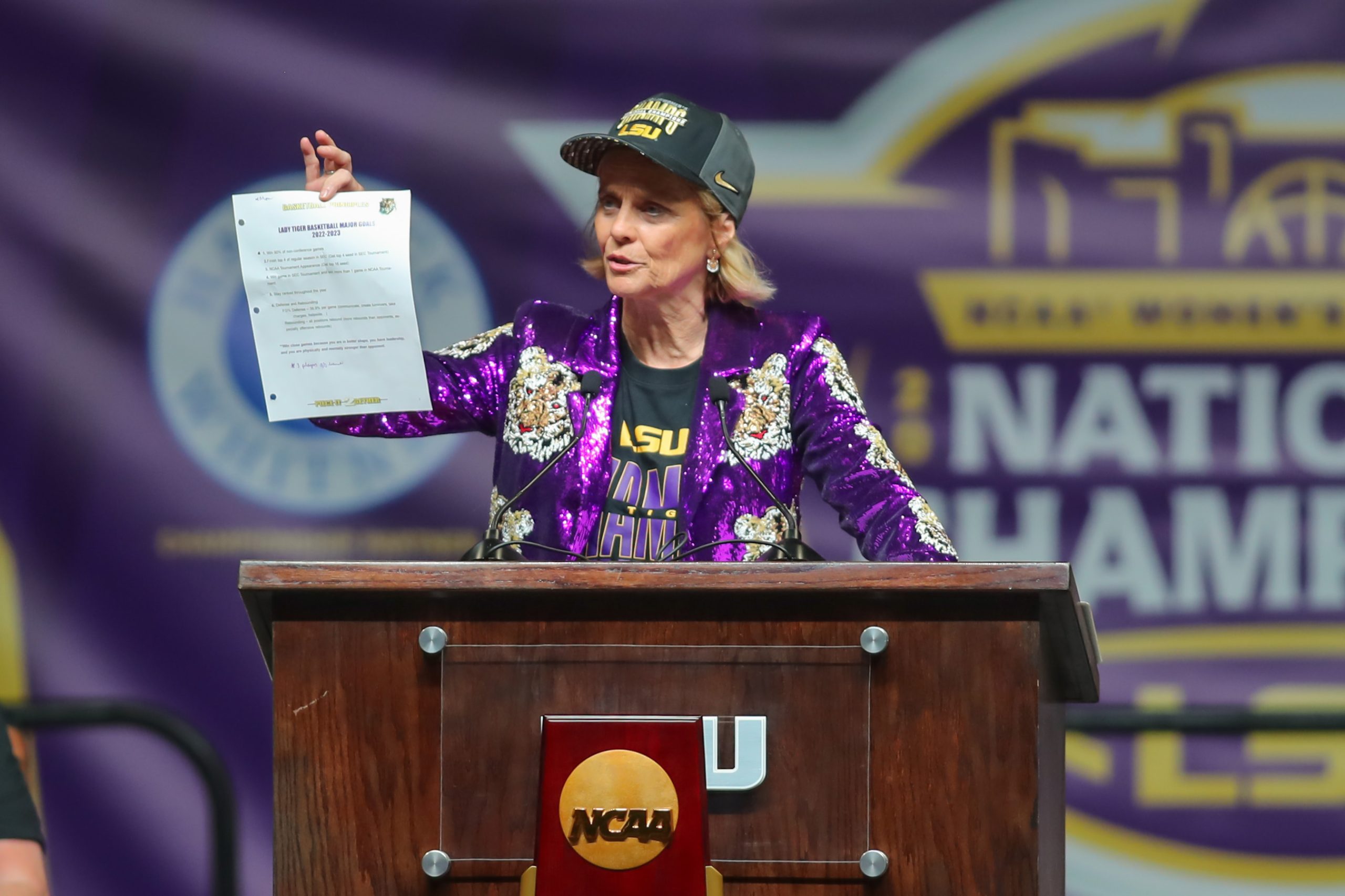 She was the last of a distinguished group of speakers on April 5 to commemorate the LSU women's basketball NCAA championship.
Second-year coach Kim Mulkey wasn't a novice to such fetes, having participated in three similar events at her previous job where in 21 years, she guided Baylor to the first three national championships the school ever won.
In just her second season at LSU, Mulkey worked a little faster to deliver the school's first NCAA national basketball championship – in either men's or women's hoops.
"I am so happy," Mulkey said. "I really don't know how to explain it. Just deep gratitude and happiness. Yes, it does matter being back home."
Mulkey became the first Louisiana native to win a national championship at LSU since Ed Orgeron did so in magical fashion in 2019. Her grass-roots approach to cultivating a fan base was almost immediate after her introductory news conference April 26, 2021, growing a legion of rapid supporters who embraced the Tickfaw native and her team into the Pete Maravich Assembly Center for a night of celebration three days after winning the national title.
There was an on-campus parade that enabled thousands of well-wishers to thank Mulkey and her team on a job well done, before heading to the PMAC where an estimated crowd of more than 10,000 fans created an environment that rivaled that of a typical game day experience.
Mulkey was the headliner amid a list of state and local leaders such as Gov. John Bel Edwards and Baton Rouge Mayor-President Sharon Weston Broome, and dignitaries from LSU as President William Tate and Valencia Sarpy Jones, Chairman of the LSU Board of Supervisors.
Mulkey continued to remind anyone who would listen of the difficulty of what this year's LSU team accomplished.
Two years removed from a program that had won just nine games, hadn't been to the NCAA Tournament in two years (not counting the 2020 postseason shutdown because of COVID-19) and hadn't won a NCAA Tournament game in seven years (again, not counting the COVID season), the Tigers' ascent to the high-rent district of women's college basketball was astounding.
Where some of the program's greats such as Seimone Augustus, Temeka Johnson and Sylvia Fowles were previously unable to move LSU past the national semifinal round in five trips to the Final Four, players such as Angel Reese, Alexis Morris, LaDazhia Williams, Jasmin Carson, Last-Tear Poa, Kateri Poole, Flau'jae Johnson and Sa'Myah Smith helped the Tigers knock the door down.
Will others follow? They know have a template and next-level beliefs to follow to emulate the euphoria this year's team enjoyed after defeating Iowa, 102-85, for this year's national championship.
"So, I'm relieved because I don't have to think about that anymore," Mulkey said of LSU's national championship void. "To see after the ballgame, the former LSU players, Seimone Augustus crying, and seeing all those people that really were a part of those Final Fours, but just couldn't get over the hump."
LSU wasn't the trendy pick to even reach the Final Four when the season began, and still wasn't after a 54-42 slugfest against Miami to make the school's sixth Final Four appearance and first in 15 years.
The Tigers began the season ranked No. 16 and were selected to finish third in a preseason poll by the Southeastern Conference coaches behind last year's national champion South Carolina and Tennessee.
Because of the anticipation of having a younger, less experienced team, Mulkey put together a non-conference schedule with guard rails for an expected bumpy ride until the arrival of four players from transfer portal changed the trajectory of the season.
Reese was a former No. 2 national recruit who began her career at Maryland before transferring to LSU, joining Williams of Missouri, Carson of West Virginia and Poole of Ohio State.
LSU won its first 23 games but found itself in a constant battle for national respect because of the schedule Mulkey had laid out. A 24-point loss at South Carolina in a 1 vs. 3 matchup on Feb. 12, was all the fodder the national media covering the sport needed to dismiss this year's team as a program on the rise, instead of a threat to win this year's national title.
When she finally stepped up to the microphone and addressed thousands of onlookers to cap a memorable for her and the team, Mulkey said it wasn't a stated goal of this year's team to win a national championship.
To back her claim, Mulkey ripped a page out of the team's notebook and carefully read off a list of objectives this year's team strived for.
She wanted the Tigers to: Win 90% of their non-conference games; finish in the top four of the SEC which would translate into at least a top four seed in the NCAA Tournament; win one more game in the SEC Tournament than a year ago, remain ranked in the AP Top 25 and to buy into the concept of playing team defense and rebounding.
"No where was there a mention of a national championship," she reminded everyone.
The result? The Tigers checked off all of the aforementioned boxes with the small bonus of adding a national championship, the fourth of Mulkey's career and maybe the most improbable, considering the shape of the program she inherited just two years before.
"I keep wanting to call somebody and go tell me how we did this in two years," Mulkey said. "I don't know. I mean, nine new pieces. Alexis Morris is the only one we had that really had playing experience. This is quite a run. This is quite a year."
One, people in these parts will never forget.