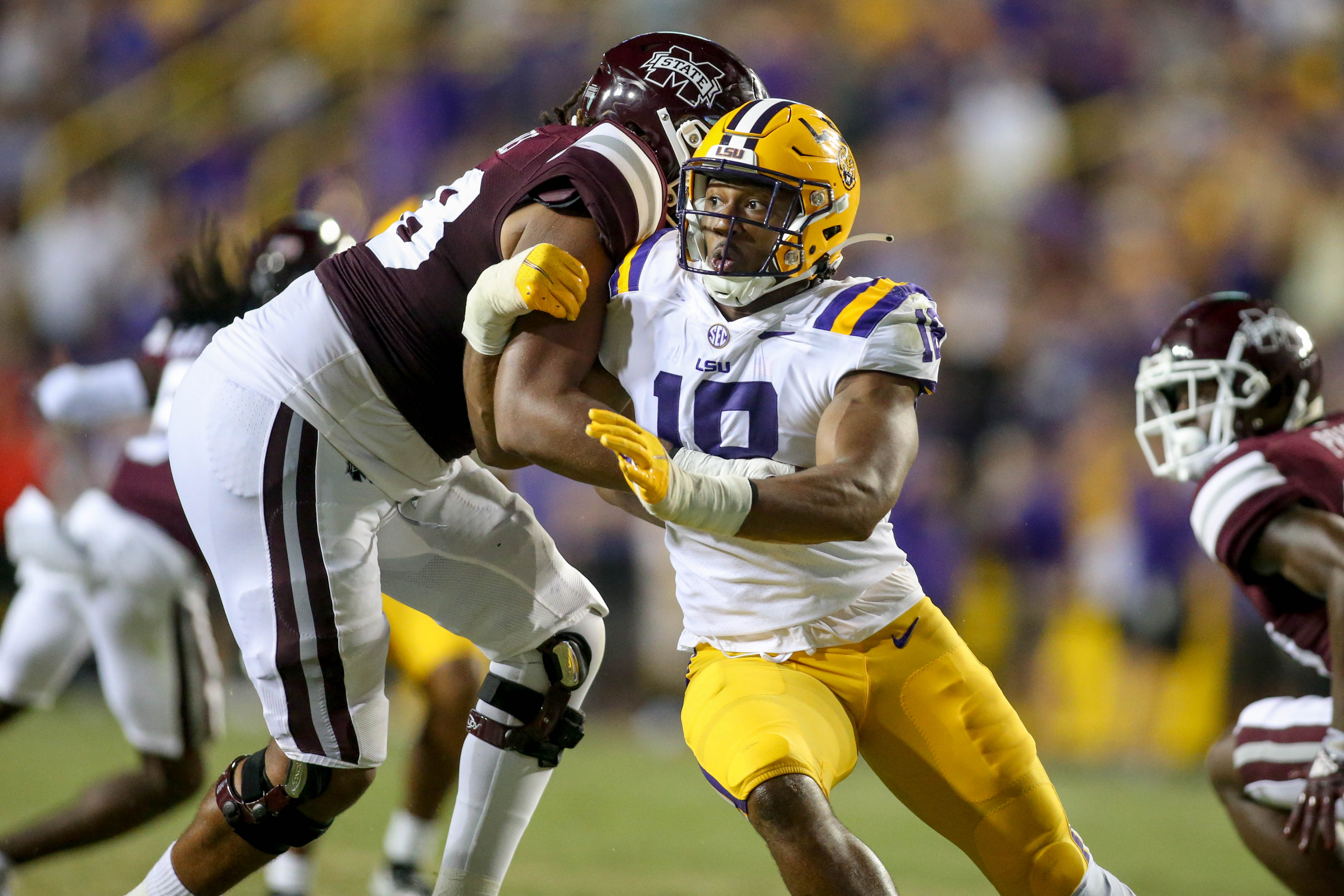 The 2023 NFL Draft kicks off on Thursday night at 7 p.m. with 31 of the 32 teams making their first-round picks and the only former LSU player with an outside shot of being drafted in the first round is defensive end/outside linebacker BJ Ojulari.
Chances are Ojulari will be a second-round pick, NFL analyst and draft expert Mike Detillier told Tiger Rag on Tuesday, two days before the draft.
If Detillier is right that will mean LSU's streak of four consecutive years with a first rounder will end.
LSU, in fact, had a top-five pick in all four previous drafts: linebacker Devin White in 2019 (fifth to Tampa Bay), quarterback Joe Burrow in 2020 (first to Cincinnati), wide receiver Ja'Marr Chase in 2021 (fifth to Cincinnati), and cornerback Derek Stingley in 2022 (third to Houston).
All told, LSU has 16 draft-eligible players this year, but only Ojulari has been projected as a potential first round pick in some mock drafts. Ojulari, however, appears to have fallen back to the second round in most projections over the last month.
Still, Detillier said he would not be shocked if Ojulari sneaks into the first round.
"He's my 34th-ranked player," Detillier said. "Okay, there are only 31 first round picks. So, if you get picked 29th or 30th and you're 34th ranked, it wouldn't shock me. He is a very skilled pass rusher from a technique standpoint point. He knows how to use his arms and hands so well as a technician. He's a guy that has no let up on the accelerator. Always pedal to the metal. He's great in a chase-down position.
"The problem is finding the right fit for him because there are a bunch of guys similar to him in this draft class that are in that 242 to 255 range," Detillier continued. "So where do you play him, as a 3-4 outside linebacker, as a 4-3 defense end? Really, he's a better fit in this like hybrid 5-2 look that you see a lot of teams run in the NFL, but, man, there's not a lot of guys with the technical skills of BJ Ojulari."
Detillier also talked about the reasons behind the dramatic fall wide receiver Kayshon Boutte has experienced in NFL draft projections from a one-time projected top 10 overall pick to, now, as low as a projected fourth or fifth round pick.
Click on the audio link below to hear the entire discussion.